If you are itching to dive right into the mighty Pacific Ocean during your Costa Rica family vacation then the Tamarindo beaches area is the place to be! From surfing to snorkeling to scuba diving to catamaran sailing to deep-sea fishing, the North Pacific Coast of Costa Rica has all the ocean fun you've been dreaming of.
The Tamarindo beaches area of Costa Rica has the best watersports in the country, so if being in or on the ocean is a must for your Costa Rica family vacation then consider staying at Pura Vida House. Our luxury villas in Costa Rica are right in the center of some of the best watersports locations in the world.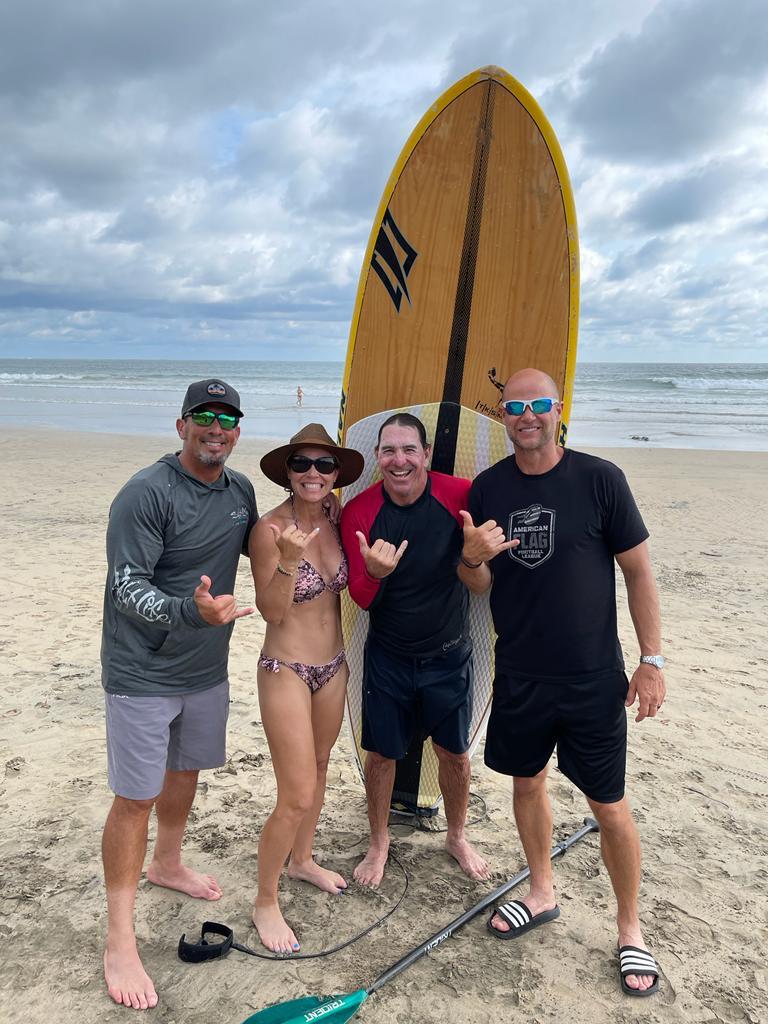 Surfing
Tamarindo Beach Costa Rica is one the best places in the country to learn how to surf. In fact, Tamarindo Beach is considered one of the top locations in the world to learn the sport of surfing. This is because the waves here are mellow and break on the soft, sandy beach. These conditions make it easier for a beginner surfer to pop up on their board and stay safe when they fall off of their board (and you will fall!). The waves at Tamarindo Beach come right up to the shore, so beginners don't tire themselves out having to swim out to the waves. This makes for a much easier lesson for the beginner surfer.
The surrounding Tamarindo beaches in Costa Rica are also great spots to learn how to surf. Guests of Pura Vida House can take lessons right on the property at Hacienda Pinilla Resort. Surfing lessons here take you to Avellenas Beach. Here you will also find a favorite surf spot of more experienced surfers – the Little Hawaii break.
Snorkeling and Scuba Diving
Nearby Las Catalinas Islands have some of the best snorkeling and scuba diving in the world. People come from all over to dive at this scattering of around 20 volcanic rock islands to see the giant manta ray, with wingspans up to 20 feet! The warm water at "the Cats" boasts up to 75-foot visibility, where divers see an abundance of sea life from white-tipped reef sharks to angel fish to spinner dolphins to sea turtles, and even orcas and humpback whales.
Las Catalina Islands are an archipelago located 2 to 15 miles offshore of the Tamarindo-Flamingo area. From here, you can easily reach the islands via boat on one of several daily tours.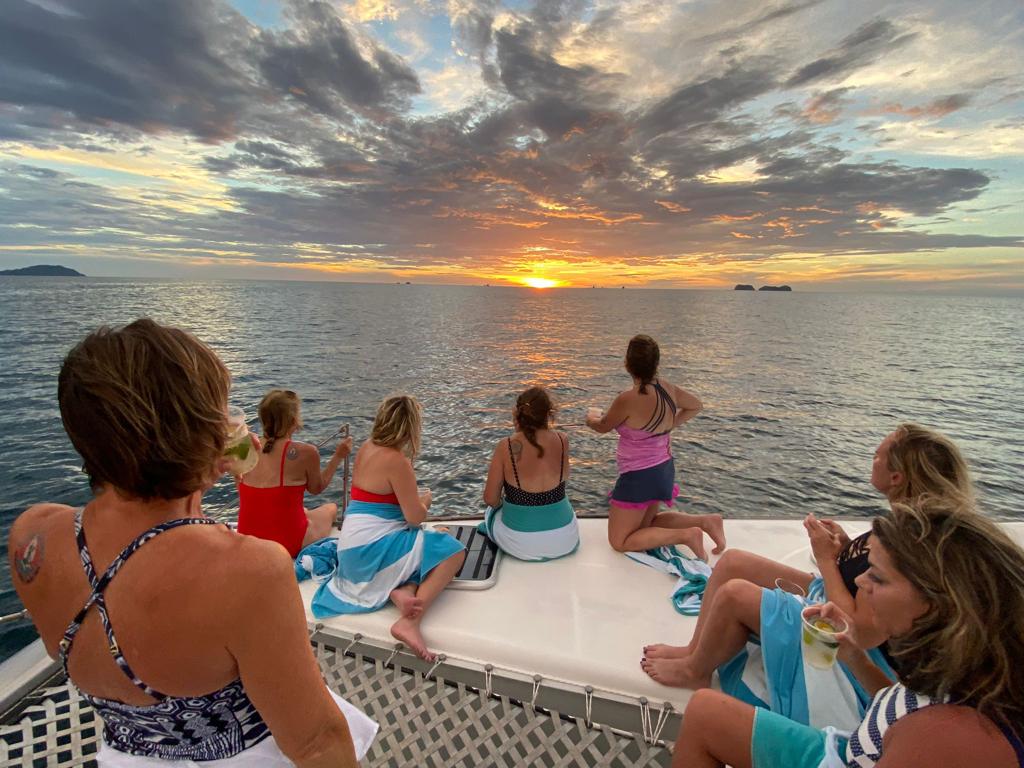 Catamaran Tours
Viewing a breathtaking sunset on the Pacific Coast from aboard a luxury catamaran. Sound idyllic? It is! It's also one of the most popular day trips our guests take when staying at Pura Vida House. You'll get picked up directly from Pura Vida House and taken to Flamingo Beach to board the vessel and cruise north along the coast. Before long, you will arrive at a secluded bay, where you will experience the optimal setting for some watersports like snorkeling and kayaking.
At the secluded beach, you will be invited to partake in a fresh and tasty lunch after you frolic in the water or sunbathe on the beach with a cocktail in hand. On the trip back to Flamingo Beach, you can relax while the majesty of nature reflects off of the waters all around you as you take in a sunset to remember.
Sportfishing
Fish for your dinner or just for fun! The Tamarindo-Flamingo area is renowned for its world-class fishing. Sportfishing for marlin, sailfish, or roosterfish makes for an exciting day on the water. While catching tuna, snapper, or Mahi Mahi means the freshest and most delicious fish you've ever tasted!
If you are hoping to spend some time fishing on your family vacation in Costa Rica but you're afraid everyone in the family isn't exactly "on board" then the fishing tour package designed by Pura Vida House is the right choice for you. This fishing charter makes sure everyone is having a great time. So, if the kids get bored while you're reeling in "the big one", they can always jump in the water for a swim and they even provide snorkel gear for the adventurous ones in the family.
Check out the best tours and activities near Pura Vida House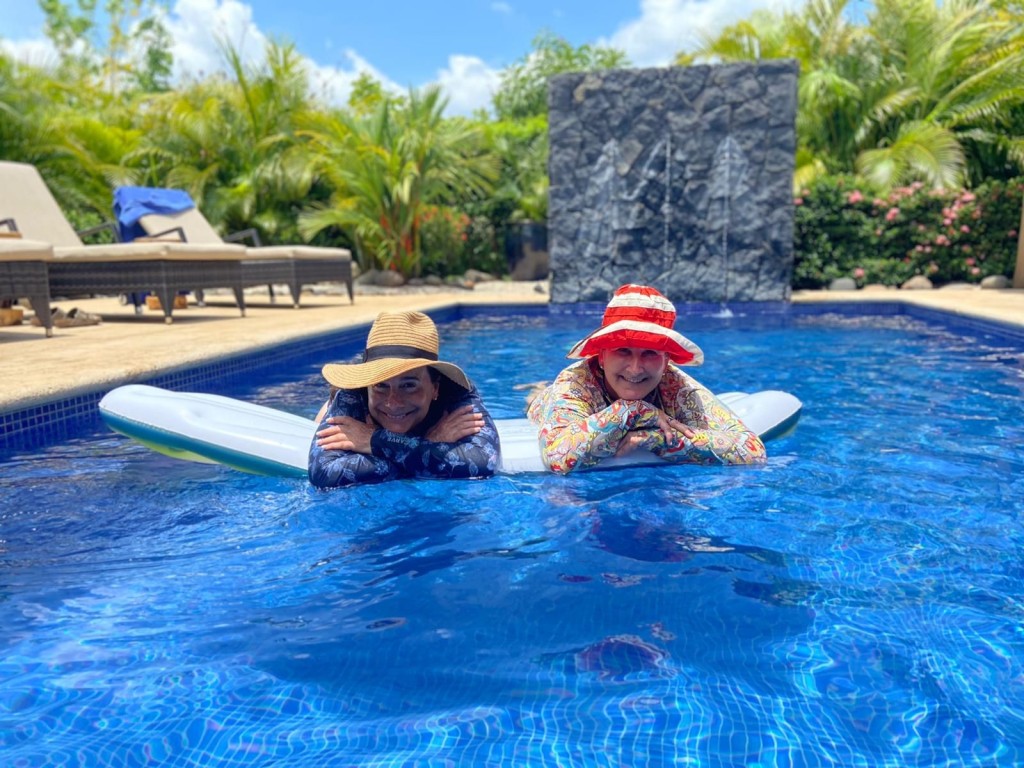 Your Stay at Pura Vida House
The water fun doesn't end when you get back to your luxury villas in Costa Rica. At Pura Vida House, our guests have full access to all the amenities at Hacienda Pinilla Resort. That means you can take surfing lessons at Playa Avellanas, go swimming at Playa Langosta, and try snorkeling at Playa Mansita – all three beaches can be easily accessed from the resort.
The highlight of your stay at Pura Vida House may be the Beach Club pool. It's a 160-foot lagoon-style infinity-edge pool that seems to flow into the blue Pacific waters. The resort even features a watersport center so you can rent all the supplies you need – shortboards, longboards, soft-tops, and boogie boards. Not to mention wax, sunblock, leashes, shorts, rash guards, and more.
Back at your very own luxury villa rental, you can enjoy your private pool and palapa area where you will feel right at home on your family vacation in Costa Rica. The living room and kitchen are open-concept with 20-foot ceilings featuring exposed beams. Every bedroom is spacious and the Master bedroom features a tropical outdoor shower – don't worry it's very private!
A stay at Pura Vida House includes our 24-hour concierge services. You get access to our local knowledge and off-the-beaten-path places. We'll let you know what to see and how to get there or arrange private transportation for you and your family. Our on-site and over the phone concierge services are one of our guests' favorite aspects of their stay at Pura Vida House.
If you have any questions about staying in our luxury villas in Costa Rica during your family vacation, please contact us at (614) 600-1904 or info@thepuravidahouse.com. We look forward to hearing from you soon!
Blog by: Jennifer LaCharite – Costa Consultants, International