Stephanie & Jorge Morera, Owners of the Pura Vida House Offering Luxury Costa Rica Vacations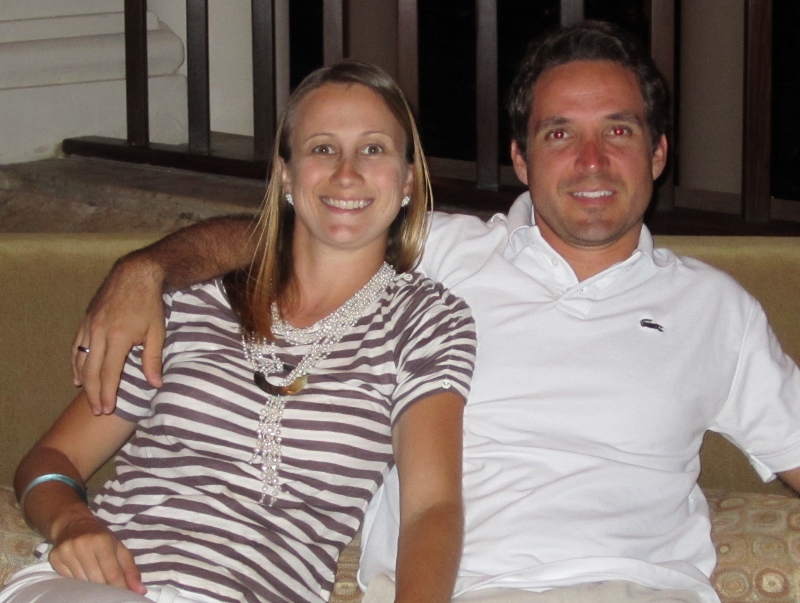 We were married in Guanacaste, Costa Rica and we fell in love with the natural beauty, white sand beaches and wonderful people here. Time seems to slow down when you are in Guanacaste (especially when you're down for a vacation in Costa Rica!)
Jorge was born in Costa Rica and has spent over half of his life in Washington, DC, Gainesville, Florida (Go Gators!) and now Ohio. He has played and taught tennis at high levels, including playing for Costa Rica's Davis Cup team. He is now an avid golfer and pickleball player as well. He holds an M.A. in Environmental and Resource Policy from The George Washington University and a B.A. in International Relations from Universidad Latina of Costa Rica.
Stephanie was born in Columbus, Ohio (Go Bucks!) and spent 9 years in Washington, DC. She attended college at Denison University in Granville, Ohio where she played field hockey and lacrosse. Jorge has now converted her to tennis and pickleball; she's still resisting golf!
Back in 2007 we started a business called Sports For Nature in Washington, DC in order to combine two of our biggest passions, sports and the environment. This has also evolved into hosting guests from around the world at our former Pura Vida House hosting Costa Rica vacations.
This has allowed us to love what we do (very important in life!), while being able to live well, meet new people every week, as well as travel.
Our new Costa Rica house rental blends our award-winning history at the former Pura Vida House with a great, new luxury location, steps away from beaches, golf, surfing and more, hosting amazing Costa Rica vacations.
We now live half the year in Columbus, Ohio and half the year in Guanacaste, spending quality time with both our families and enjoying many of the outdoor activities that we love, year round.
We'd be honored to host you at our villa, Pura Vida House, and show you a great time in Costa Rica, at one of the very top Costa Rica house rentals in the country.
Life's too short to be anything but happy 🙂
Pura Vida House is the best and most personalized vacation experience with Costa Rica house rentals in the country. See why we have over 400 5-star reviews! We will help tailor your vacation exactly as you want it!