Much more than a beach vacation, most people consider seeing the wildlife of Costa Rica their top priority when they travel to the small Central American country. About 65 percent of visitors to Costa Rica site ecotourism as their main activity, according to the tourism board. With over five percent of the world's biodiversity located on only 0.03 percent of the earth's surface, Costa Rica is the perfect place for discovering wildlife.
The province of Guanacaste in Costa Rica is very large and encompasses a few different microclimates, from the endangered tropical dry forest by the coast to the jungle and volcanic ecosystems found inland. Guanacaste is an ecotourist's dream and is the perfect place to visit during your solo or family vacation in Costa Rica. As a habitat to hundreds of species, some animals that make their home in Guanacaste include exotic birds, monkeys, armadillos, iguanas, crocodiles, raccoons, coatis, and pumas.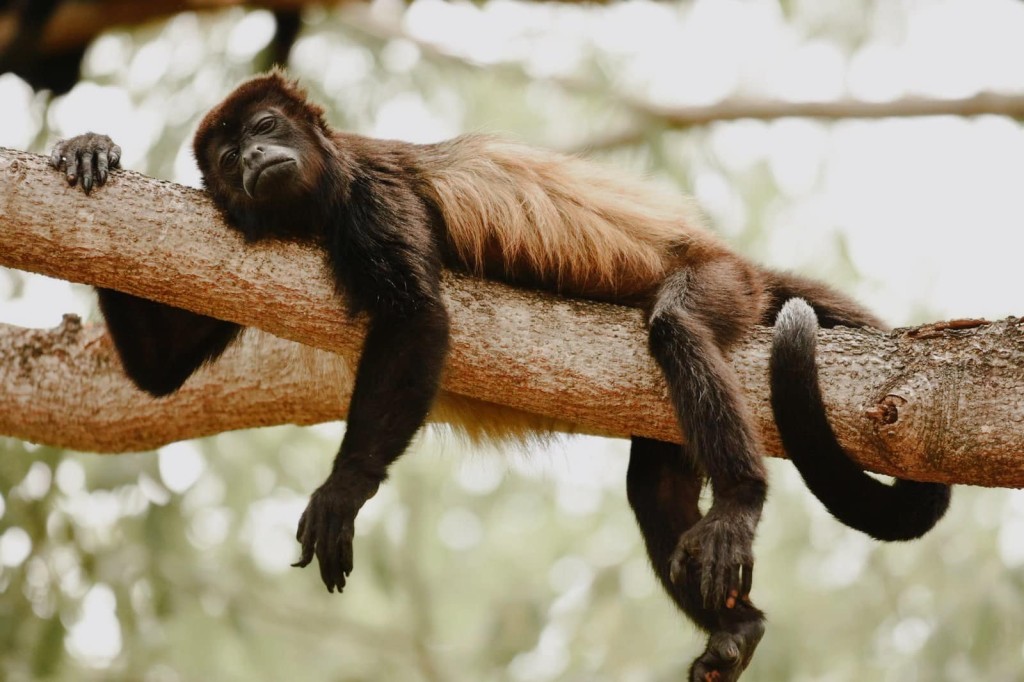 Monkeys of Guanacaste
There are four main species of monkeys in Costa Rica and you can find three of them in Guanacaste. The province is home to spider monkeys, white-faced capuchin monkeys, and howler monkeys. Only the squirrel monkey cannot be easily found in the region.
Known for their long limbs, spider monkeys are the largest monkey found in Costa Rica, and can grow up to 90 centimeters (35 inches) long. Spider monkeys like to forage up high in the primary rainforest like the kind you will find in nearby Rincon de la Vieja National Park.
While much smaller, capuchin monkeys are considered the smartest monkeys in the Americas. These monkeys are best found in unpopulated areas like secluded beaches and national parks.
Howler monkeys can be found throughout the country and they frequently visit the large trees around Pura Vida House. They travel in groups and their loud call can be heard for several kilometers.
Reptiles of Guanacaste
If you spend any time in Guanacaste, you will eventually see an iguana. There ae 38 species of iguanas in Costa Rica, with green iguanas and black iguanas (ctenosaurs) being the most common. They prefer the dry climate found along Guanacaste's northern coast, so they will be easily found during your stay at our luxury villas. In Costa Rica, the iguana is sometimes referred to as "gallina de palo", which means chicken of the tree, as it was once considered a good source of meat.
Both the American crocodile and the caiman can be found in Costa Rica. Caimans are generally shyer and smaller than crocodiles. While an adult caiman averages 2.5 meters (8 feet) in length, the crocodile (called cocodrilo in Costa Rica) averages 4 meters (13 feet) long.
One of the best places to see crocodiles in the wild in Guanacaste is on a river tour in Palo Verde National Park. Here you may also see the famous basilisk lizard. These small lizards are also known as the Jesus Christ Lizard thanks to their uncanny ability to run across the water for up to 20 meters (65 feet).
Discover our Palo Verde Biodiversity Tour and other activities around Pura Vida House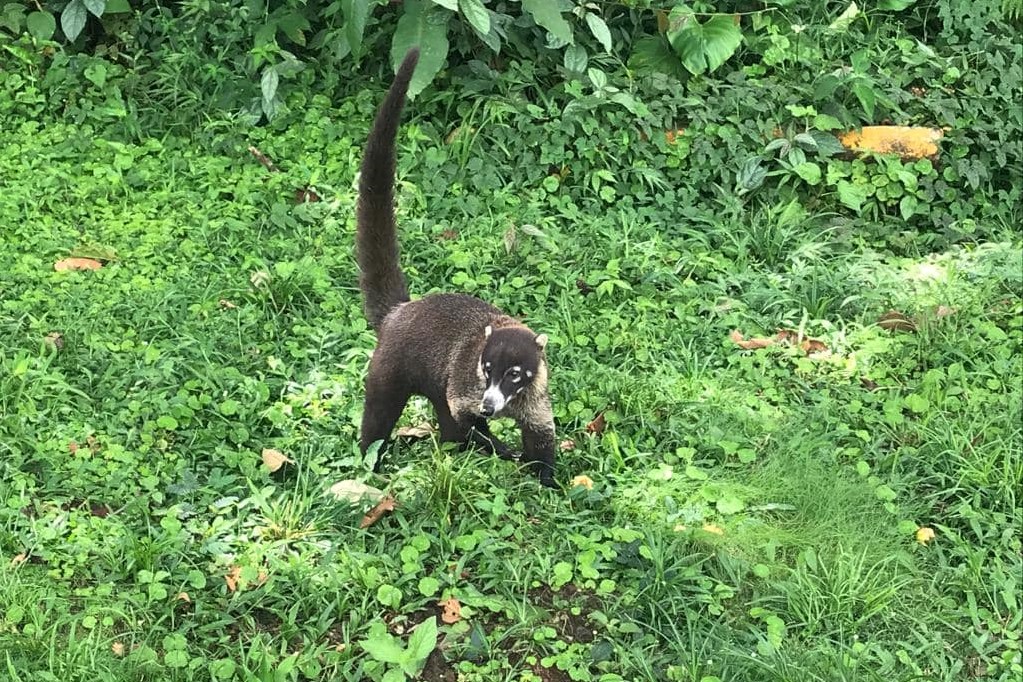 Coatis of Guanacaste
The white-nosed coati, also known as coatimundi or pizote locally, can be found in most areas of Costa Rica, especially near the coast. Belonging to the same family as raccoons, the coati looks quite similar to the raccoon save for its elongated snout.
These animals tend to be seen in groups of 10 to 30 and can often be found wherever there is food easily available. In fact, you are likely to encounter this unique mammal if you take a catamaran tour to a secluded beach. They will hang around looking for a handout at the beach barbecue of a typical boat tour. It is best to note that it is illegal to feed wild animals in Costa Rica, but these cute creatures will try to convince you otherwise!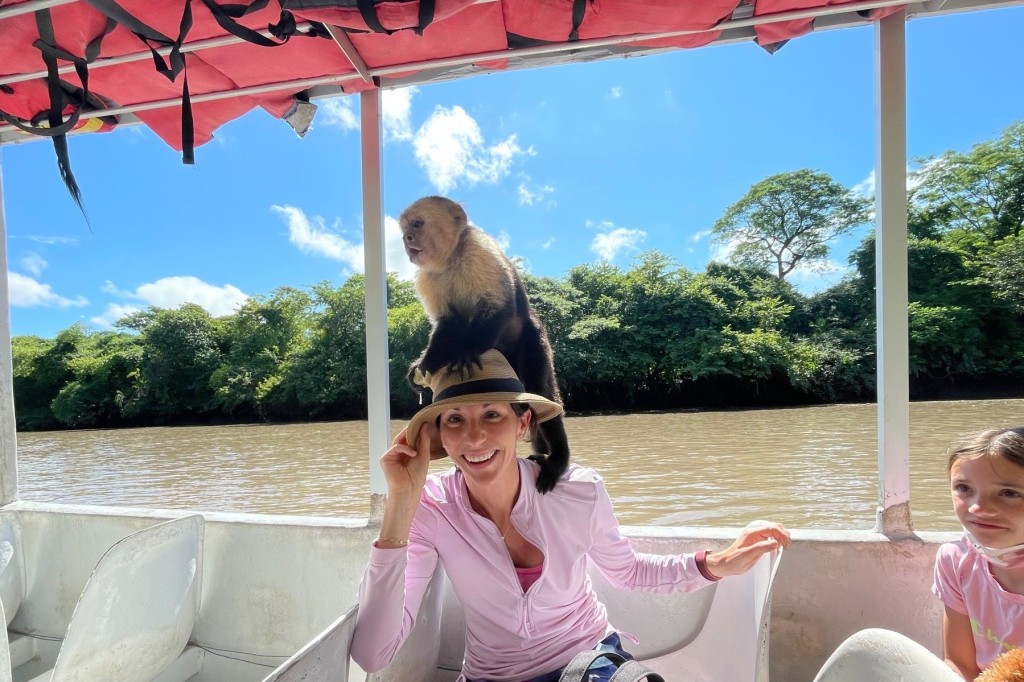 Wild Cats of Guanacaste
Costa Rica is home to six species of wild cats, including the jaguar, puma, ocelot, oncilla, margay, and jaguarundi. Although seeing one in the wild is extremely rare, five of these wildcats are likely to be found in the vast province of Guanacaste and are sometimes spotted by wildlife cameras set up in the forest. The small oncilla takes the high ground, however, preferring the high-altitude area of the Cloud Forest.
One of the best ways to see these wild cats in Guanacaste is at an animal sanctuary, such as Diamante Eco Adventure Park or Las Pumas rescue center. These rescue centers have other Costa Rican creatures you came here to see like sloths and toucans.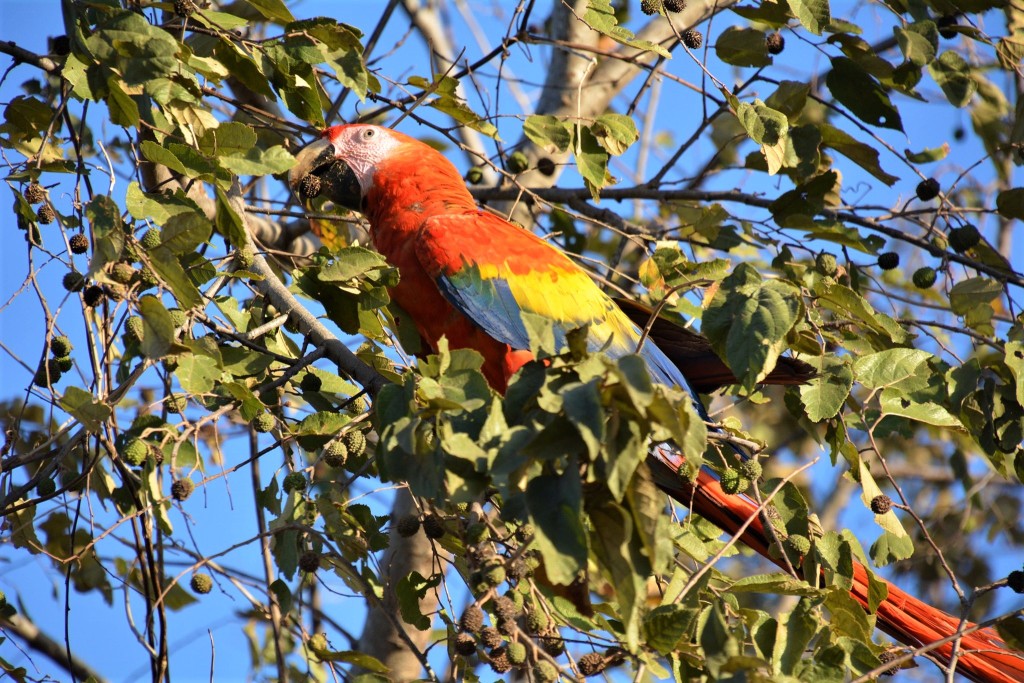 Birds of Guanacaste
Costa Rica has a total of 925 species of birds, which is more than nine percent of the world's population. Acting as a biological bridge between North and South America, Costa Rica is one of five places in the world that sees a migration of three million birds of prey.
In the wetlands of Guanacaste, such as the Palo Verde National Park, thousands of migratory and native birds can be seen between December and March. It remains a bird watchers paradise during the rest of the year with hummingbirds, shorebirds, thrushes, warblers, orioles, tanagers, and macaws.
Speaking of macaws, a program by the Macaw Recovery Network was started in Hacienda Pinilla a few years ago to help reintroduce the endangered scarlet macaws back to the area. This is the exclusive resort community where you will find the luxury rental villas of Pura Vida House. This gated community sits on 4,500 acres of land with nature trails, historic ranch property, and easy access to three unspoiled Costa Rica beaches.
Guests at our luxury villas in Costa Rica not only have access to all the amenities at the resort but also get exclusive membership to the Beach Club. The club features an ocean-view restaurant, gym, yoga studio, water sports center, and a 160-foot lagoon-style infinity pool looking out onto the white-sand Avellanas Beach.
If you are considering a family vacation in Costa Rica to discover all of the unique wildlife, please contact us with any questions at (614) 600-1904 or info@thepuravidahouse.com. We look forward to hearing from you!
Blog by: Jennifer LaCharite – Costa Consultants, International