While travelers still value their safety above all else, convenience seems to have been put on the back burner since the start of the pandemic. Well, all that is finally starting to change! Recent updates to Costa Rica Covid restrictions are great news for travelers and those working in the tourism industry. And while things are sure to go smoother as far as entering Costa Rica go, we know you still prioritize safety. That's why all inclusive vacation rentals in Costa Rica are becoming so popular. You don't have to sacrifice safety for luxury at Pura Vida House like you would at a big resort surrounded by hundreds of people.
Update On Costa Rica Covid Restrictions
The gradual and responsible roll back of Covid restrictions in Costa Rica coincides with a drop in new infections, seeing numbers fall by more than 2,300 over the past month, which is 41 percent of its previous peak in early February. This has allowed for new entry requirements for foreigners (more about this below). The first restriction to be dropped was the sanitary driving restrictions in early March 2022. These restrictions have been in place since the beginning of the pandemic, meant to slow down travel within the country and encourage Costa Ricans to remain at home. The cancelling of the driving restrictions means businesses that were affected by the midnight to 5 a.m. ban, such as bars and night clubs, can now go back to their normal operation hours.
Ready to book the most memorable week of your life?
Use of the long anticipated QR code, or digital proof of vaccination, was short lived in Costa Rica. After a tourism group won a court battle to delay the roll out of the QR code in 2021, it finally came into effect on March 7, 2022. Meaning non-essential businesses like hotels and restaurants were required to ask for the QR code or proof of vaccination to operate at full capacity. Many businesses, however, chose to opt out of this requirement by operating at 50 percent capacity, especially in tourist hot spots such as Tamarindo. But with the dropping rate of infection and a push back from the tourism industry, the government of Costa Rica decided to end the QR code mandate starting April 1, 2022. With the dropping of the QR code mandate on April 1, all businesses will be allowed to operate at 100 percent capacity once again – for the first time in two years!
Also starting April 1, foreign visitors will no longer have to fill out and provide the digital health pass, or pase de salud, to enter the country. This means visitors will not have to provide proof of vaccination to enter Costa Rica. Additionally, unvaccinated travelers no longer have to buy special Costa Rica Covid travel insurance to enter the country as of April 1. Those entering the country are still not required to provide a negative Covid test.
So, while entering the country is getting more convenient, there are still some restrictions for returning home for many travelers. US travelers over the age of two must provide a negative Covid test within one calendar day of travel. This can be the viral test, or antigen test, which can get results out faster than the PCR test, required by Canadians returning home, who must have their PCR results within three calendar days of travel.
At Pura Vida House, we provide on-site Covid antigen testing at the villa for the convenience of our guests. The cost is $70 per person and a doctor will be on site 24 hours prior to your departure.
Testing Facilities Near Tamarindo
-Hospital Metropolitano: PCR and antigen available. Call or Whatsapp +506 8465-7484 to make an appointment.
-For Tamarindo and Langosta, Labin Logistics offers house calls for testing. Email LabinLogistics@gmail.com to make an appointment.
-Beachside Clinic in Huacas: Phone (506) 2653-9911 or (506) 2653-5053 to make an appointment or email covidtest@beachsidecliniccr.com
-Clinica Medical Dental Villarreal: Call (506) 2653-4141 to make an appointment. They offer antigen testing for 37,000 CRC with results in less than eight hours.
So, while many Costa Rica Covid restrictions are being lifted, one important restriction remains, and that is the wearing of masks. Masks are still required in all indoor public spaces, including stores, airports, hospitals, and restaurants. This restriction likely won't bother you too much on your vacation however, as most restaurants here along the beach are open air, meaning they're outdoors, like the restaurant available to guests of Pura Vida House at the Hacienda Beach Club. As for indoor restaurants, you will not be required to wear your face mask once you are seated to dine.
All Inclusive Vacation Rentals VS All Inclusive Resorts
We know people are getting tired of Covid restrictions but travelers are still opting to make their vacations as safe as possible. That's why choosing all inclusive vacation rentals in Costa Rica just makes more sense than staying at all inclusive resorts. Guests at Pura Vida House still have all the luxury and convenience of a resort without being surrounded by hundreds of strangers from around the world.
At Pura Vida House, we offer 24-hour concierge services, meaning if you want to stay at the villa and get a massage, private yoga class, or even a home cooked meal by our private chef then you're in the right place! There is plenty to do at the luxury villa, including swimming in our beautiful pool, having a barbecue and dining al fresco under the palapa on our large outdoor terrace, Wifi and cable on our large screen televisions, and getting a tropical feel under our outdoor shower with complimentary organic soaps, shampoos, and conditioners – made right here in Costa Rica!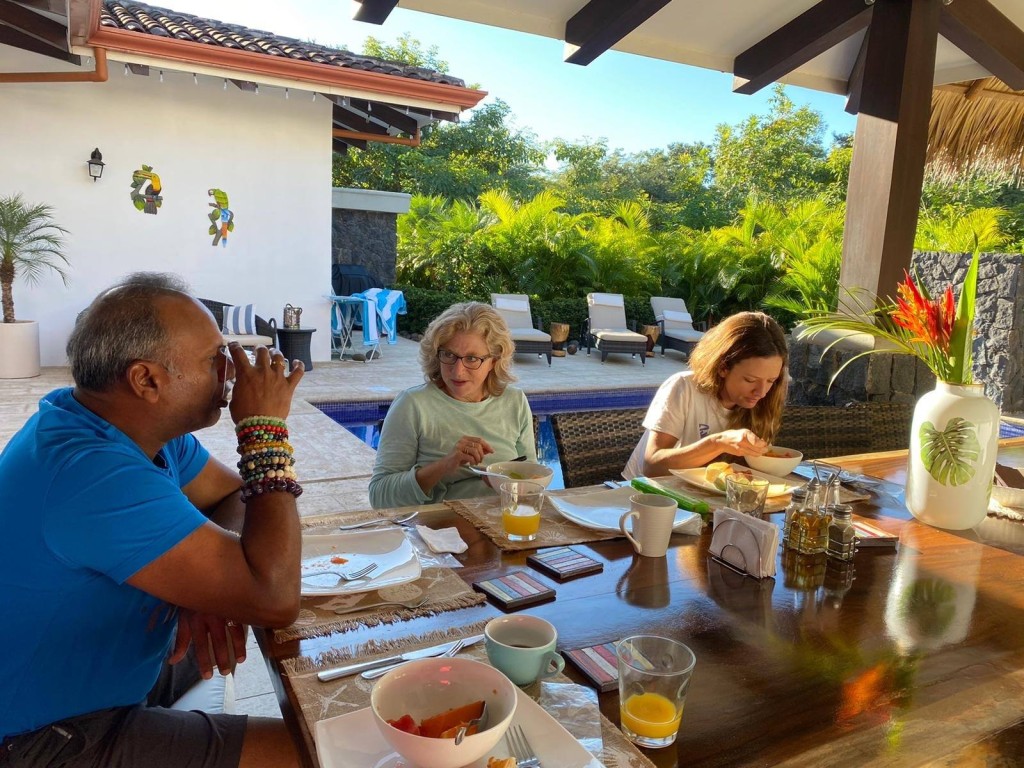 Check out all the things you can do as a guest of Pura Vida House
Even more luxuries await guests of Pura Vida House at the Hacienda Beach Club and Resort. Featuring a restaurant, ocean view gym with free weekly yoga, spa, and water sports center, and a 160-foot lagoon style infinity swimming pool leading into the gorgeous white-sand Avellanas Beach, the Beach Club is a highlight that is included exclusively with the rental of our luxury villas at Pura Vida House. You can take our golf cart or bicycles to get to the Beach Club and three nearby beaches of Avellanas, Langosta, or Mansita, or use them to explore the 4,600-acre gated community of Hacienda Pinilla, or take on the 25 miles of mountain bike trails. With howler monkeys, iguanas, and scarlet macaws on site you won't be disappointed when you stay on this property!
The Hacienda Pinilla Beach Club and Resort offers so much more to our guests, including tennis, pickleball, surfing, and an 18-hole golf course. You will definitely be kept busy while staying at Pura Vida House.
Of course, we know you want to explore what makes the country of Costa Rica so special during your stay. That's why we also offer a variety of tours that will get you out and about, including hot springs, mud baths, volcano hikes, white water rafting, ziplining, horseback riding along the beach, sunset sails, and much more!
It's easy to stay safe and explore the beauty of Costa Rica at our luxury villas at Pura Vida House.
Please contact us with any questions you have if you are considering all inclusive vacation rentals in Costa Rica. We are available at (614) 600-1904 or info@thepuravidahouse.com. We look forward to hearing from you soon.
Blog by: Jennifer LaCharite – Costa Consultants, International