In the world of travel, trends come and go, but there's one captivating craze that's igniting wanderlust like wildfire – pickleball getaways. And if you're itching to explore the tropical beauty of Costa Rica while engaging in a sport that's taking the world by storm, you're in for a treat! Let's take a look into the allure of all-inclusive destination pickleball trips that perfectly blend competition, camaraderie, and the paradise of Costa Rica.
The Rise of Pickleball Getaways
Pickleball getaways might be the new buzzword in travel, but it's a trend that is here to stay. Imagine escaping the everyday routine and immersing yourself in the thrill of a sport that's like a fusion of your favorite games – tennis, badminton, and ping-pong – all combined to create an addictively fun paddle sport. And what could be better than experiencing this phenomenon in the sun-kissed haven of Costa Rica?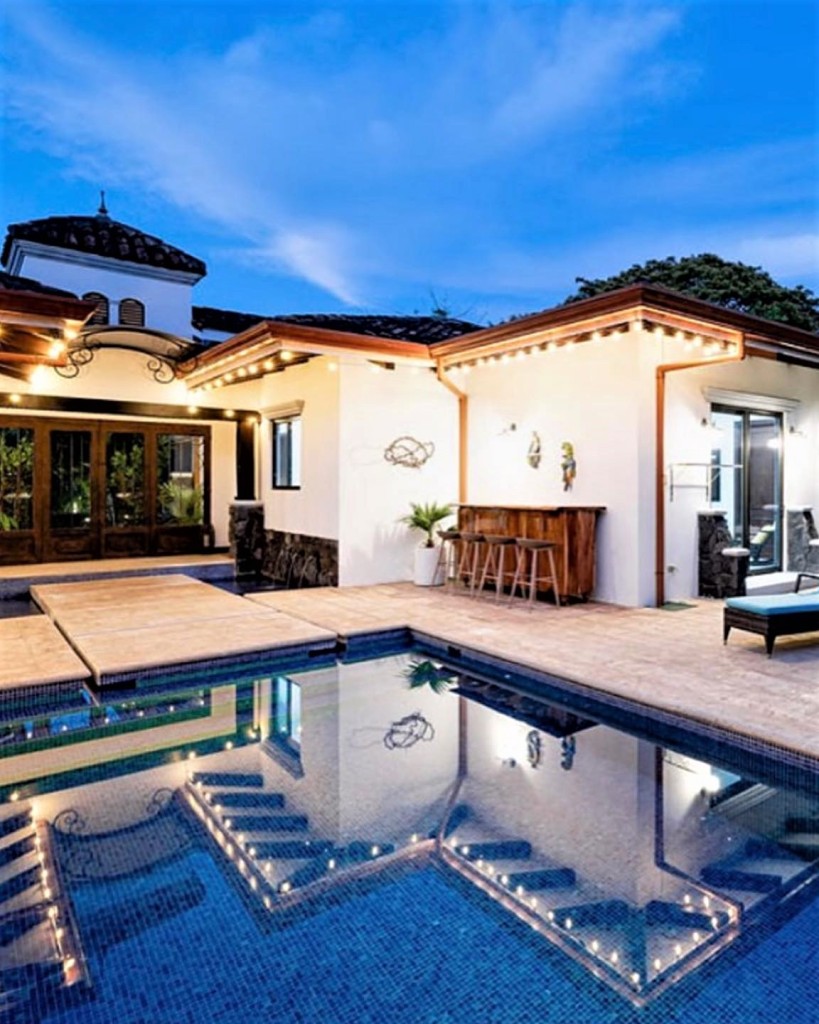 Unburdening the Travel Planner
Say goodbye to the days of shouldering the entire travel planning burden. With all-inclusive pickleball getaways, the weight is lifted as everyone gets to share in the fun instead of getting stuck with the organizing. When you choose an all-inclusive pickleball package at Pura Vida House, the trip is planned for you. You just have to come and enjoy.
The Pickleball Frenzy
Now, let's talk pickleball. It's more than just a game – it's an experience that transcends skill levels. Whether you're a seasoned player or a curious newcomer, pickleball's appeal is universal. It's not just about the sport. It's about the camaraderie, the laughs, and the unforgettable moments created on the court.
The Perfect Destination for Your Pickleball Trip
Costa Rica is a destination that needs no fancy words to entice you, and its "Pura Vida" (pure life) spirit means its simple beauty speaks for itself. Its pristine beaches, lush jungles, and vibrant culture make it a dream getaway for your pickleball trip. Picture yourself sipping cocktails on catamarans, easing into volcanic hot springs, and reeling in a 300-pound marlin. Now add the exhilaration of pickleball to this equation. As you engage in spirited matches, the backdrop of Costa Rica's natural beauty adds a layer of enchantment to every game.
A Glimpse into the Package
Now, let's unveil what an all-inclusive pickleball package at Pura Vida House entails. Not only will you be thrilled with all the extras, but you will be surprised how affordable an all inclusive pickleball getaway can be. With package prices ranging from $1,750 to $2,750 per person, the cost varies based on group size and what is all included in the package.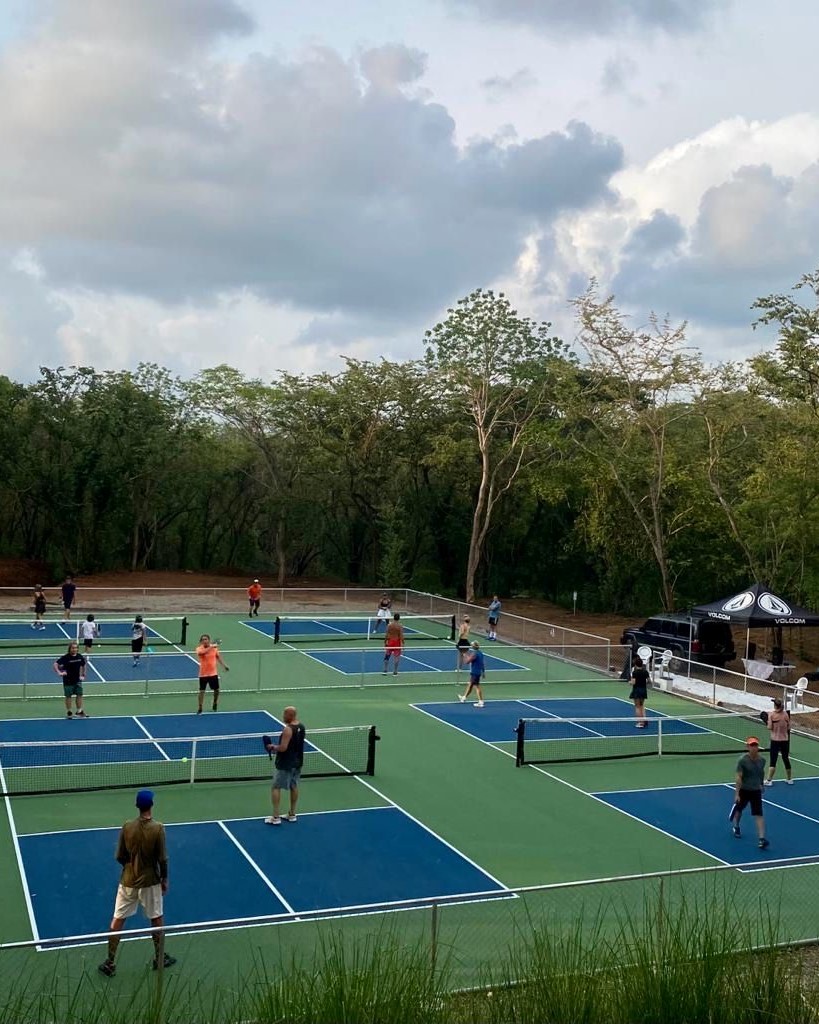 The Pura Vida Experience
Below is a sample pickleball trip package at Pura Vida House:
Seven nights in the lap of luxury at Pura Vida House, a six-bedroom, six-bathroom haven.
Enjoy two daily meals a day prepared by our private chef, who fuses local ingredients and dishes with international cuisine.
Relax with a private round-trip airport transfer from Liberia Airport for your group, ensuring a seamless transition to your Costa Rican paradise.
Engage in three hours of daily pickleball on four dedicated courts. This includes two hours of instruction and drills with a pro, plus an hour of open play. And guess what? Extra court time for open play comes at no extra charge.
Choose an exhilarating activity from a list that includes ziplining, horseback riding, an ATV tour, a one-hour massage, surf lessons, and more.
Immerse in local culture with two private experiences, complete with transportation (additional food/drinks at your own cost).
Explore Tamarindo, a popular local beach town with beachfront restaurants and boutique shopping.
Engage in friendly pickleball matches with the locals.
Gain unlimited access to the exclusive Beach Club at Hacienda Pinilla with its oceanfront infinity pool, gym, restaurant, and bars.
Private access to three pristine private beaches: Avellanas, Mansita, and Langosta.
Access to the JW Marriott, boasting eight restaurants and bars and a spa.
Cruise around the resort community in style with three golf carts at your disposal.
Make use of 24/7 private concierge services to streamline transportation, tours, and activities.
Stay in touch with the folks back home and stream your favorite shows with Wi-Fi with speeds of 200 Mbps.
Delight in fresh Costa Rican coffee daily.
Enjoy the convenience of a well-equipped equestrian center and mini market at Hacienda Pinilla.
Make the best of a day at the beach with our beach chairs and umbrellas.
Embark on two wheels with four mountain bikes, giving you access to over 20 trails with stunning ocean views.
Discounted golf green fees at Hacienda Pinilla's 18-hole championship golf course with signature ocean views.
And the grand total? An all-inclusive rate of $2,000 per person, including taxes and resort fees, based on a group of 10 guests. The maximum occupancy is 12 guests, based on double occupancy.
We can even accommodate groups of 16 to 18 with our sister property (4bd/3ba villa) if it's available during the same week as your stay at Pura Vida House.
Pickleball Meets Paradise
In a world where travel experiences redefine adventure, pickleball getaways in Costa Rica emerge as a match made in vacation heaven. From exhilarating pickleball matches to exploring pristine beaches, cultural encounters, catered meals, and shared laughter, this is a trip that's all about embracing life's finest moments. As the world catches on to this irresistible trend, Pura Vida House stands as a pioneer, offering you the chance to savor the best of both worlds – pickleball and paradise.
Whether you are seeking fun, adventure, relaxation, or friendly competition, Pura Vida House strives to ensure we provide the best and most personalized pickleball getaways in Costa Rica. With included access to the resort and Hacienda Pinilla Beach Club, 24/7 concierge services, personal golf cart access, shuttle services, and meals prepared by our private chef, you'll see why we have over 400 5-star reviews!
Please contact us with any questions you may have if you are considering a destination pickleball trip in Tamarindo Beach, Costa Rica. We are available at (614) 600-1904 or info@thepuravidahouse.com. We look forward to hearing from you soon!
Blog by: Jennifer LaCharite – Costa Consultants, International