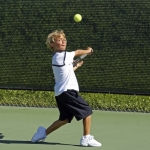 Hello everyone, we have been getting quite a few questions and sign-ups for our all-inclusive tennis weeks in Guanacaste, Costa Rica at Pura Vida House.  The most common question is; are unlimited tennis lessons really included for the entire week?  The answer is yes.  That is a big part of why we feel we provide one of the best tennis vacations in Costa Rica.  We're happy to work hard on your game and hopefully send you back to your home tennis club with a better set of strokes, and better understanding of the game.  Especially playing points better based on the score, strategy tips, etc.  Little things that make a huge difference in a match, like not going for a winner down the line from behind the baseline (a low percentage shot) on a break point, unless it's your only option.
Another question we get is, how can we afford to charge only $800 for a week of all inclusive tennis, meals, transportation, accommodations at, most activities, guides, etc.  The answer for this is we own Pura Vida House and the property it sits on, which eliminates much overhead.  We feel that $800 per person is a fair price to charge.  We want to make sure that everyone that comes and visits Pura Vida House has a great vacation, the best of their lives, so not only will they remember Costa Rica and their visit to our hacienda, but also come back again and refer their friends, family, etc.
Let me tell you, the number 1 reason we love our "job" is putting smiles on people's faces, and creating lasting memories of their vacation to Costa Rica.  We realize that for people who visit us, this is the only vacation they might take the entire year, or even for several years.  So we're going to do everything we can for them to have a great time, as we appreciate the trust they have placed in us by coming to Pura Vida House and letting us plan, host and guide their vacation.
We'll be in touch soon with more answers on the most common questions that we are receiving during this time period before our busy tourist season starts in beautiful Guanacaste, Costa Rica.
Hope you all have a great week!
Jorge and Stephanie Morera
www.thepuravidahouse.com
Experience the real Costa Rica: www.thepuravidahouse.com
Sports will green the planet: www.sportsfornature.com