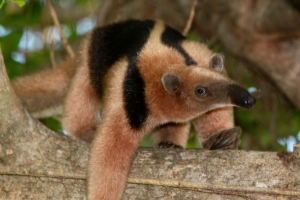 I have been searching Guanacaste for the tamandua since I learned of its existence last year. Locally known as the "oso hormiguero," or anteater bear, the tamandua grows up to 4 feet, and is known for its vicious claws and fighting style. When it is threatened or in a scuffle, it will back off, raise onto its hind legs, and open its arms as if he wants to hug his foe. Then when the other animal comes near thinking it has surrendered, the tamandua uses its powerful claws to tear it apart.
Lucky for us, this young tamandua was happily eating away up in a tree. Jorge discovered him as we were walking up to the Hacienda Pinilla tennis courts to play tennis in Costa Rica.
It always seems like when you are searching for some specific type of wildlife in Costa Rica, you never find it. But when you go about your business and happen to put yourself in places known for great wildlife, you find great things when and where you are least expecting it.
When you come visit us at Pura Vida House, bed and breakfast, Tamarindo, we can't promise you'll  see a tamandua, or any other specific bird or animal, but we can guarantee you will see great wildlife on  your vacastions to Costa Rica. You will see something beautiful and majestic.
See you soon at Pura Vida House, our B&B in Guanacaste, Costa Rica!
– Mani & Sindy
www.thepuravidahouse.com
Experience the Real Costa Rica: www.thepuravidahouse.com