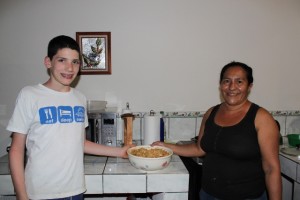 Authentic Costa Rica Recipe: Arroz con Pollo, Rice with Chicken
Taste the flavor of Costa Rica in your own kitchen, with this authentic arroz con pollo (rice with chicken) recipe, one of the quintessential dishes of the country. This is our friend and neighbor Pastora's very own recipe that you can sample when you stay with us at Pura Vida House. And of course, give it a shot yourself at home!
Pastora's Arroz con Pollo (Rice with Chicken)
Shopping List:
2 Red peppers
Salt
Pepper
Oregano
7 garlic cloves
2 1/2 Cups rice
1 teaspoon mustard
1 Tablespoon butter
2 Tablespoons vegetable oil
5 Oz. pasta sauce
1 bunch of cilantro
1 celery stalk, leaves-on
1 ½ large onions (any color just not sweet)
2 medium sized whole chicken breasts, bone in (can use boneless, just use bone-in for flavor)
2 large carrots, peeled and cut julienne style into 1 inch-long thin sticks
½ lb green beans, cleaned, ends cut off, sliced in half long-ways, and chopped into tiny rounds
Step 1: Make "Rice Seasoning" Mix
Put in blender together and blend until liquefied:
1 large onion
1 red pepper
1 bunch of cilantro
6 garlic cloves
1 celery stalk, leaves-on
Step 2: Cook Chicken
Season chicken with pepper and oregano. Boil in pot on stove, covered in water, with ½ diced red pepper, ½ diced onion, minced garlic clove and salt. Boil until chicken is cooked, about 12-15 minutes after boiling. Let cool. Remove skin and bone (if it had it) and shred to medium-to-small bite-sized pieces.
Step 3: Cook Rice
Warm up rice cooker or pot for rice. Add 1 Tablespoon butter, 1 Tablespoon vegetable oil, and ½ of the "Rice Seasoning" Mix (see above). Add rice. Fill with strained water from cooked chicken to fill line. If there's not enough, fill the rest of the way with water. Stir halfway through to ensure flavors are blended.
(If you don't have a rice cooker, cook according to instructions on rice bag.)
Step 4: Cook Vegetables, Add Chicken
In pot occupied by chicken (but now empty), cook the chopped carrots in 1 Tablespoon vegetable oil on medium/high heat. Then add 1 Tablespoon, ¼ of the remaining "Rice Seasoning" mix. Cook about 10 minutes, or until they start to soften. Add the chopped green beans and 5 oz. pasta sauce. Cook until green beans and carrots are soft.
Step 5: Combine and Finish
Add shredded chicken to vegetables and mix. Turn heat down to medium. Add 1 teaspoon mustard to the vegetables and chicken and mix. Let cook for a few minutes to let flavors combine, stirring occasionally.
Combine finished rice with chicken/vegetable mixture in a big bowl. Mix together with a fork. ARROZ CON POLLO!