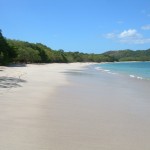 The weather is warm and sunny, the Tamarindo beach waves are rolling in and a beautiful turquoise-blue today, the nature and wildlife are out in abundance, what better reasons than these to join us at Pura Vida House, our bed and breakfast in Guanacaste, Costa Rica?
Your authentic vacation to Costa Rica starts and ends with us at Pura Vida House. Local, fresh food, great full-time guides, local insight and know-how, there is no better way to travel Costa Rica!
Stay with us at our lovely B&B, Tamarindo, and we promise we'll show you the vacation of your life! Beautiful beaches, golf, tennis in Costa Rica, exotic birds and wildlife at our nature-filled escape, hiking volcanoes, adventure and more. Join us today at Pura Vida House!
Pura Vida, and visit us for a vacation in Costa Rica  soon!
– Mani & Sindy
Experience the Real Costa Rica: www.thepuravidahouse.com