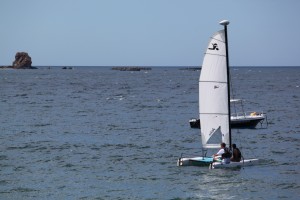 … is quite different than Christmas back home.  When we watch our Slingbox down here all we see is Christmas specials on TV, the latest discounts on merchandise, the most popular gifts for this Holiday Season, and of course, we see that two thirds of the United States is covered in snow.
Here in Guanacaste, Tamarindo and Hacienda Pinilla it's far from what we were used to experiencing back home.  Every day it's blue skies and in the upper 80's and sunny, so everyone is definitely wearing t-shirts and shorts (some only shorts, t-shirt is optional).  Everyone is relaxed and having a good time, shopping is the last thing on their mind.
The most important "issues" of the day for us are what we'll do with our guests, weather play some tennis, golf, zip lines, kayak to an island, snorkeling, or watch the sunset at Langosta Beach.  And the other "issue" is what everyone wants to have for dinner, lobsters of fish fillets, typical Costa Rican rice and chicken or seafood pasta … tough decisions!
One of our favorite excursions now I actually discovered by accident last week with one of our guests.  We were in Tamarindo Beach and rented paddle boards.  When we got out in the water we saw what looked like a tiny island about a half a mile away, so we decided to paddle board our way out there and check it out.  I first have to mention that we are beginner paddle boarders, so it took forever to get there, but it was well worth it!  The island was beautiful, tiny indeed, the snorkeling was fenomenal, and we got to see and hold several sea stars and sea cucumbers, it was awesome!  Since then, we have been back to the island with our guests 3 times, either paddle boarding or in kayaks, the snorkeling was always been fabulous, plus the island itself is beautiful.  What a gem we found!
So long from sunny Guanacaste, and Happy Holidays!
Keep exploring,
– Jorge Morera & Stephanie  Morera
www.thepuravidahouse.com, B&B, Tamarindo
Experience the Real Costa Rica: www.thepuravidahouse.com
Sports and the Environment: www.sportsfornature.com