We were having dinner last week with my mother-in-law and she coined a term that I have never heard but that I thought sounded exactly what our vacations in Costa Rica are like, all in one word: Locatour!
We all know the popular term Locavore, referring to people that prefer to eat food grown locally. So the word Locatour would refer to a tour or a vacation to a location where you truly feel like a local, rather than touring a local town as an outsider. By truly feeling like a local, I mean hanging out with locals, participating in many activities with them, exchanging ideas, past experiences, and more importantly, your presence in the place is benefitting the locals.
At Pura Vida House, by default, you will feel like a local, and be a local for the length of your stay with us. We are part of a very cool community called Paso Hondo, a town so small you will have trouble finding it on a map. Paso Hondo has an approximate population of 400 people. It has many typical customs that would even amaze Costa Ricans that live in the bigger cities. To name a few, Paso Hondo'ans bake tanelas and other delicious breads in their outdoor ovens, then go house by house selling them to their neighbors (needless to say, tanelas are favorites amongst our guests!). Most of their pots and pans they make themselves and are made with clay from the rivers nearby. Faith is big in Costa Rica, but even bigger in Paso Hondo. One day we were at Pura Vida House and suddenly we hear a loud bell and see about 80 or so members of the community coming towards our house, with Carlos Fernandez leading the pack and carrying a heavy saint over his shoulders, named Santo Esquipulas. It's a yearly tradition to carry Santo Esquipulas around every house in town, for him to give his blessing to the house and its family, for a healthy and prosperous year. Once Santo Esquipulas arrives to your house, everyone comes in and prays and sings for 20 minutes or so, then the tradition is that the owner of the house carries Santo Esquipulas to the next house. Here I am carrying Santo Esquipulas to our neighbors house: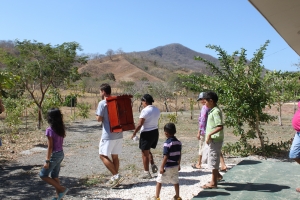 A curious belief that everyone in Paso Hondo has is that they believe coyotes are evil. They don't mind hearing coyotes howling up in the mountains (by the way, you hear them almost everyday at Pura Vida House!), but when they see one, they look down because they believe that if you look into their eyes, you will be cursed.
These are just some of the beliefs and traditions that have won the hearts of both Stephanie and myself and many of our guests. Paso Hondo'ans are very kind, welcoming, happy to live and enjoying life every day. Here's Rosa Gutierrez smiling after giving our guests a good hand pottery lesson: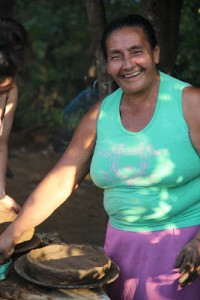 And here's a photo of Papun, our neighbor and local cowboy. He is our official horseback riding guide. Our guests really enjoy taking tours in the mountains with him, rivers and waterfalls are part of the ride! He is also an expert birder, knows every bird in the area, and is very good at spotting them. Story goes that Papun got his nickname because in his youth, he was a good fist fighter (don't worry, those days are far behind for him!). Papun comes from Pa (the hit), and then Pun! (when the other guy goes down to the floor). He is such a kind man, it is hard to believe that he ever got in a fight with another person. But needless to say, I will not be picking a fight with him anytime soon, he he.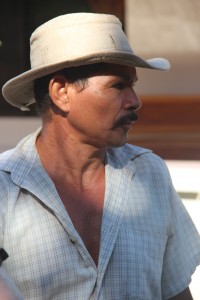 Come stay with us at Pura Vida House in Guanacaste, Costa Rica, and experience a Locatour!
All the best, Jorge and Stephanie Morera
Experience a Locatour in Costa Rica: www.thepuravidahouse.com
Be healthy, do sports and help our environment at the same time: www.sportsfornature.com