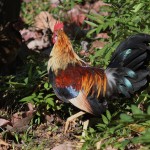 Happy Thanksgiving from down here in Paradise!  Guanacaste, Costa Rica was beautiful yesterday. I enjoyed my Thanksgiving Pura Vida style.
My wife Stephanie spent Thanksgiving with her grandmother and some other family before she comes down to Costa Rica, so I had the day to myself this year.
I awoke to the usual nature sounds and bright sunrise, then did a bit of work around Pura Vida House.  Then it was off to play golf at Hacienda Pinilla, one of Costa Rica's best golf courses!  A pair of  parrots even followed me for a few holes.
My Thanksgiving dinner was a good old American hamburger at the clubhouse ;-)  Above are pictures of me playing golf, and a Guanacaste "turkey."
Later our neighbor Plinio stopped by to pay a short visit and to chat for a bit. Always good to visit with friends.
Stephanie arrives down here in Costa Rica tomorrow, the rest of my family is up in Connecticut visit my brother and his wife, and so far we all have our health ad happiness. All in all, a relaxing day in paradise, and for that I am thankful.
Happy Thanksgiving and Pura Vida, we hope to see you soon down here at Pura Vida House, bed and breakfast, Guanacaste,
– Jorge Morera
www.thepuravidahouse.com
Experience the Real Costa Rica: www.thepuravidahouse.com
Sports and the Environment: www.sportsfornature.com