… check out the spectacular sunset yesterday at Tamarindo Beach, Costa Rica.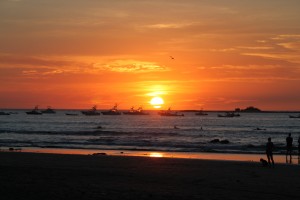 Not bad, huh?  Our new Casita Tuanis is pretty much done, it looks great!  Our next big project at Finca Pura Vida is a new hard surface tennis court, which is scheduled to start being built in November.
Last week we started promoting a guys-only trip from December 7th to the 13th.  So in case you can get permission from your wife, family or girlfriend, please come along!  This should be a very fun week full of activities like snorkeling, fishing, zip lines, a wild ATV tour, horseback riding, playing some tennis and golf at Hacienda Pinilla, perhaps visiting a volcano, white water rafting, rappelling, relaxation time at one of Guanacaste's famous outdoors spas, and of course plenty of time to relax at the Pura Vida House terrace in the evenings for good conversations over dinner and wine.
We've received lots of interest and inquiries so far, the first 8 guys to sign up and pay their $200 deposit, will be in.
A shout to all our tennis and golf groups, we're looking forward to a great season 2013/2014 season!  A new tennis court, and the always immaculate Hacienda Pinilla ocean course should provide plenty of excitement.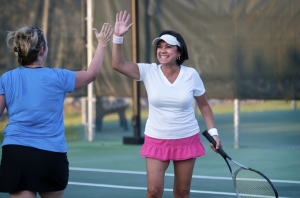 Some doubles fun on the court …
So long from Pura Vida House, Guanacaste, Costa Rica, life is good!  Jorge and Stephanie Morera
Experience the REAL Costa Rica: www.PuraVidaHouse.com
Book your Dream Vacation Today!
Guests have full access to 24/7 concierge services as part of all stays at Pura Vida House!
It would be an honor to host you and your family sometime soon in "Pura Vida" land, come visit us soon, we are waiting for you!
Warmest Regards from the Golden Coast!
-Mani & Sindy