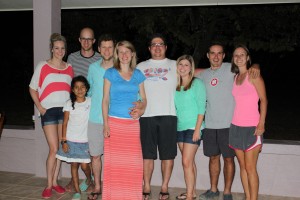 Whether you take a vacation to Costa Rica, Thailand, Greece, Africa, Australia, Russia, or any other place around the world, try to make sure you DO TAKE a vacation once in a while.  Don't you feel mentally refreshed after a nice vacation?  You might be tired for a few days after the vacation, but I can guarantee you that you will be in a better state of mind.
Now what if you could prolong that relaxed state of mind?  Wouldn't that be nice?  Well, this is what we are trying to do at Pura Vida House.  Our goal at the end of each week is not only to create lasting memories for our guests, for also for them to take the "Guanacaste, or pura vida state of mind" with them back home.
What is the Guanacaste state of mind?  It's all about the people that live in Guanacaste and how they live their lives.  They don't rush, they are not in a bad mood all the time, they hardly complain about anything; they walk slowly and are always very happy.  They live life slower than the majority of people.  It seems to me that every year that goes by statistics show that people in many countries in the world become more worried, commit more suicides, and take a lot more pills.
Guanacaste, and Costa Rica in general on the other hand, have some very good statistics to prove that their way of life works out well in the long run.  Longevity is one of the highest in the world, and Costa Rica consistently ranks in the top 3 spots out of all countries in the world in the annual Happiness Index.
We only have one life; wouldn't it be nice if we enjoyed it?  Wouldn't it be nice if we weren't always working for the weekend (as 80's pop band Loverboy would say!)?
Anyways, just some personal thoughts related to our goal here at Pura Vida House.  We hope that when you spend a week here, you leave not only feeling happy, but that it also lasts for a very long time so that you can also include the "Guanacaste state of mind" in your own life!
Pura Vida!
– Jorge and Stephanie Morera
Travel not to escape life, but for life not to escape you – www.thepuravidahouse.com   
Sports can change the world – www.sportsfornature.com