People that are interested in coming on vacation to Pura Vida House often ask us what the beaches nearby look like, so I thought I would include in this blog a brief description of each of our favorite beaches, along with a photo to illustrate.
Langosta Beach – Located 5 miles from Pura Vida House.  This is our favorite beach!  It's a beautiful white sand and long beach, great for taking walks, jogging and also going in the water.  You can go in the water for at least 100 yards and still see your feet!  We love this beach because it has an easy access from the world-renowned 4,500 acre Hacienda Pinilla Beach Resort and Residential Community, where we usually play golf and tennis with our guests.  Langosta Beach feels like a private beach (even though in Costa Rica all beaches are public), due to Hacienda Pinilla owning the property surrounding the beach access.  Sunsets at Langosta Beach are to-die-for!  This is truly a hidden gem in Costa Rica!  Here's a photo: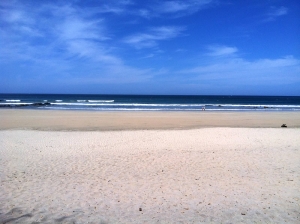 Tamarindo Beach – Located 7 miles away from Pura Vida House.  Tamarindo Beach is one of Costa Rica's (and Latin America's) most popular beaches.  It's an ideal beach for surfing, and the famous Tamarindo Beach strip is just steps away from the sand.  The strip is full of restaurants, bars, and various other hang-out places, lots happening always at the Tamarindo strip.  One of the major ex pat communities in Costa Rica is also located in Tamarindo and its surroundings.  The beach itself is not as visually striking as Langosta or Conchal Beaches, but very beautiful nonetheless.  The beach is long and wide, with grayish white sand, and ideal for surfing, for both beginners and advanced.  If you want a beach packed with activities, Tamarindo is your beach.  Sunsets in Tamarindo Beach (as in Langosta), are spectacular, especially during the Costa Rican summer!  Here's a photo of a Tamarindo Beach sunset, enjoy: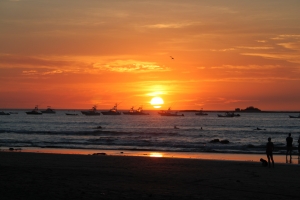 Conchal Beach – Located 12 miles away from Pura Vida House.  This beach is spectacular, same as Langosta Beach, it's the type of beach that you see in commercials on TV, takes your breath away when you see it!  Beautiful white sand beach, located in a medium-sized bay.  This beach is home to The Westin Playa Conchal Beach Resort, one of the biggest and most exclusive resorts in Costa Rica.  It's ideal for snorkeling, ocean kayaking, and fishing for lobsters.  One of the locals usually takes us on a "panga" (a small boat), to fish for lobsters close to shore.  When we are lucky, we come back with a great dinner for the night!  Conchal is great for jogging, and taking long walks on the beach.  It's usually not too crowded.  Not a good beach for surfing as waves break very close to shore.  But makes up for it with world class snorkeling near the rocks located on its northern end.  Also very close to the Catalina Islands, you can see them from the shore at Conchal.  The Catalina Islands are a great spot to visit for great ocean fishing, snorkeling and scuba diving.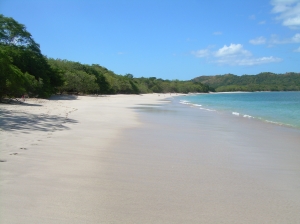 Warm regards, Mani & Sindy
Your Dream Vacation in Costa Rica