One of the simplest and best ways to get to know a culture is to sample its cuisine. Every country has its own unique flavors and recipes, and like every country in the world, there are a few must-try foods and drinks in Costa Rica that every visitor should sample before they leave.
Visitors to Pura Vida House luxury villas Costa Rica love having access to our private chef. She's been cooking up exquisite Latin American food for 25 years and loves to share some traditional Costa Rican meals with our guests. Find out why vacation villas with a private chef in Costa Rica is one of our guests favorite perks at Pura Vida House.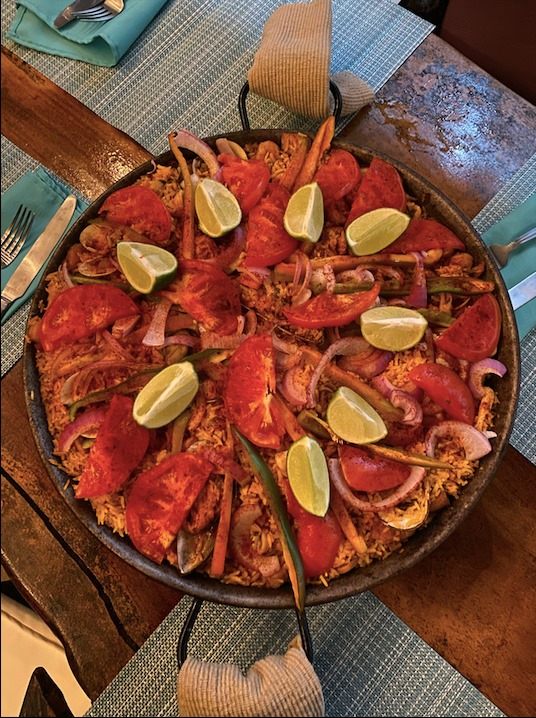 Must-Try Costa Rican Food
Arroz con Pollo o Camaron: Rice and Chicken or rice and shrimp is a very popular dish in Costa Rica. This is something you will find at nearly every large gathering where homemade food is being served. A mild dish with its own unique flavor, this dish is often dressed up with a bright red seasoning popular in Costa Rica called Achiote. While it is used to add an appetizing color, achiote is also a rich source of antioxidants that is said to aid digestion and slow the aging process. Pass the arroz con camaron! This is a popular dish with our guests at Pura Vida House.
Casado: the epitome of Costa Rican cuisine, the casado translates to "married man" because, traditionally, it's the type of meal a married man can expect to be served, if he's lucky! This truly authentic meal is found in most Costa Rican homes every day. It consists of rice and black beans, plantains, salad, and fish, chicken, pork, or beef. Que rico! (delicious). This is a popular meal most guests try during their stay with us.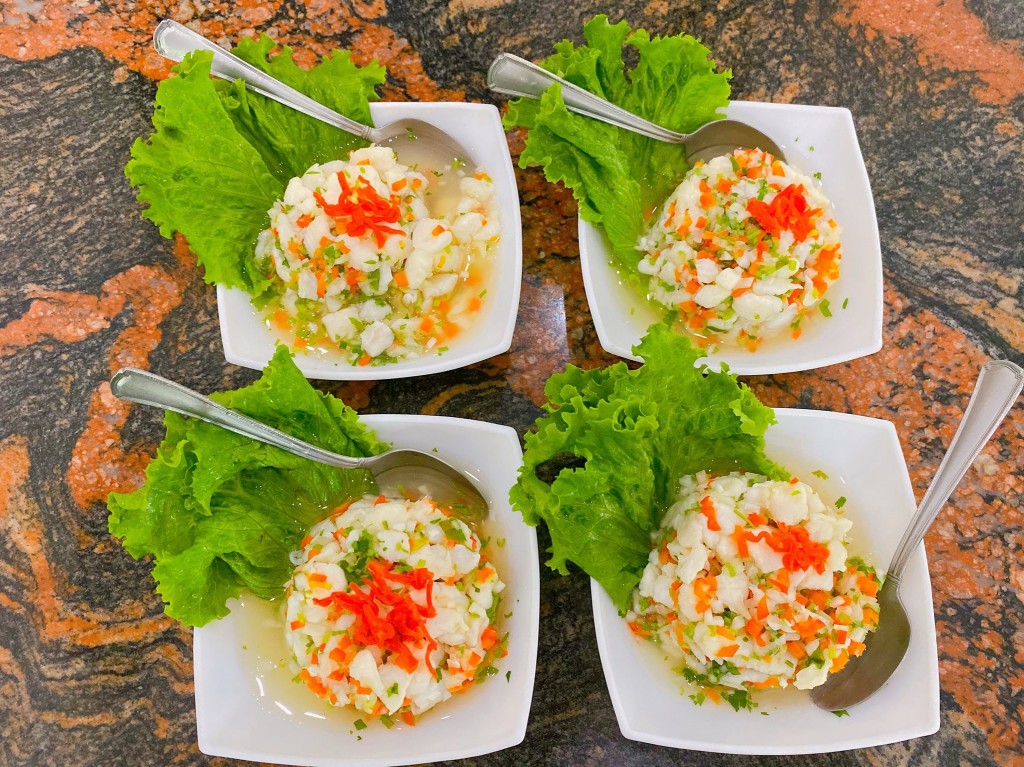 Ceviche: You'll find ceviche at most beachfront restaurants in Costa Rica, and while every chef has its own take on ceviche, traditional Costa Rican ceviche has a distinct recipe. The most basic recipe is fresh white fish like mahi-mahi cured in lime juice, onions, sweet peppers, and cilantro. The process of allowing the fish to soak in lime juice essentially "cooks" the fish. Don't worry, you will not be served raw fish! This is a refreshing dish with many variations not only throughout Latin America but throughout Costa Rica. This is a must try for those visiting the coast!
Chifrio: Considered the ultimate bar food, chifrio is rice and beans topped with chicharron, avocado, and pico de gallo (chopped tomato, onion, cilantro, and lime juice). Chicharron is very popular in Costa Rica and you will often see chicharronera's selling the crispy pork skins along the roadside when you travel the country. If you decide to visit one of our favorite local restaurants, Noguis, you will definitely find a traditional Costa Rican dish like this on the menu.
Check out some of our other restaurant recommendations
Chiliguaro: A spicy little drink served in a shot glass lined with salt, you can't leave Costa Rica without trying their national drink! Made with a shot of guaro (Costa Rica's own firewater made from distilled sugar cane), tomato juice, Tabasco sauce, and lime juice, you and your friends will be clinking glasses and saying "salud!" like a true "tico" (local) in no time with a few of these shots under your belt!
Empanada: A popular Costa Rican Street food, empanadas are made from a corn-based dough that is deep fried and stuffed with meat or cheese. You can find these delicious snacks or light breakfast or lunch choice as part of the specialty items offered by our private chef for guests of our luxury villas Costa Rica.
Gallo Pinto: served with any traditional Costa Rican breakfast, gallo pinto translates to spotted rooster and describes the look of rice and black beans mixed together. The recipe is completed by frying up the rice and beans with onions, sweet peppers, cilantro, and Lizano sauce, which is a condiment found in most kitchens across the country.
Guava/Cas: Also known as Costa Rican guava, cas is a fruit that in native to Costa Rica. often served with breakfast or a casado at sodas (small local restarants), ripe cas is almost exclusively used for drinks and is mixed with sugar since its tart flavor, like a mix between lemon juice and white grapefruit, is too strong to be eaten alone.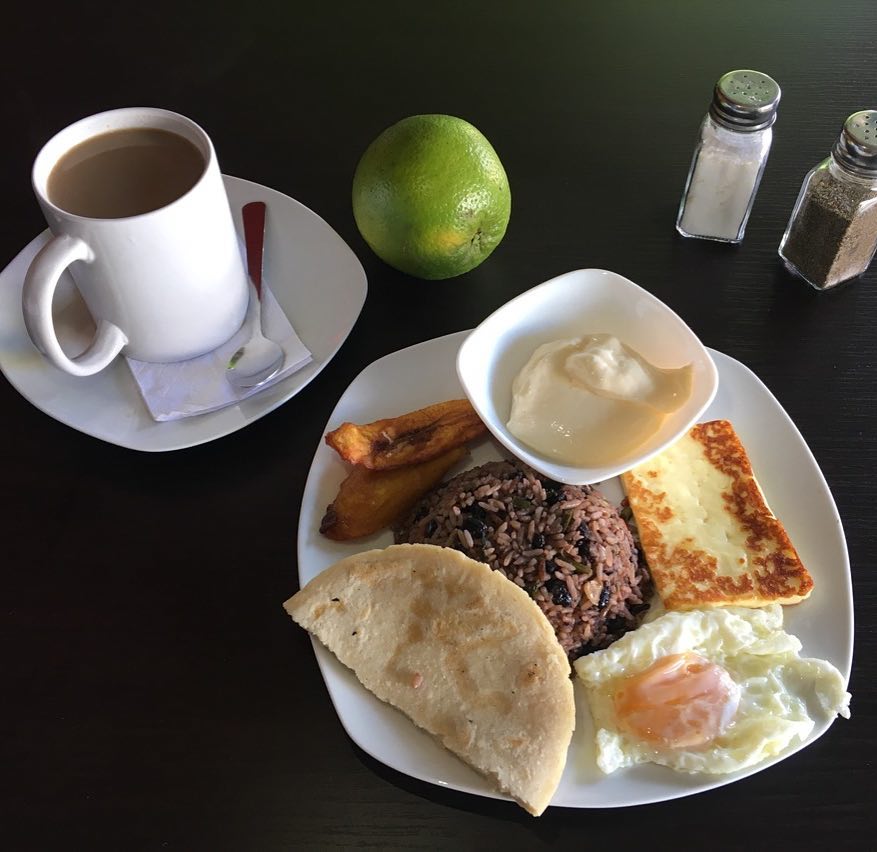 Private Chef Vacation Villas
You don't even have to leave the villa to try out several of these Costa Rican favorites! Pura Vida House gives you a true taste of Costa Rica with our on-site chef. Whether you want a private chef for a dinner party, family meal, romantic evenings in, or simply be served breakfast every day during your stay, you'll find that our private chef has the versatility to adapt the menu to various desires, dietary restrictions, or allergies. This personal concierge service is always a highlight with our guests who love to sample the local cuisine in a home-like atmosphere, giving them a true taste of experiential travel, with the luxury of a private chef in Costa Rica.
Our menu features daily breakfast, specialty items, and dinners you can order with only one day advance notice. Breakfast ranges from $15 to $18 per person and dinner from $25 to $30 per person. Some of our guest's favorite menu items include Spanish paella, fish tacos, rice and shrimp, shredded beef tacos, typical Costa Rican casados, Brazilian pot pie, Moroccan chicken, and more!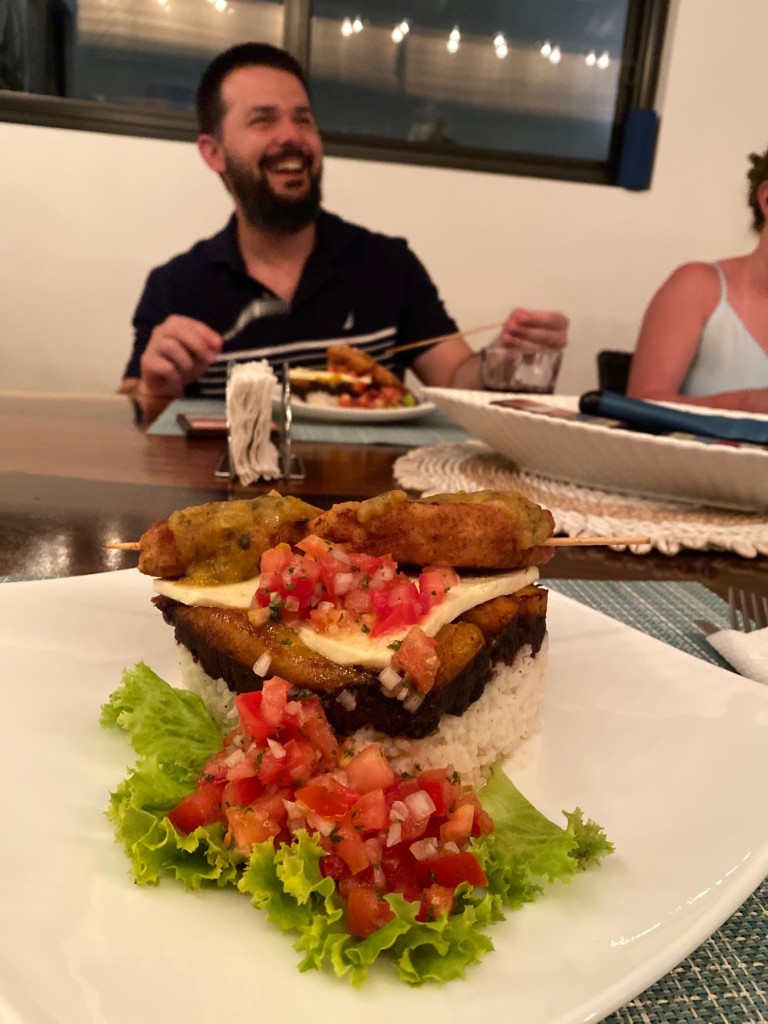 Villas with Private Chef Costa Rica
Here's what one of our past guests had to say about their experience staying at our all-inclusive vacation rental in Costa Rica:
"…The chef provided breakfast and dinner each day – we thought she was the gem of the villa, as she was superb and was very flexible and creative with some of our high maintenance eaters. Everyone enjoyed the meals and even sought to get recipes before we left. The entire staff of the house was excellent…" Ron E. Tripadvisor July 2021
Ready to book your stay? Check out our availability
If you are want to experience all of the tastes of Costa Rica, contact us today at Pura Vida House. Our all-inclusive vacation rentals in Costa Rica are waiting for you! Contact us with any questions by calling (614) 600-1904 or email info@thepuravidahouse.com.
Blog by: Jennifer LaCharite – Costa Consultants, International