I recently read the story of Malacrianza, Costa Rica's most famous rodeo bull. I wanted to share it. He is the most feared and loved bull, and even has song written about him. Hard to believe a bull can have such fame and mystique, but just read this!: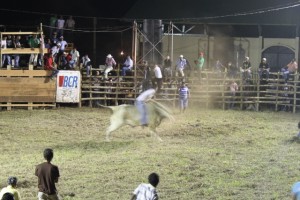 Here at Pura Vida House, we make sure we give you the most authentic experiences you can have on your vacation to Costa Rica. This includes taking you to local fairs and rodeos (of course, only if these are things you want to do!). From December through April in Guanacaste there are local rodeos every week in a different town to raise money for the town, and for no better reason than to have a celebration. This includes two rodeos walking distance to our house here in Paso, Hondo, and a few more within a few kilometers.
Costa Rican rodeos are nothing at all like Spanish bullfights. The bulls are not harmed, however from time to time (as you can see if you've read this great story above), people are. They start with a rider mounted on the bull, who, just like in bull riding we're used to, tries to stay on the bull as long as they can. Then when they are thrown off, or jump off if they've conquered the bull, anyone who wants can jump into the ring to play "chicken" with the bull. Then mounted "sabaneros" (Costa Rican cowboys) come in the ring to lasso the bull and escort it out.
Repeat this about ten times per night, add music, dancing, food and beers, and you have yourself toros a la tica, Costa Rican rodeo!
At minimum four nights a week you can find a rodeo going on near our Pura Vida House, so if on your vacation to Costa Rica this is something you'd like to attend, we will make that happen!
Pura Vida!
Mani & Sindy