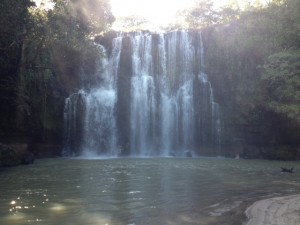 It's been a great three weeks here at Pura Vida House in Guanacaste with our first round of guests/friends arriving and staying at the house.
I don't even know where to start.  We visited volcanoes, coffee plantations, museums, parks, fourteen different cities, five different beaches, went zip lining, hiking, bird watching, played a ton of tennis, kayaked, paddle boarded, snorkeled, got massages on the beach, went on nature boat rides, and went on a night giant turtle tour.  And to top it off, we spent many late afternoons at Langosta Beach, watching majestic sunsets!  Did I mention that I absolutely love my "job"?
The more I get to know Guanacaste, the more I love this place.  It's truly a paradise on Earth.  People are as nice as can be, the food is delicious and healthy, the beaches are gorgeous, it's safe, the weather is awesome, and there's nature everywhere you look.
We are very privileged to call Guanacaste our home for half the year. Our Pura Vida House receives an average of 150 guests per year, and we can call them all friends by the end of their stay.  Life is good, it's the true pura vida life!
Sharing lasting memories with great people from all over the globe is my favorite part of the "job", and if you can do it in a place like Guanacaste, even better!
By the way, summer is right around the corner.  The last of the rainy season is upon us, and in a few weeks it will all be sun and warm weather, can't wait!
Here's a photo of a spectacular waterfall that we visited a few days ago, quite a treat, enjoy!
So long from the Pura Vida House in Guanacaste, Costa Rica!
Warm regards, and visit us for a vacation in Tamarindo soon!
– Jorge Morera & Stephanie Morera
www.thepuravidahouse.com
Experience the Real Costa Rica: www.thepuravidahouse.com
Sports and the Environment: www.sportsfornature.com