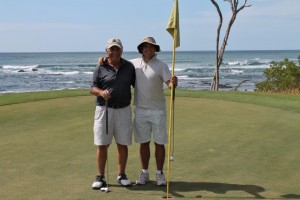 I absolutely love golf, I can't get enough of the sport. I try to play five times a week, although ends up being more like four. Not enough in my book (but still pretty good!). When I talk to people that don't play golf, or play a round or two a year, they always mention the same excuse, not enough time. They can't take five hours of their weekday or weekend to play golf. And on top of it, since they don't play much, when they do, it becomes very frustrating as they can't play well.
I agree 100%, and here's how I solved this problem for myself for the past five years (I've played golf for a total of seven): playing two balls for nine holes, so I feel like I played 18 holes, but in less than two hours.
I live in Guanacaste, Costa Rica half the year and in Columbus, Ohio the other half, summers in each one. I am a member of York Golf Club in Columbus, and Hacienda Pinilla Golf Club in Guanacaste. Luckily, both these clubs have a fast pace of play and let you ride or walk. My schedule is also flexible, so I can play in the middle of the day when there are less golfers around. So what I've done is play two balls in each hole, for nine holes, alternating front nines and back nines to not get bored, as well as to balance the courses. This allows me to play the equivalent of 18 holes in less than two hours (if I ride I can play it in less than 90 minutes!). It's not ideal, but much better than spending 4+ hours out there for every round. I play four times a week and spend about 7-8 hours out on the golf course, and get to swing the equivalent of 72 holes per week. Not bad.
The drawbacks of the 2-ball/9-hole play: you either need to play alone, or play with someone that doesn't mind you playing two balls. Either way, you need to play fast. It's also tough to play this way when the course is packed, although when I'm alone, I like to get behind a twosome, threesome or foursome, and play behind them. If I have to wait for them at any point, I just practice extra putts on the green.
Another solution is making rounds 12 holes. Jack Nicklaus and other big names are advocates of this solution; still a good amount of holes that can be played in under three hours.
Golf is in a bit of trouble, courses are closing left and right in order to make room for more money-making developments, and players are dropping the game. I say let's be creative about shortening the playing time for all players (except pros, keep the 18 hole format for them), and I think golfing numbers will grow again.
Let me know what you think!
Pura Vida,
Mani & Sindy