Costa Rica, with its breathtaking landscapes and abundant wildlife, has long been a coveted destination for nature enthusiasts. With dozens of activities available that will immerse you in nature, bird watching stands out as a popular adventure for a Costa Rica couples' trip. In a country ripe with adventure activities such as ziplining, scuba diving, deep sea sport fishing, and ATV tours through the jungle, bird watching may not sound very adventurous to some. But for couples seeking a unique and memorable experience, bird watching in Costa Rica is the perfect activity for a Costa Rica couples' getaway.
Costa Rica has an avian diversity like no other. Over 900 species of birds have been recorded in the Central American country, with an estimated five million birds migrating through Costa Rica every year. Costa Rica is a bird watchers paradise! You will experience a couples' trip like no other and some of the best hikes in Costa Rica when you add bird watching to your vacation.
 Top 10 Birds to See During Your Costa Rica Couples' Trip:
Resplendent Quetzal
Known for its vibrant emerald plumage and long, trailing tail feathers, the Resplendent Quetzal is often considered the crown jewel of Costa Rican birds. Spotting this elusive beauty requires patience and a keen eye, but the reward is an encounter with one of the world's most breathtaking birds. If you happen to catch a glimpse of the Quetzal in the cloud forests of Monteverde or the Savegre Valley, it will be an awe-inspiring experience that you and your partner will cherish forever.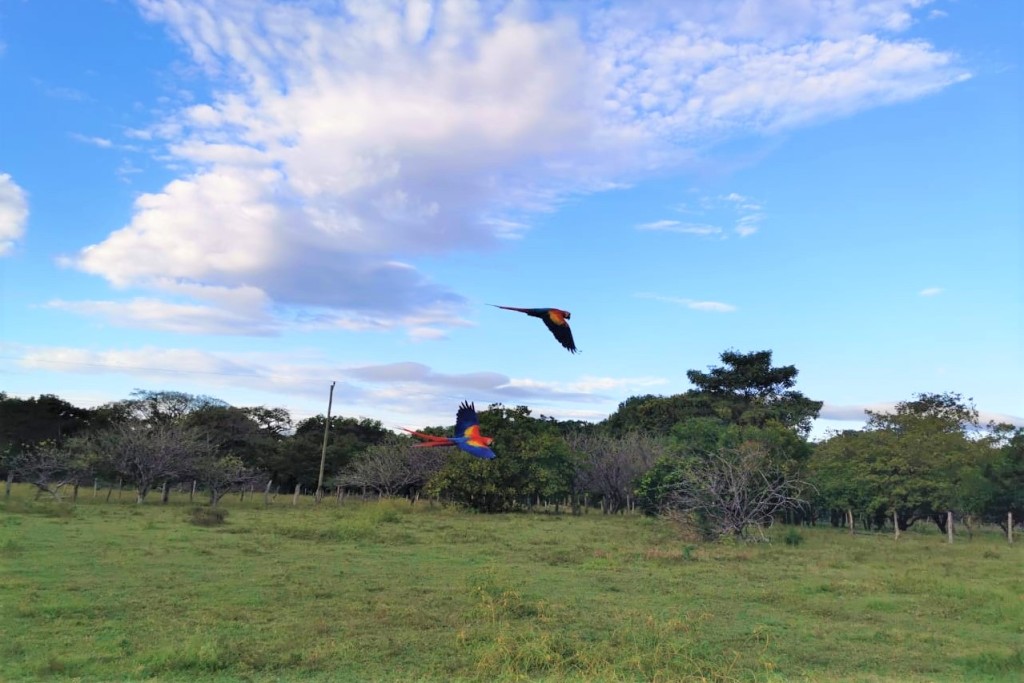 Scarlet Macaw
With its flamboyant red, blue, and yellow feathers, the Scarlet Macaw exemplifies the vibrant spirit of Costa Rica's rainforests. Found in the country's Pacific coastal regions, this majestic bird's raucous calls and impressive wingspan make it a favorite among birdwatchers. You can encounter these colorful parrots in places like Carara National Park and the Osa Peninsula, where they gracefully soar above the canopy. Thanks to a reintroduction of these beautiful birds a few years ago, you may see Macaws without ever leaving our all-inclusive vacation rental at Hacienda Pinilla Resort!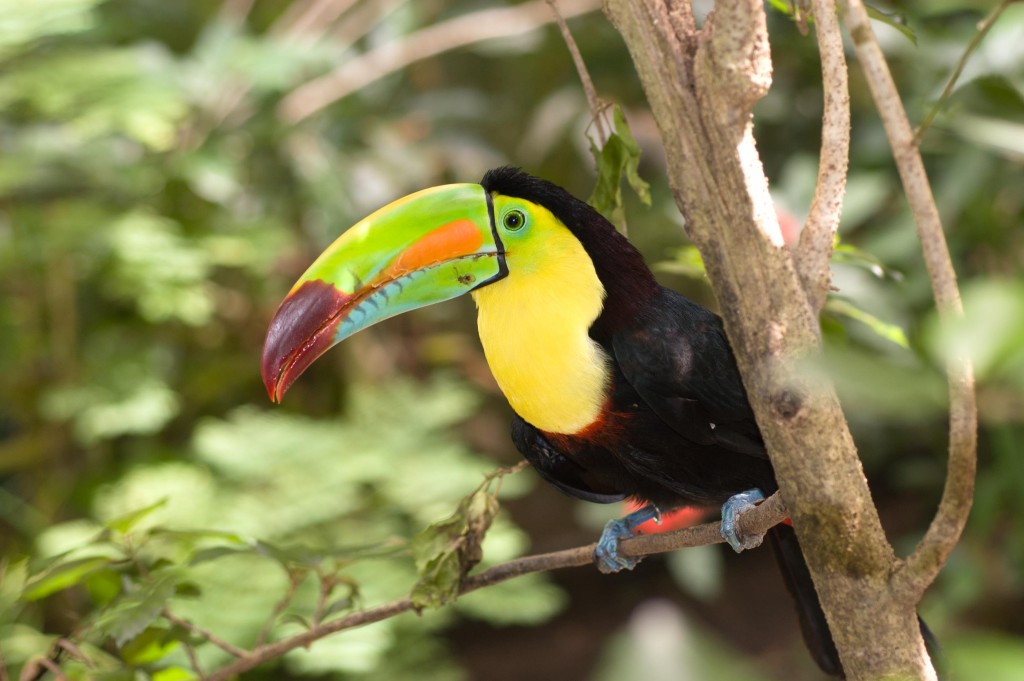 Toucans
Costa Rica is home to six types of toucans, including the iconic Keel-billed Toucan with its oversized, rainbow-colored bill. You will be overcome with excitement as you learn to listen for their distinctive calls and observe these remarkable birds in their natural habitats within the Arenal Volcano National Park or the Sarapiquí region.
Hummingbirds
Hummingbirds, the jewel-like wonders of the avian world, offer an enchanting spectacle for you and your partner to witness. These tiny birds, with their iridescent feathers and lightning-fast wings, captivate birdwatchers with their aerial acrobatics and iridescent beauty. Locations such as the Monteverde Cloud Forest Reserve and La Paz Waterfall Gardens offer ideal hummingbird viewing opportunities, although you can find these small wonders anywhere there are lush flowers for them to feed. With 50 hummingbird species to seek out in Costa Rica, you are sure to find a few!
Discover one of Costa Rica's top spots for bird watching at our Palo Verde Biodiversity Tour
Montezuma Oropendola
The Montezuma Oropendola is a sight to behold with its striking black and yellow plumage, distinctive tail, and remarkable hanging nests. If you pay attention, you will see their woven fiber nests hanging from trees and power poles throughout the country. You and your partner will be smitten when you witness the males displaying their courtship dance, which involves swaying and making strange gurgling sounds.
Blue-crowned Motmot
Distinguished by its striking blue crown, vibrant colors, and two tail feathers, the Blue-crowned Motmot is a favorite among bird watchers. You can explore Manuel Antonio National Park or the remote forests of the Osa Peninsula to see the Motmot in abundance. A fairly common bird along the North Pacific Coast as well, you will likely catch a glimpse of this stunning bird perched on branches near the Pura Vida House, twitching its distinctive tail feathers back and forth.
Great Green Macaw
The endangered Great Green Macaw captivates bird watchers with its majestic appearance and impressive wingspan. Corcovado National Park and La Selva Biological Station offer opportunities to witness these magnificent birds in their natural habitat and contribute to their conservation efforts. If you want to be sure to see this rare bird, you can visit the Punta Islita Wild Macaw Reserve in the Nicoya Peninsula. Run by the Macaw Recovery Network, this is the same organization that reintroduced Macaws to the resort where Pura Vida House resides.
Golden-hooded Tanager
Dressed in vibrant yellow, blue, and black plumage, the Golden-hooded Tanager adds a touch of brilliance to Costa Rican gardens and forests. Tanagers are one of the most colorful sounding birds in Costa Rica, with names like emerald tanager, scarlet-rumped tanager, and silver-throated tanager. You can find these lively birds in the Arenal Volcano area or the Monteverde Reserve, where they hop among the foliage, creating a striking contrast for the shutterbug.
Yellow-throated Euphonia
The Yellow-throated Euphonia, with its vibrant yellow throat and blue body, is a captivating sight for couples exploring Costa Rica's diverse habitats. With a melodious song and graceful movements, these birds enchant bird watchers in locations such as the Osa Peninsula and Monteverde.
Yellow-billed Cotinga
Known for its snowy white plumage and contrasting yellow bill, the Yellow-billed Cotinga is a critically endangered species found in the Osa Peninsula. You and your mate may get lucky and spot the Cotinga during a tour of the Tamarindo Estuary, as the birds travel to mate in mangrove forests. Spotting this rare bird requires some luck and careful observation, making it a thrilling challenge for birdwatching couples.
A couples' bird-watching trip to Costa Rica is an extraordinary opportunity to immerse yourselves in nature's wonders while deepening the bond between you and your partner. From the iconic Resplendent Quetzal to vibrant Macaws, Costa Rica's avian inhabitants offer a symphony of colors and sounds. Embark on this unforgettable adventure and create lasting memories as you explore the enchanting world of birds in the tropical paradise of Costa Rica.
If you are considering a couples' getaway in Costa Rica, our all-inclusive vacation rentals are the perfect home base for your bird-watching adventures. You can reach us at (614) 600-1904 or info@thepuravidahouse.com. We look forward to hearing from you soon!
Blog by: Jennifer LaCharite – Costa Consultants, International