People have asked us in the last week what the favorite tours are for guests that have stayed at our B&B in Costa Rica, Pura Vida House, in the past. So I thought I would write a bit about the top five favorite tours near us and Tamarinodo, that our guests like to do in Guanacaste and around the house:
# 5 – I'd have to say horseback riding with our local cowboy, Papun. Papun is a character, he shows up to Pura Vida House with his horses to pick up whoever wants to go horseback riding, and then takes them around to different spots where you can see lots of biodiversity, especially birds and monkeys. The main attraction is the waterfall, which is about 45 minutes away from Pura Vida House by horse.
# 4 – Arenal Volcano full day guided tour. This is a long day but well worth it! You will get picked up early morning to go on a 3 ½ hour ride into the northern part of Costa Rica to visit one of the most majestic volcanoes you'll ever see. On the way, you will stop by different towns, do a short rainforest hike, and then stop at one of the resorts that surrounds Arenal Volcano for a dip in the hot springs and then be treated to a nice dinner while watching and hearing the volcano. Remember, this is an active volcano, so you can literally hear it as it emanates gases in the sky! What a show it is!
# 3 – Fishing. Many guests do not care for fishing, but we have quite a few that would not dare leave Costa Rica without at least a half a day of deep sea fishing! We start the day at the Flamingo Marina and board our usual 35 foot two deck boat with a captain and two mates and head out to sea to find the fish. Most common catch is red snapper, mahi mahi and tuna. Once in a while we'll catch a big blue marlin (catch and release for the marlin!). Everything else, we bring back to Pura Vida House to have for dinner, yummy! We also stop by several islands to snorkel and hang out at remote and very cool beaches.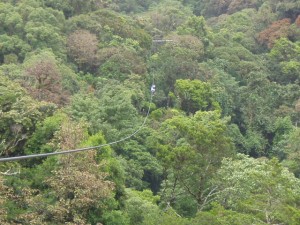 # 2 – Zip lines. You can't leave Costa Rica without trying the zip lines at least once! Many of our guests go a few times. We have some of the best zip lines around Pura Vida House, some longer than 1,000 yards! The views are terrific and I promise if you have never done zip lines before, this will be an experience you will not forget! On the first zip line, you will find yourself saying "what the heck am I doing here and a bit nervous!", but after that first line, you will be laughing and screaming like a kid in a candy store!
# 1 – Snorkeling and massage on the beach at Conchal. I have to say that so far, 100% of our guests that have done this have loved it. First of all, Conchal Beach is spectacular, perfect white sand beach in a beautiful bay, with crystal clear waters. The snorkeling on an average day is great, you get to see lots of colorful fish swimming around. The more you swim out to sea, the bigger the fish get! And then to top it off, you can relax and have a 1-hour massage on the beach by professionals that used to work for The Westin Playa Conchal. The best part though is, the cost for a massage is only $20 or so, since we bring them quite a bit of business, and can negotiate well on your behalf.
So there you have it, that's our top five. There are many other activities you can do, but I recall the five mentioned above as the constant favorites for past guests that have stayed at Pura Vida House.
So long from Columbus, Ohio (but heading to Costa Rica in a week for the next 7 months)! See you soon at our bed and breakfast in Costa Rica, the Pura Vida House.
Jorge and Stephanie Morera
www.thepuravidahouse.com
See Costa Rica while being one of the locals: www.thepuravidahouse.com
Green sports: www.sportsfornature.com