A typical day of vacation in Costa Rica for our non-tennis or golf playing friends starts just like most; sunlight and crows of roosters start to filter in your room, followed by the growls of howler monkeys off in the distance, and then song birds chiming in. The morning symphony, we call it.
Head out to the terrace for breakfast with the group. Plantains, gallo pinto (a typical dish of rice and beans, fuel for the day; you'll need it!), eggs, fresh fruits and juices, prepared by Pastora with organic food from her yard or farmer's markets. And of course, Costa Rican coffee. All of this is definitely needed to keep you going on your day's adventures.
This morning you're off on a horseback ride with Papun, our local cowboy. He will take you through dry riverbeds around Pura Vida House in Paso Hondo (or not so dry, depending on the time of year!), pointing out all sorts of wildlife and fauna as you go. Papun doesn't speak English, but don't worry, he finds a way to teach and show you a lot on your ride. He's also great with experienced or inexperienced riders!
Next, it's off to the beach, Playa Tamarindo for a surf lesson. Don't worry, no experience necessary! Then lunch at a local soda. That's a very typical local restaurant in Costa Rica, you'll find them all over. Everything is fresh and local, and they have great prices! A typical dish here is called a casado, or "marriage." It's a plate full of rice, beans, salad, a meat or veggies, a plantain, and sometimes other surprises like an egg or cheese. We call these places, "bueno, bonito, barato," "good, pretty and cheap."
By this point you're pretty tired out; it's hot and you've been active all day. And to top it off, you're stuffed full of typical Costa Rican fare. Off to Playa Langosta for some R&R in the shade or some reading. Here there are private lounge chairs and plenty of shade to relax during this hottest part of the day. Possibly a walk on the beach and a quick dip after.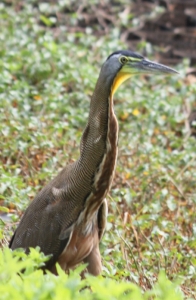 Then head over to the nearby lagoon for some late afternoon bird watching – roseate spoonbills, tiger herons, black necked stilts, and an armadillo will be today's findings. Tomorrow might hold more :-)
Then back home for a much needed shower and a glass of wine on the terrace to unwind before dinner. Pastora is back and had prepared some fresh corvina fish with salad, steamed veggies and some rice. To drink, a typical Latin American horchata with cinnamon and milk. Everything grown or caught within miles of Pura Vida House (well, the rice comes from a bit further south).
A great day has come to a close in Costa Rican paradise. But it's time to get to sleep, tomorrow holds just as much nature and action and you'll need your rest!
Come and visit us soon at Pura Vida House for your vacation in Costa Rica!
Jorge Morera & Stephanie Morera