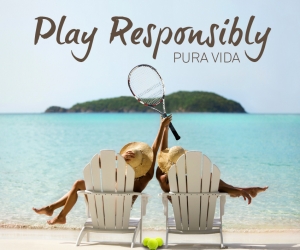 Wake up with organic yogurt, cereal, eggs, fresh bread (that our neighbors make!), tons of fruits (hope you like fruits because there's tons in Costa Rica!), juices and last but not least, Costa Rican coffee.
After breakfast, we head out to the tennis courts for some high energy tennis instruction, drills, target practice, cardio tennis, live point play, serves and volleys, and perhaps a fun mini tournament. Once everyone has had a good workout, it's time to take a break, get changed and head on out to do fun activities such as zip lines, snorkeling, ocean kayaking, visit different beaches and towns, view volcanoes, rappelling, white water rafting, bird watching, or simply lay on the beach for hours with your favorite drink in hand … basically everything and anything that everyone wants to do! Before every trip, we put together a fun draft itinerary for everyone to review/tweak, so everyone gets chance to do their favorite activities while in Costa Rica.
For bigger groups, we have several cars available so group can be divided in two depending on what activities everyone wants to do.
At the end of the day, it's relaxation time. Our cooks will make delicious Costa Rican dishes and desserts for everyone to enjoy. And after dinner, we all sit on the terrace for some good conversations and to enjoy the many nature sounds that will be coming from around Pura Vida House.
Sometimes though, groups will go on full day excursions, for example, to Arenal Volcano to experience the rainforest, hot springs and spectacular views of the volcano. In those days there might not be any tennis, but well worth it to see other parts of Costa Rica. And, we can always make up for the lost tennis the next day!
Our goal is to put together tennis vacations that include as much tennis as every groups wants, and to also show guests what Costa Rica and Guanacaste are all about, with its beautiful beaches, local culture and of course, abundant biodiversity.
So long from Costa Rica, warm regards,
Jorge and Stephanie Morera
www.thepuravidahouse.com
Experience the real Costa Rica – www.thepuravidahouse.com
Sports can green the world – www.sportsfornature.com