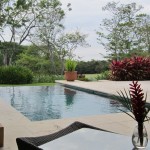 I have been in Costa Rica for one week now, getting ready for our busy but exciting trips season!  Our first guests arrive 5 days from now and they could not have picked a better time to come.  We have had some rain in the past few days but there have also been some very sunny, picture perfect days.  This is the transition period in Costa Rica where the rainy season is ending and the summer is starting.  In a few more weeks, it will be all sun and nice weather for the next 6 months!  It's a great time to be here because you can see much of the biodiversity that Costa Rica and Guanacaste offers (since it's still technically the rainy season), but also enjoy many sunny days.  The rain brings out many animals, flowers, trees, etc., that sometimes you don't see during the dry summer season, so coming to Costa Rica during the rainy season also has its advantages.
Of course, many people prefer to come down here when its guaranteed that it will be sunny every day and mid 80's, so plenty of beach time in Tamarindo, Conchal and Langosta can be enjoyed!
I am also very excited because starting November 8th, we will start the construction of a new swimming pool at the Pura Vida House and Casita Tuanis.  This pool will be shared by both haciendas and will provide lots of fun for our guests and ourselves too!
It's looking like we'll be installing a medium sized pool that will be surrounded by a wooden deck where we will have lounge chairs for guests to sun bathe.  We also want to install lighting in the swimming pool so everyone can also enjoy the pool at night, and be able to take a dip under the stars.  And there are some amazing stars at Pura Vida House and in Guanacaste!  If you look up at the sky on a clear night, you can see the Milky Way and during the summer months, the Southern Cross, what a sight it is!  I can picture myself and our guests sipping their favorite beverage and contemplating the stars in the pool.  That's what I call relaxation therapy!
Anyways, I'll be in touch soon with photos of the pool as soon as we break ground.  Very exciting, life is good, or shall I say … Pura Vida!
If you're interested in coming to Pura Vida House or have any questions about Costa Rica in general, please don't hesitate to contact us as we are more than happy to help out!  CostaRica@SportsForNature.com.
We hope to see you soon at our bed and breakfast in Costa Rica. Warm regards,
Jorge Morera and Stephanie Morerawww.thepuravidahouse.com
Experience the Real Costa Rica: www.thepuravidahouse.com
Sports and the Environment: www.sportsfornature.com