If you want a hot vacation down south for your family with safety, nature, adventure, and luxury as your top priorities then consider a family vacation in Costa Rica. And if you want the luxury and convenience of a resort but you'd prefer the intimacy and privacy of a family home then Pura Vida House should be at the top of the list for your family's Costa Rica trip.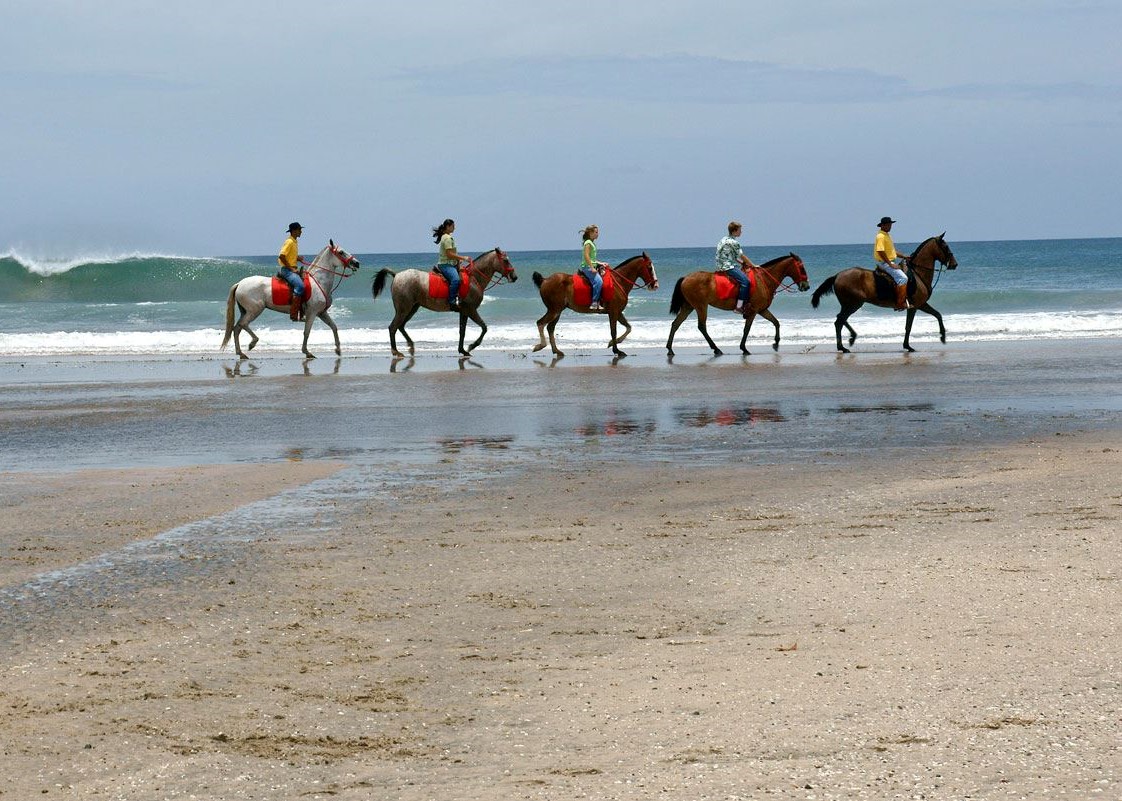 Where Safety Meets Convenience and Luxury
At Pura Vida House, we provide 24/7 security at our villa, which is located inside the upscale gated community of Hacienda Pinilla Beach Resort. Our all-inclusive vacation rentals in Costa Rica includes housekeeping and laundry service once per week. Well-appointed with everything you need for a family vacation, we provide towels, beach towels, linens, hair dryers, security safe, organic toiletries, cooking and dining essentials, and Costa Rican coffee for the entirety of your stay. Our guests have use of the outdoor gas grill on the terrace, which is perfect for those family barbeques.
We even provide the use of two mountain bikes so you can take advantage of the 45 kilometers of mountain biking trails available on site. And tell the kids not to worry – there's high speed internet at the villa! That's if they even want to stay indoors. Some of our younger guests say their favorite memories of their vacation at Pura Vida House was zipping around the massive resort property on our golf cart and seeing all the iguanas, birds, and howler monkeys!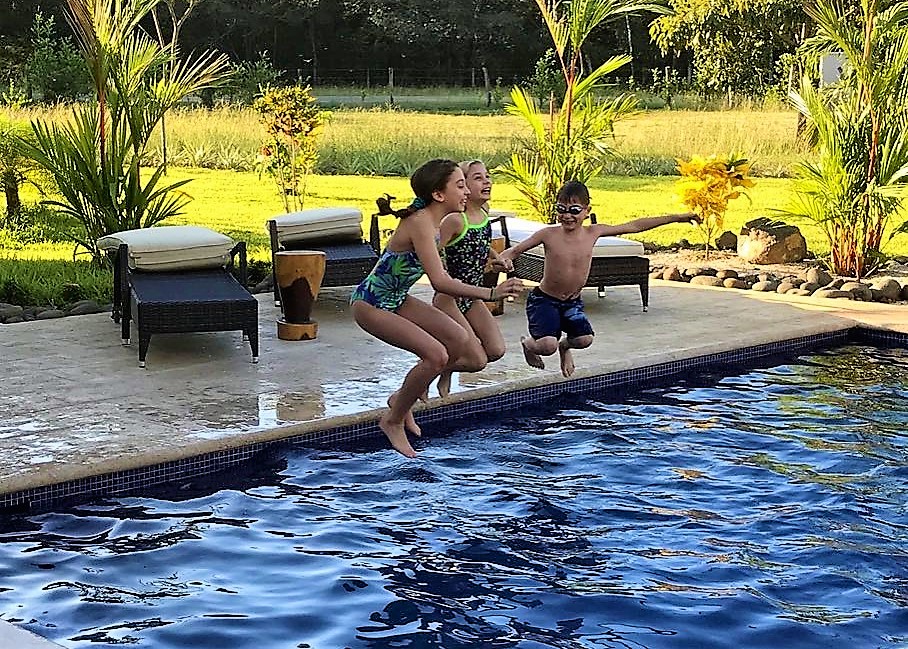 Why Pura Vida House is Great for Families
Our attentive service is made for family vacations in Costa Rica. We offer 24/7 concierge services to help you make the most of your trip. We help arrange tours, vehicle rentals, private transfers, and additional treats like in-home massages or private chef services. Additionally, you will have access to local knowledge and tips provided by your hosts, Mani and Sindy. From your pick-up to your drop off at the airport, you'll feel like family at Pura Vida House!
Guest here have the option to rent the four bedroom villa or add on the additional two bedrooms located on the other side of the swimming pool for a 4,500 square foot, six bedroom luxury villa rental. The full rental can sleep up to 17 guests! This way you can invite the whole family – grandparents, cousins, in-laws, or travel with your friends and their family.
Check Out Our Luxury Villa Costa Rica
Our large outdoor swimming pool and terrace for dining al fresco is a feature that really adds to the family vacation experience at Pura Vida House. Don't feel like cooking? Our private chef can be available within a one-day notice for our guest's convenience, and they can cater to all the picky eaters in your group! If you want to go out for dinner at the Hacienda Pinilla Beach Club or into the town of Tamarindo for a romantic sunset dinner, we can provide reliable childcare and babysitting services.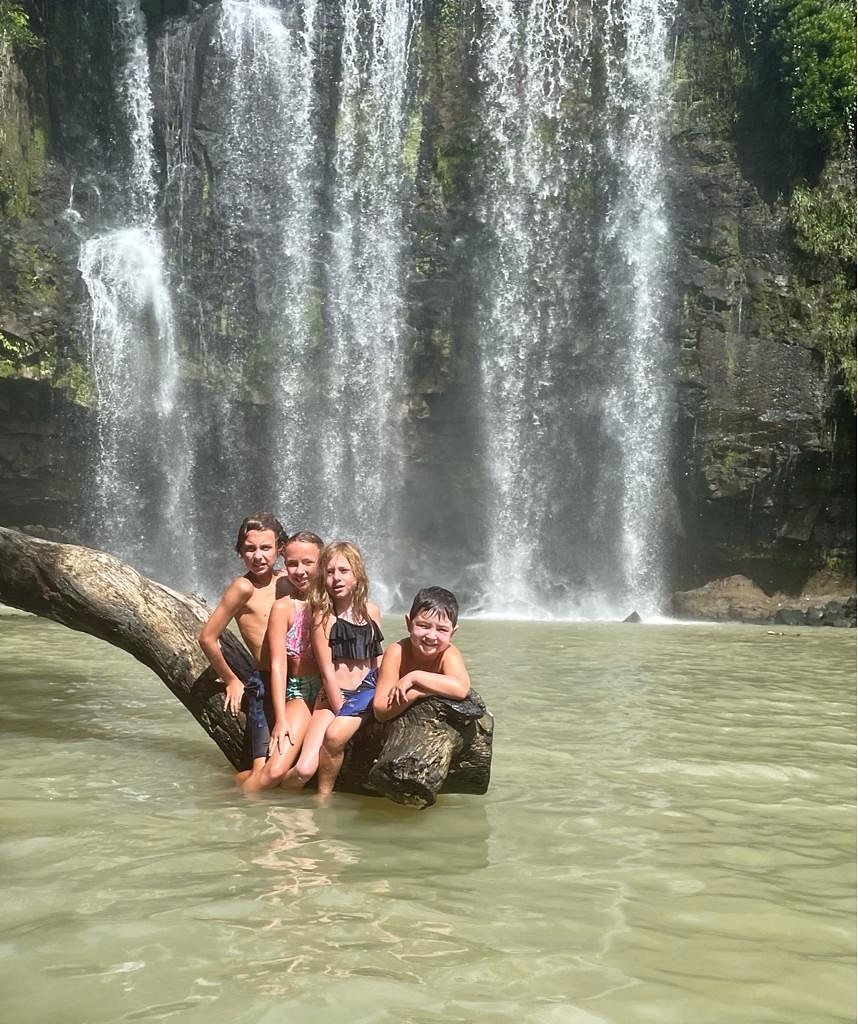 Fun for Everyone in the Family
It's easy to find the right activity for everyone at Pura Vida House. That's because our guests have exclusive access to the Hacienda Pinilla Beach Resort, where they provide a variety of activities, and the Beach Club, where you and your family can go swimming in their gigantic infinity pool, use the gym or take a yoga class, or enjoy their two bars and restaurant. The luxury resort also gives guests easy access to three beautiful Costa Rican beaches including Playa Avellanas, Playa Langosta, and Playa Mansita, where surfing, snorkeling, and exploring makes for a perfect day at the beach.
Some of the activities available on site are perfect for your family's Costa Rica trip. Spend the morning taking surfing lessons and the afternoon horseback riding along the countryside and beach while monkeys howl in the trees. Use the two bikes provided by us and rent a few more for a family mountain biking adventure around the many scenic trails available on site. In the evenings, families can enjoy a game of tennis or pickleball at the fully lighted courts. There is plenty to see and do without even leaving the surrounding property when you stay at Pura Vida House!
Of course, there is plenty to see and do outside of the villa and resort as well! We can help arrange all your tours and day trips including exploring national parks full of biodiversity to checking out the active surf town of Tamarindo.
The nature loving family will feel like they are in paradise. If you come at just the right time, you and your family can witness a once in a lifetime experience – the Ostional Giant Turtle Arribada. It only occurs once every 45 days! Those lucky enough to witness this prehistoric event will walk on the beach in the early dawn light with thousands of Olive Ridley sea turtles crawling up onto Ostional Beach to nest. It is definitely a sight to behold!
You and your family can also see rescued Costa Rican wildlife up close, such as jaguars, ocelots, toucans, butterflies, monkeys, and sloths! This animal sanctuary and eco adventure park is about 90 minutes from Pura Vida House, and a great way to see native Costa Rican wildlife if you or members of your family would rather not hike.
The adventurous family will love a hike or mountain bike around an active volcano with steaming geysers and bubbling volcanic mud pits, then a soak in natural mineral hot springs. Discover the magic of the rainforest by crossing hanging bridges high in the tree canopy, giving you a glimpse into one of the most diverse spots on the planet. Experience the thrill of whitewater rafting or tubing in a tropical river, or rappelling down a rushing waterfall. And of course, everyone must experience zip lining in Costa Rica. This is an adventure lover's paradise! If these exciting tours don't get the kids off of their phones and into the moment, nothing will!
The water loving family will have a lot of activities to pick and choose from. There's swimming beneath a beautiful waterfall, snorkeling under the sea, gliding along the coast at sunset in a catamaran, and deep sea fishing all within reach.
See All The Tours We Can Offer Our Guests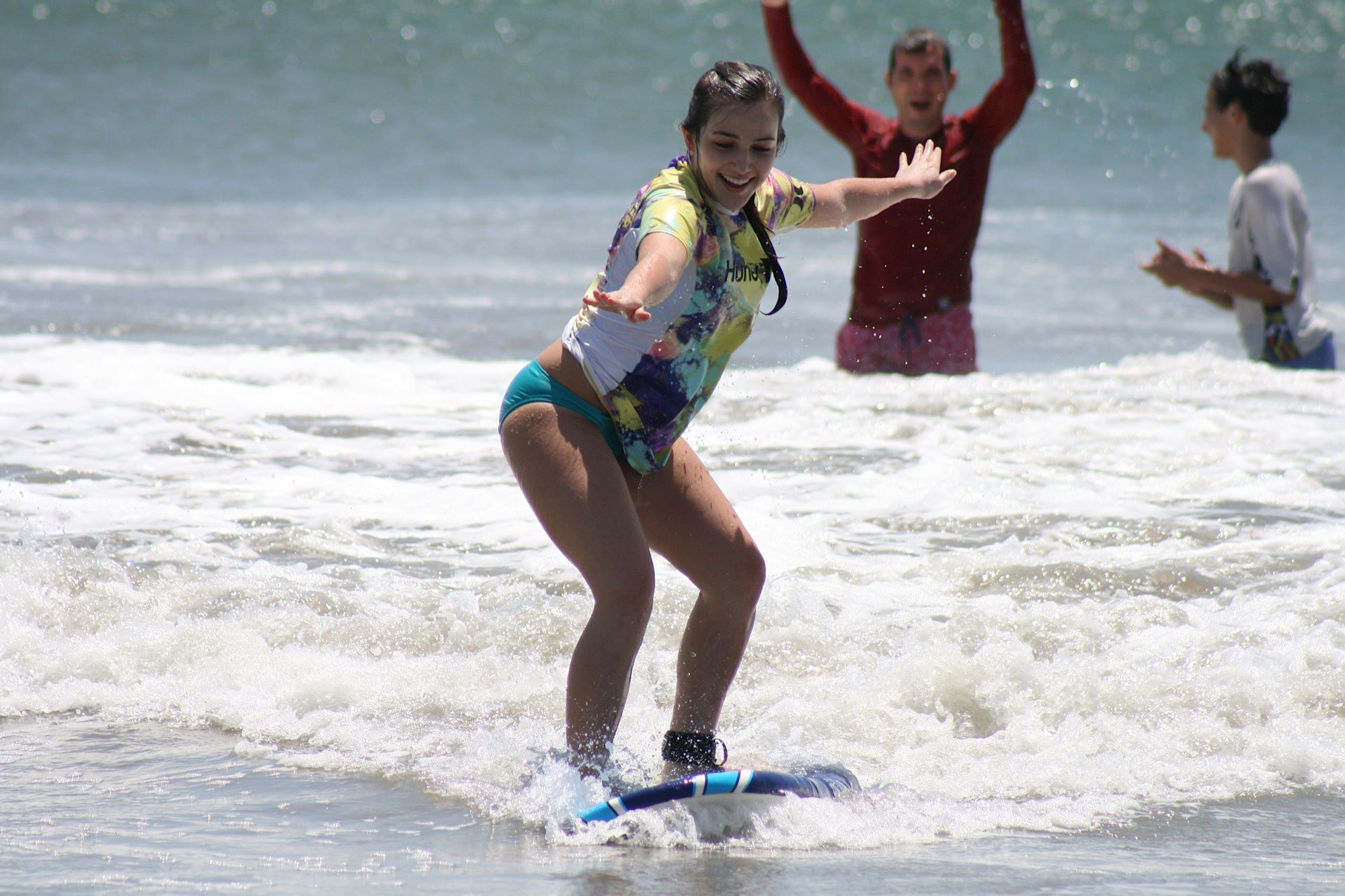 Family Costa Rica Trip Review
Don't just take our word on what makes Pura Vida House a perfect place for family vacations in Costa Rica. Read what Culture260151 from Idaho, USA wrote on TripAdvisor on August 10, 2021:
"We wanted a vacation for two families that offered a beautiful setting, some adventure, some luxury, some pampering and a variety of experiences for each person to choose from. We selected The Pura Vida house based on the excellent reviews and we were not disappointed.
Mani and Sindy are engaged and committed to making the experience everything it can be for all involved. On the business side, every interaction was professional and friendly. There were no surprises and the communication was fantastic. Every interaction exceed expectations. On a personal side, everyone we talked to from beginning to end was pleasant and went out of their way to make sure we had a good experience. I have very rarely received such attentive service.
We had the option of customizing our requirements from meals and special requests for activities which made it easy for us to find something for everyone to do. We all came away from Costa Rica excited and fulfilled from the experience.
The staff kept the property in beautiful condition and went out of their way to make our stay an outstanding experience. I felt like I was being treated like family as much as a visitor.
We participated in activities and tours arranged by Mani and Sindy. It was on time, every time. Even when we would have a special request or change in plans, we were cheerfully accommodated.
There were opportunities to relax by the pool, visit the beach club and enjoy many amenities like the included bikes and electric golf carts to get around. We enjoyed have the two full kitchens and beautifully appointed rooms in the two houses.
Safety is always a concern while vacationing. At this property, one feels completely safe.
I am careful with a full out endorsement of any organization. In this case, I can give a full throated endorsement. If you stay at the Pura Vida House, you will be glad you did."
More Guest Reviews of Pura Vida House
What more could you want?
Please contact us with any questions you have if you are considering all inclusive vacation rentals in Costa Rica. We are available at (614) 600-1904 or info@thepuravidahouse.com. We look forward to hearing from you soon.
Blog by: Jennifer LaCharite – Costa Consultants, International