With over 300 beaches along the Pacific Coast of Costa Rica alone, you are spoiled for choice when you travel to this hot destination. Some of the best beaches in Costa Rica are found right here in the Tamarindo area. Luckily for guests of Pura Vida House, you don't even have to leave the property to reach three of these amazing beaches.
Our luxury villas in Costa Rica reside in the private resort community of Hacienda Pinilla. This 4,500-acre property sits on three miles of the pacific coastline, encompassing the beautiful beaches of Playa Avellanas, Playa Langosta, and Playa Mansita.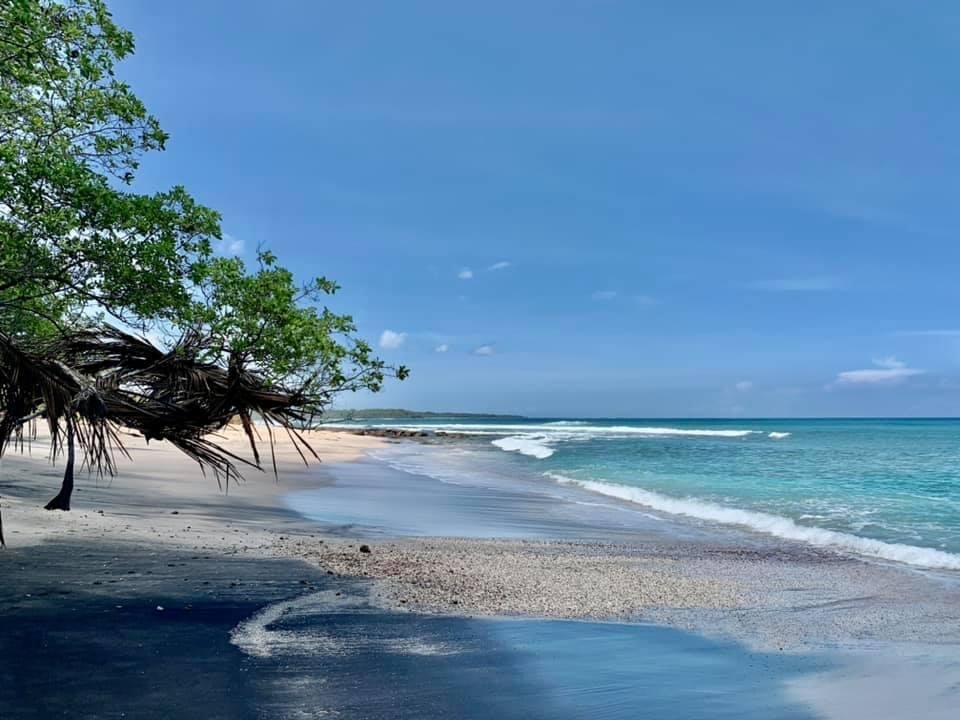 Playa Avellanas
Located right in front of Hacienda Pinilla's impressive Beach Club, Playa Avellanas is a popular choice for surfers and beach lovers alike.
Backed by mangroves with strange, misshapen trees and shrubs, Avellanas is a virtual paradise for photography buffs. There is a wooden boardwalk through the mangrove that is a very popular spot for photos. This boardwalk leads to Cabinas Las Olas. Needless to say, sunsets here are epic.
Beauty aside, Avellanas is best known for its surf. While Avellanas is not a busy beach, it is a popular spot for surf schools in the Tamarindo Costa Rica beaches area to bring their students after they've gotten used to surfing the mellow waves at Tamarindo Beach. This surf spot is best for intermediate and advanced surfers unless you're with an instructor. Avellanas Beach's claim to fame is the "Little Hawaii" surf spot, where the most advanced surfers go to play. Waves here can reach as high as 18 feet on a good day.
Surfing aside, this unique beach is also great for seaside strolls and lounging beneath the nature-made shade.
Avellanas is also home to Lola's Beachfront Restaurant, which strives to provide organic, free-range food and cold beverages to its clientele. You can even make friends with their resident pet pig! Lola's is just a 15-minute walk from the Hacienda Pinilla Beach Club.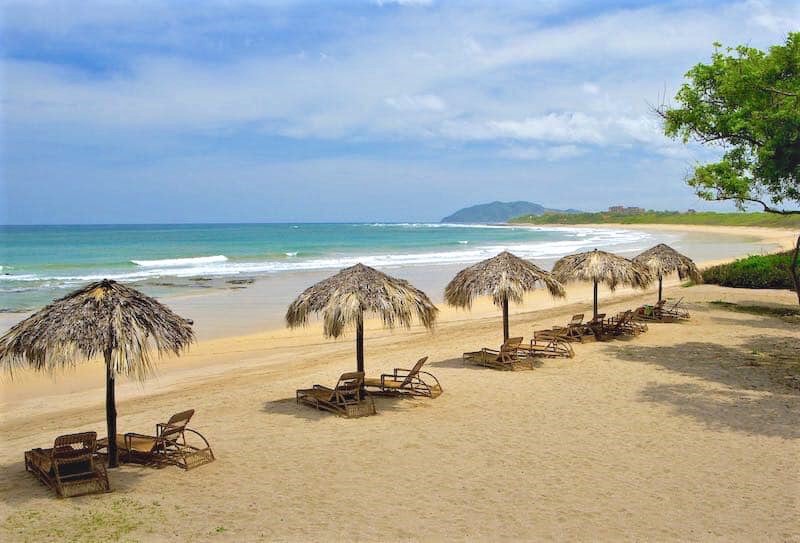 Playa Langosta
Another of Hacienda Pinilla's famous beach trios is Playa Langosta. This long, quiet beach is perfect for sunset strolls and exploring the many tidepools that form in the volcanic rocks at low tide.
This laid-back beach doesn't have a parking lot and can only be accessed by the public by walking through a forest trail, so it does not get too busy. The easiest access to Langosta Beach is from Hacienda Pinilla and the Occidental all-inclusive resort. This restrictive access makes Langosta feel almost like a private beach. While there is not much else on this beach, when you use the entrance from Hacienda Pinilla, you will have access to some lounge chairs with palm palapas for shade and a rustic restroom.
Playa Langosta is also one of the top Costa Rica surf spots in the Tamarindo beaches area. Experienced surfers usually head to the southern end of the beach at the mouth of the estuary, where there is a great surf break. And unlike the much busier Tamarindo Beach, you won't have to fight for the best waves. There are many rough coral and rocky outcrops at Langosta Beach, not to mention strong currents, so the waves are best suited for experienced surfers and those heading out with instructors.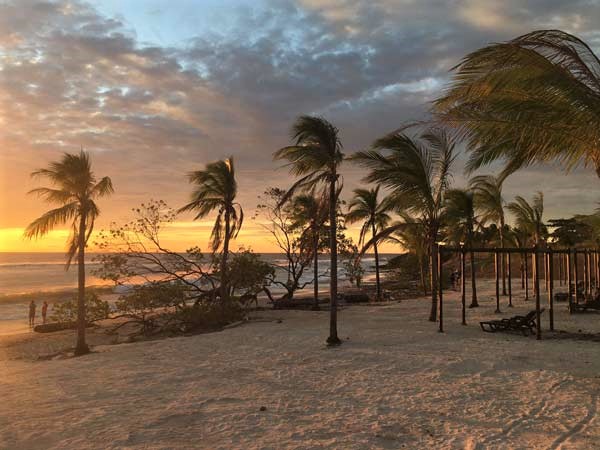 Playa Mansita
The third and quietest beach at Hacienda Pinilla is Playa Mansita. This relatively unknown beach offers a tranquil spot for relaxation, strolls, or just laying on the beach enjoying the view.
Come low tide, you can witness Playa Mansita's claim to fame, when the ocean floor's porous rocks reveal themselves, forming tide pools full of tiny critters like ocean shrimp, crabs, and small fish. These tide pools make this the beach at Hacienda Pinilla known for snorkeling. Visitors here love to grab their snorkel gear and explore the tide pools which fill up with fresh sea life every day. You don't even need to snorkel to witness the spectacular sea life in these tide pools and ocean paths. That's why kids and kids-at-heart will love a day a Mansita Beach!
Mansita is the beach where the JW Marriott Guanacaste is located. They have provided a roped-off area in the ocean for swimming, so you don't have to worry about you or your kids getting swept out to sea by a riptide. These amenities are included for guests of Pura Vida House, along with access to the restaurants and spas located within the Marriott resort.
Guests of our luxury villas in Costa Rica also have access to all the amenities at Hacienda Pinilla Resort, allowing them to take full advantage of these three nearby beaches.
Surfing: There are surfing lessons available for beginners and those who have never surfed before. More experienced surfers can take advantage of surfboard rentals, including shortboards, longboards, boogie boards, and soft tops. Surf supplies are available for sale, including wax, sunblock, leashes, shorts, and rash guards. You can even book a surf trip with an expert. Besides "Little Hawaii", great Costa Rica surf spots available from the resort include the Avellanas beach break and river mouth, and Langosta's river mouth and "Cape Town".
Horseback Riding: Not only can you trot along miles of scenic trails within the resort, but you can also wander along the miles of pristine beaches bordering Hacienda Pinilla. The trails and beachfront horseback rides are a family-friendly adventure unique to Hacienda Pinilla and iconic to the Guanacaste way of life. From equestrian enthusiasts to beginning riders, the stables here offer a range of horses that are suitable for all levels of riding experience.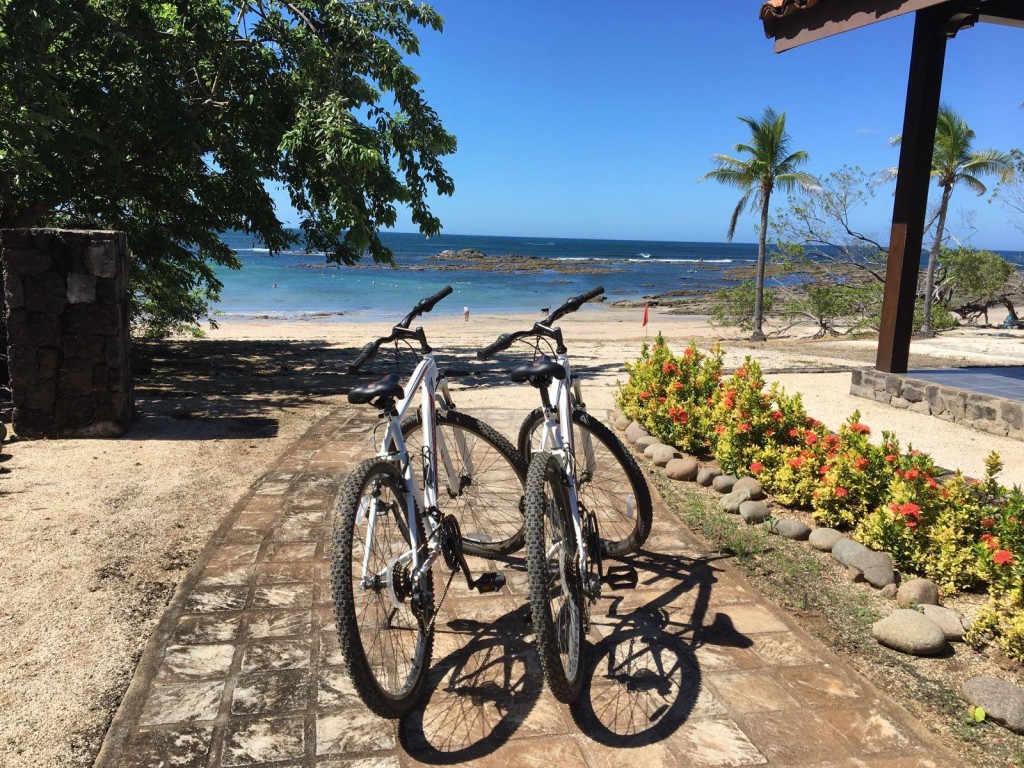 Mountain Biking: With over 25 miles of trails, including those along the coastline, mountain biking enthusiasts will feel like they have died and gone to heaven. Beginners can enjoy the natural landscapes, while the pros can practice their skills and endurance. Guests of Pura Vida House have full access to two mountain bikes for exploring the beaches and plains of Hacienda Pinilla. Bike rentals are also available at the resort.
With access to three beautiful beaches nearby, you are spoiled for choice when you visit Pura Vida House! Please contact us with any questions you have if you are considering our luxury villas in Costa Rica. We are available at (614) 600-1904 or info@thepuravidahouse.com. We look forward to hearing from you soon!
Blog by: Jennifer LaCharite – Costa Consultants, International