Some of the most luxurious and resort style houses for rent in Tamarindo are located in Hacienda Pinilla in Guanacaste, Costa Rica. This nature-filled, high-end resort boasts 4,500 acres of pristine and secluded roamining grounds that blend tranquility with endless adventure for a tropical getaway you won't soon forget.
Of all the houses to rent, Pura Vida House is one of the favorites in Hacienda Pinilla. Our villa is highly-rated on TripAdvisor, having been awarded the 2016, 2017, and 2018 Certificate of Excellence, and recently cited as TripAdvisor's 2019 Travelers' Choice.
And for good reason!
Wonderful Houses for Rent in Tamarindo Costa Rica | Pura Vida
We're located just minutes away from the Tamarindo Strip where all the best restaurants, bars and shops await, yet far enough away so our guests can enjoy the tranquility, nature and wildlife that makes Costa Rica such a sought after destination.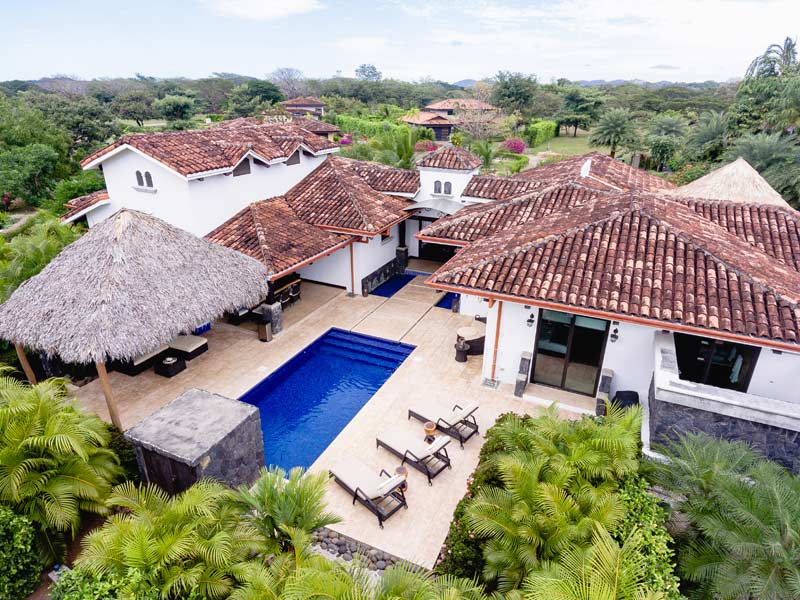 Hacienda Pinilla itself has tons to do right inside the resort. You'll have access to many things steps away from our villa:
The Beach Club at Hacienda Pinilla
12 restaurants and bars
2 spas
Equestrian Center
Snorkeling
30 miles of running, mountain biking and hiking trails
18-hole championship golf course
Lighted tennis and pickleball courts
Yoga studios and gyms
World-class surfing, volleyball, soccer
Local mini market and chapel
And more!
Why Guests Choose to Rent our House | Pura Vida House
Whether you're heading to Costa Rica to relax beachside, explore our mesmerizing rain forests, or enjoy endless activity, you'll want a local guide to point you to the most memorable experiences.
One of the reasons so many travelers choose to rent Pura Vida House is because we know how to create a personalized experience for parties of all sizes. Our 5-star villa can house up to 17 guests, making it the ideal homebase for Costa Rican weddings, anniversary celebrations, and family retreats.
And not only will you have access to Hacienda Pinilla's pristine coastal landscapes, but you'll also have incredible hangouts from the comfort of your private villa, like our outdoor al-fresco dining area and palapa.
The Pura Vida Personal Touch
Our luxury villa comes with an experienced team of chefs, drivers, guides, naturalists, birders, and 24/7 concierge services that can be reached via text message or phone for anything you need whether you're on the grounds of exploring the nearby coastal towns.
We'll always be available to book you tours/excursions and restaurant reservations, tee times at the Hacienda Pinilla Golf Club, spa appointments, or to share suggestions on what to do and see inside our resort and around our area.
With a local guide only a text or call away, there's no reason you can't set out for the day and bounce from amazing views, delicious cuisine, relaxing moments and one-of-a-kind adventures until it's time to recharge at your private retreat with family and friends.
Looking for a House to Rent in Tamarindo?
When thinking about houses for rent in Tamarindo, Costa Rica, please give our villa Pura Vida House at Hacienda Pinilla a chance and you will not regret it, we'll make sure your vacation in Costa Rica is unforgettable!
Warm regards from the Golden Coast,
Mani & Sindy