Pickleball camps for adults have been gaining popularity over the past few years and pickleball is even starting to rival tennis as the most popular game for couples. Why is this sport with the silly name becoming so popular and will it overthrow tennis as the best sport to be played on a court? Let's take a look the difference between pickleball and tennis and how you can incorporate the fun and competitive sport into your next all inclusive vacation.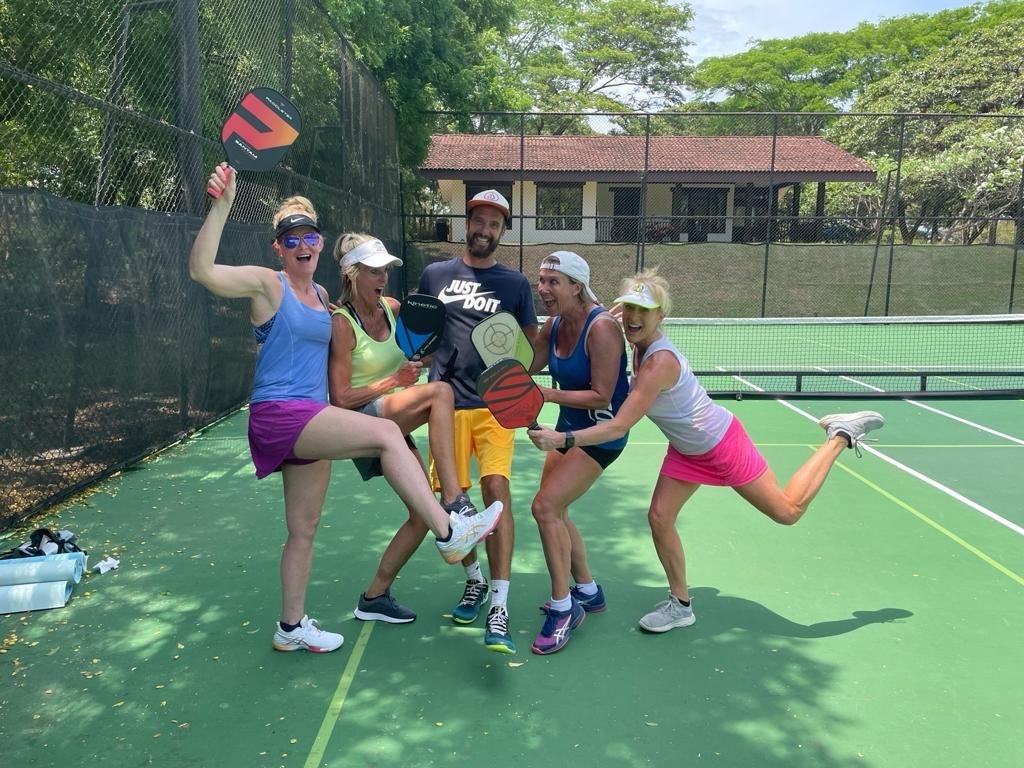 Pickleball vs Tennis
Like tennis, pickleball is often played in pairs. While the rules may be similar, one of the biggest differences is the size of the court. For doubles, a typical tennis court is 78 feet long and 36 feet wide and a regulation pickleball court is 44 feet long and 20 feet wide. The smaller court means less running for the pickleball player.
The pickleball paddle looks more like a ping pong racquet than a tennis racket. The pickleball racquet is solid and smaller than a tennis racquet, whereas the tennis racket is hollow with a net and longer handle. The shorter, lighter pickleball racquet is considered easier to handle and control. While a tennis ball is covered in felt with a solid cover, the pickleball looks more like a whiffle ball, with holes that make it lighter, with less drag than the tennis ball.
The rules of pickleball vs tennis are quite similar, however scoring is quite different. There is no game-set structure in pickleball like there is in tennis. In pickleball, you can only score when your side is serving.  The winner is determined by the first side to reach 11 points, but they must win by two points. Play continues beyond 11 points until one side wins by two. Many players find the rules easier to learn in pickleball. As for serving, pickleball players must go cross court like in tennis. However, they must serve underhand, and the point of contact must be below the hip. The overhanded serve in tennis often requires more strength, agility, and practice than the underhand serve in pickleball.
Read the 5 differences between Pickleball and Tennis, and the similarities between these two absolutely wonderful sports!
Generally speaking, pickleball isn't as physically demanding as tennis. Play is generally less intense in pickleball and there are definitely less injuries reported. In fact, many avid tennis players switch to pickleball as they get older to avoid injury. Pickleball requires less movement than tennis but is often played at the same pace except the forward movement. Meanwhile, tennis players are required to run in all possible directions on a bigger court, making it more strenuous.
Pickleball Camps for Adults
The sport has become so popular that pickleball camps for adults have sprung up around the world. A recent article featured in InPickleball Magazine called "Pickleball Resorts" shares venues of popular pickleball camps around the world – from Vegas, to Mexico, to Portugal, and Morocco. We are proud to note that the article even features the Pura Vida House as the Costa Rican representative for pickleball camps for adults!
Read the full article from InPickleball
At Pura Vida House, we offer pickleball vacations and tennis vacations in Costa Rica at a luxury beach resort villa along what is known as the Gold Coast. We offer a seven night, all inclusive vacation package exclusively for groups of 8 to 12 that want to stay at our luxury villa, enjoy all the amenities at the Hacienda Pinilla Beach Resort, and play tennis or pickleball.
At our tennis and pickleball camps for adults, you and your guests will get two-hour daily lessons, drills, and socials with our resort pros or four hours of open play. Our small groups mean we have a low guest to pro ratio, so you will get the most out of your lessons when you stay at Pura Vida House. The courts here are lighted at night and shaded by palms during the day time, so you also get the most out of your time on the courts.
Your stay at our four or six room villas includes seven nights double occupancy in our luxury accommodations within the gated community of Hacienda Pinilla. Your stay includes free airport shuttle and the use of two mountain bikes to tackle the resorts 45 kilometers of trails, that is, if you have the energy after running around the tennis or pickleball court! Too tired to walk home or cook? No problem! You also have access to our two golf carts and private chef for breakfast and dinner.
The Hacienda Pinilla Beach Resort is situated across three beautiful Costa Rican beaches – Avellanas, Langosta, and Mansita. These secluded beaches cater to surfing, snorkeling, sunbathing, and sunset watching. Guests at Pura Vida House get full access to the Beach Club, which houses a spa, ocean view fitness center, weekly yoga classes, restaurant, Tiki bar, and a 160-foot lagoon style infinity pool.
Other amenities at the resort include surfing rentals and lessons, horseback riding, and golf. Guests of Pura Vida House get 50 percent off a round of golf at Hacienda Pinilla's 18-hole course. Our guests can even access the 12 bars and restaurants at the nearby JW Marriott Guanacaste Resort.
Our tennis and pickleball camps for adults are easy and fun for you. You and your group won't have to worry about a thing as we facilitate a lot of pickleball and tennis play at Pura Vida House. We host only small groups with great instructors, provide 5-star accommodations and a beautiful resort to enjoy, and show you Costa Rica's natural wonders, adventures, and cultural experiences, all at a reasonable price. Because we believe that practicing your passion should not come at a high cost.
Read more and book your pickleball camp for adults at Pura Vida House.
Planning a group trip in Costa Rica can be challenging, but with the help of our all-inclusive vacation rentals and 24/7 personal concierge services, we can ensure your stay at Pura Vida House for a tennis or pickleball vacation will be a ton of fun on and off the courts! Let us help you tailor a pickleball camps for adults package exactly as you want it. Contact us with any questions at (614) 600-1904 or info@thepuravidahouse.com.
Blog by: Jennifer LaCharite – Costa Consultants, International