One of the hottest trends in travel at the moment are pickleball getaways and one of the hottest (no pun intended) destinations is sunny Costa Rica. With an all-inclusive pickleball vacation in Costa Rica, you can share costs and share memories with your friends without sticking all of the planning on one of you (and if you're reading this, it's probably you!). So, what makes this relatively new sport so great, and why is it all the rage right now? Read on to find out.
Why is Pickleball so Popular?
With over 4.8 million "pickleballers" in the United States, pickleball grew nearly 40 percent between 2019 and 2021, making it the country's fastest-growing sport. Described as a combination of tennis, badminton, and ping pong, pickleball has taken some of the best aspects of these sports and turned it into an easy to learn game that is fun for all ages. It is not as complicated or strenuous as tennis and it's more physical than ping pong and badminton, making it not only fun but a great form of exercise.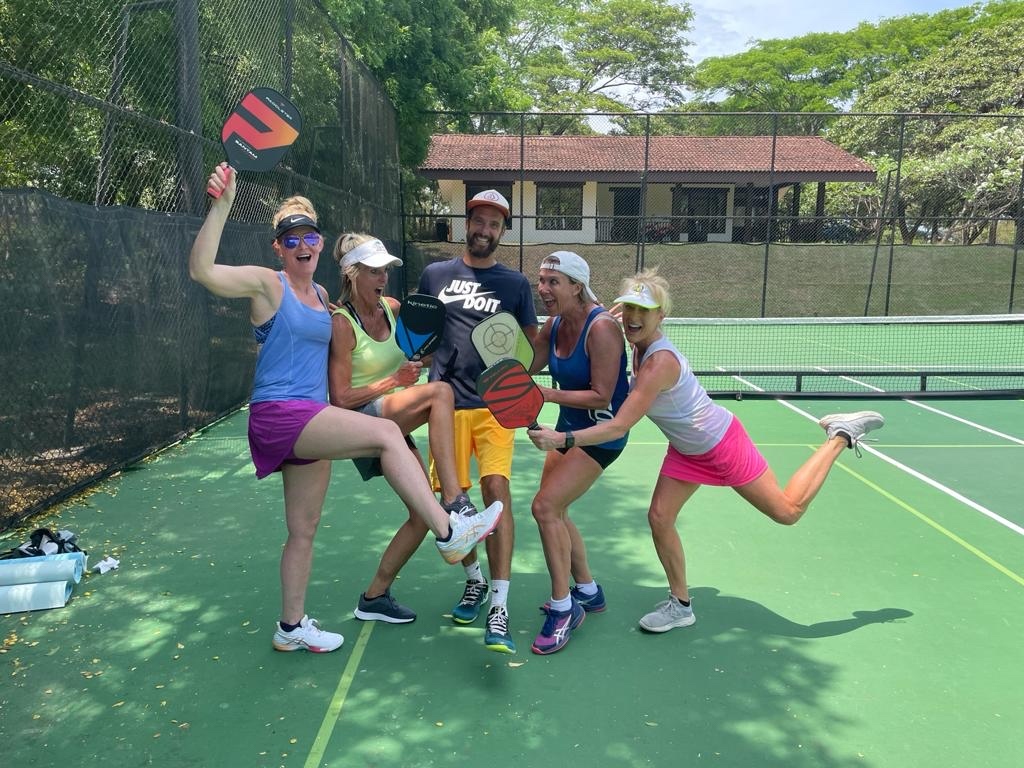 What is the History of Pickleball?
On a lazy afternoon in 1965 during a friend's vacation on Bainbridge Island, Washington, Congressman Joel Pritchard, Barney McCallum, and Bill Bell invented what we now know as pickleball. They gathered a badminton net, ping pong paddles, and a wiffle ball as a fun way to kill time with their families. They realized they could lower the badminton net from 60 inches to 36 inches and pickleball was born. By 1972 the three men started a corporation to begin offering tournaments and spreading the fun sport beyond the Pritchard family property.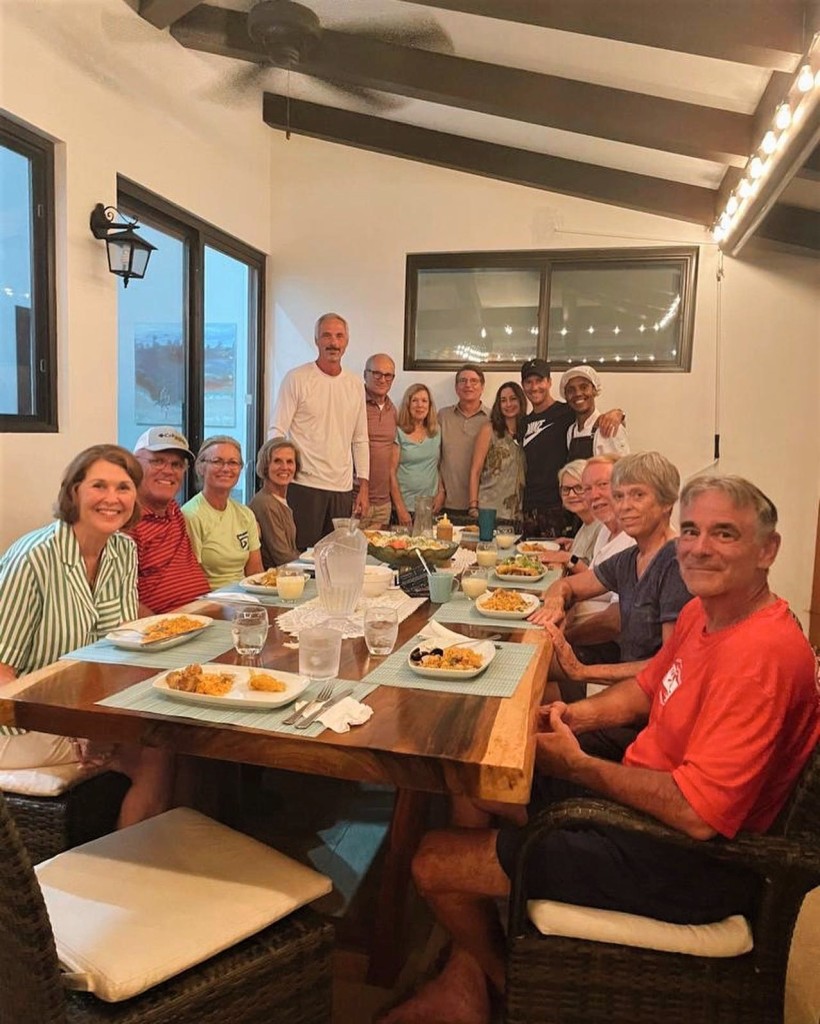 What's With the Name?
Apparently, Pritchard's dog, Pickles, kept chasing the balls and bringing them back, hence the name Pickleball.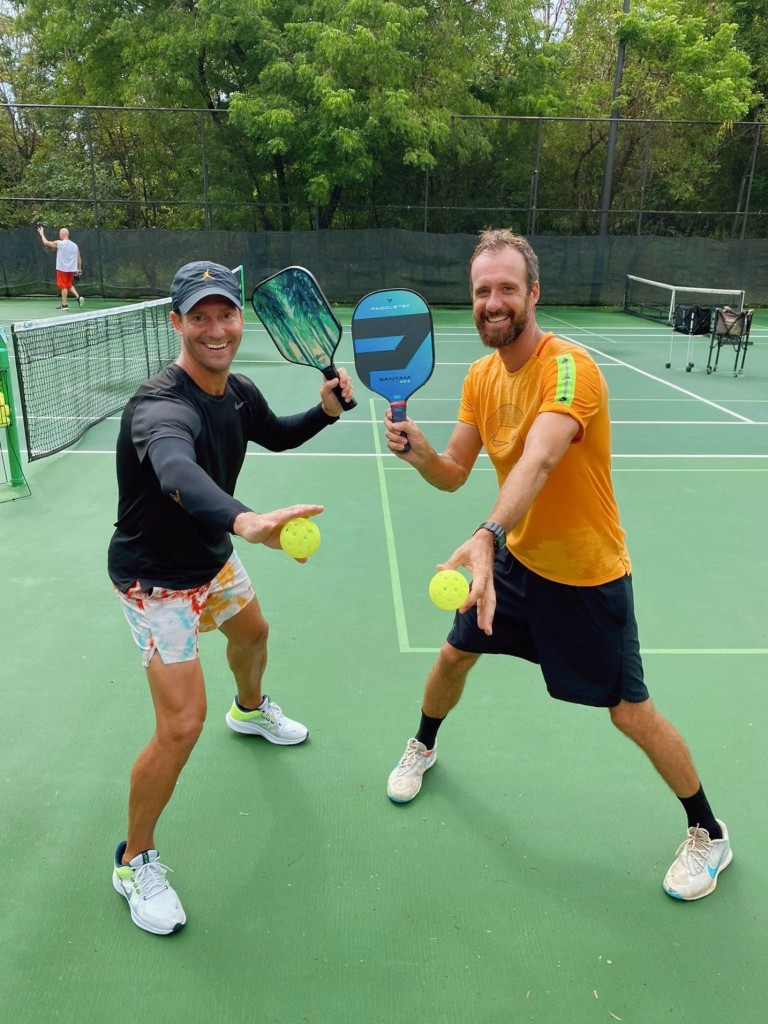 Why Take an All-inclusive Pickleball Vacation?
With the help of our 24-hour concierge services at Pura Vida House, all you have to figure out is how to get yourself to Costa Rica. We will pick you up in a private shuttle at the Guanacaste International Airport in Liberia and take you back when your vacation is over. This is just one less concern for you and your friends! Our concierge service also provides you and your group with access to local knowledge and off-the-beaten-path places, shuttles, tours, guides, spa services, and whatever else you need.
Our destination pickleball camps in Costa Rica include eight days and seven nights at our luxury villas in the Hacienda Pinilla Resort. Pura Vida House is a four-bedroom villa and a two-bedroom villa with a private swimming pool and a beautiful outdoor area in between. The two properties amount to a total of 4,500 square feet that can comfortably accommodate six couples. The villas are well-appointed with organic toiletries, towels, beach towels, linens, hair dryers, security safes, cooking essentials, and the best Costa Rican coffee. You can even use our mountain bikes to enjoy the resort's 20-mile trail system and our four-person golf carts to get around the resort in style!
Our all-inclusive pickleball vacation includes two meals a day, provided by your very own private chef. Fresh tropical fruits, empanadas, shrimp and rice, Spanish paella, fish tacos, and traditional Costa Rican casados are just some of the food that will be served in the dining room or on the terrace of our luxury villas daily.
This pickleball getaway in Costa Rica also includes three hours of daily pickleball play, including instruction, drills, and open play with a professional instructor. There is also a chance to get into some social play with the locals at the Tamarindo Beach Pickleball Club.
Three cultural excursions are also included in our destination pickleball camp. These include a trip to visit the bustling beach town of Tamarindo, a chance to explore the hidden beach of Playa Langosta, and a relaxing visit to Lola's Beachfront Restaurant in Playa Avellenas. Here you can chill with the local surfing crowd and even meet their friendly resident hog!
Our next destination pickleball camp is being held June 10 to 17, 2023, and is being led by pickleball pro Mark Price. Mark has been playing and teaching pickleball for 25 years and is a certified pro pickleball coach with the Professional Pickleball Registry (PPR). You will definitely improve your skills with this coach in the lead!
Prices for this pickleball camp are $1,750 USD per person (double occupancy). This is 15 percent off the normal rate and there are currently a few spots left. If you miss out, there are a few spots available throughout June and July and possibly one week in December, other than that, the year is booked!
Book your destination pickleball camp in Costa Rica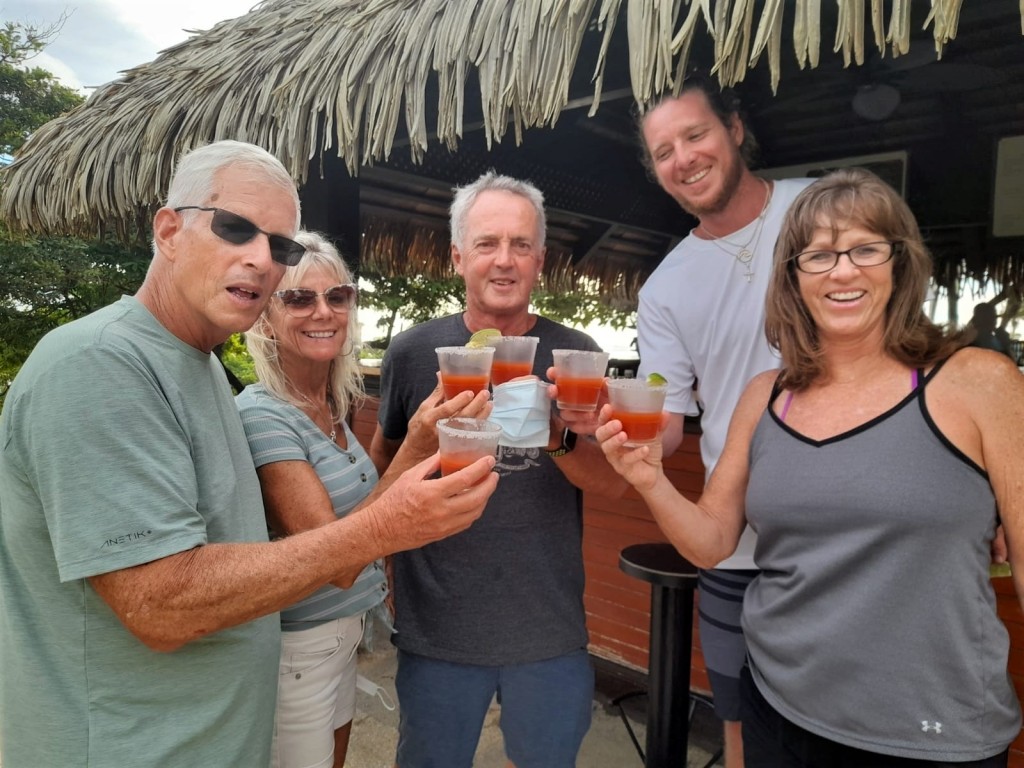 We haven't even mentioned the resort! As guests of Pura Vida House, you and your friends have full access to the Hacienda Pinilla Beach Resort. The resort features lighted pickleball and tennis courts, surfing rentals and lessons, horseback riding, mountain bike trails, a golf course, and easy access to three pristine beaches.
One of the best parts about staying at Pura Vida House is having full access to the Beach Club. Here you will find an ocean-view fitness center, weekly yoga classes, a restaurant, and a Tiki bar. The biggest highlight of the Beach Club, however, has got to be the 160-foot lagoon-style infinity pool, where guests can come for a swim, sit poolside with a cocktail, and watch the sunset over Avellanas Beach.
As guests of Pura Vida House, Hacienda Pinilla isn't the only 5-star resort at your disposal. Our Guests can frequent the nearby JW Marriot to dine at their restaurants and get pampered at their spa – something you may need after a day on the pickleball court!
Jump on the latest travel trend and don't miss out on your chance to take a pickleball getaway in Costa Rica. Our 24-hour concierge services, private chef services, and pro coach make this destination pickleball camp a luxury. Contact us with any questions at (614) 600-1904 or info@thepuravidahouse.com.
Blog by: Jennifer LaCharite – Costa Consultants, International