There's no denying that Costa Rica is a popular place for yoga retreats. This well-developed eco-destination has been attracting people who are as devoted to the environment as they are to their health for years. With breezy palms, lapping waves, and "pura vida" vibes, a Costa Rica yoga retreat should be at the top of your wellness travel list this year.
While a popular friend's trip in Costa Rica still includes margaritas by the pool, dancing the night away, spa days, and daring adventures in the jungle, people are choosing wellness travel themes more and more often these days. But a Costa Rica yoga retreat doesn't have to be all green juice and meditation – you can have the best of both worlds at Pura Vida House!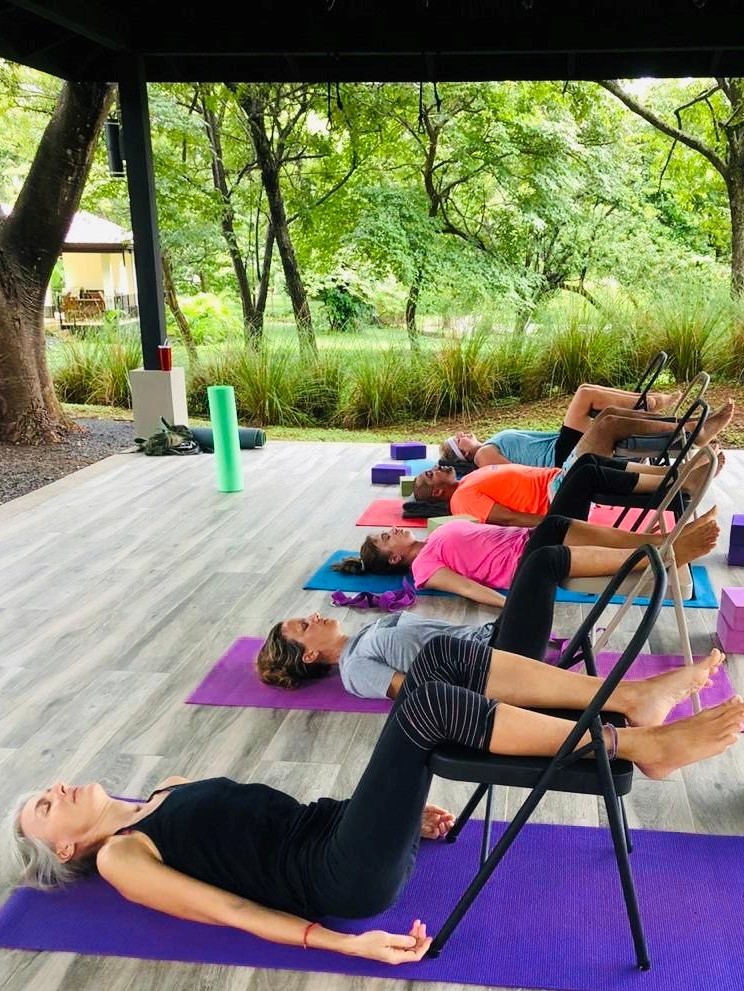 What is included at our Costa Rica Yoga Retreat
Whether you want to host your own yoga retreat at our luxury villas in Costa Rica or just come with your friends and let us work out all the details, you will find everything you're looking for at Pura Vida House. You can fully immerse yourself in the yoga retreat experience or just get in a few hours on the mat – the choice is yours!
Our Costa Rica yoga retreat includes delicious healthy food prepared by our private chef, daily yoga, rest and relaxation, and all the fun activities this coastal nation offers.
Are you a yoga instructor looking to book a retreat or just a group of friends seeking the retreat experience? Get more info HERE.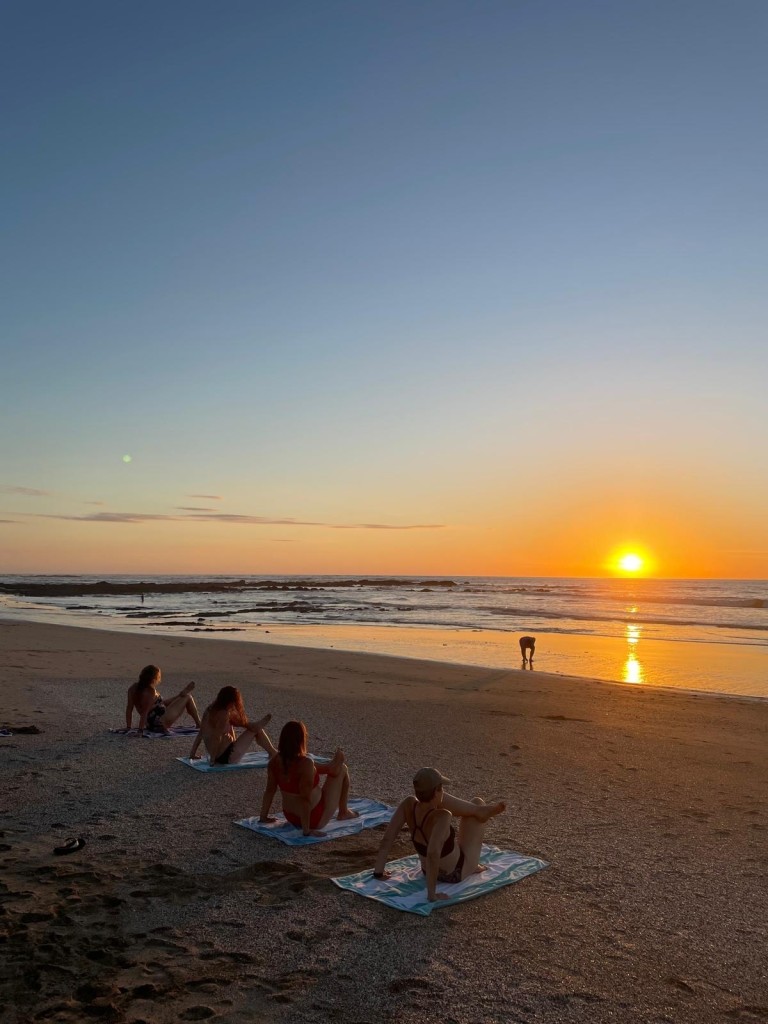 Yoga Instructors
We provide professional and passionate instructors at our luxury villas in Costa Rica. Our instructors are flexible and will hold classes when and where you want them. Whether that is at the beach, poolside at the villa, and early morning, mid-day, or sunset.
Wellness Perks
Our Costa Rica yoga retreat includes popular wellness must-haves like aromatherapy and meditation. At Pura Vida House, you have nearby access to two full-service spas, so you can relax with a massage or facial before or after your yoga class. We can even have the massage table come to you at our luxury villas for you and your friends.
Organic Meals
Our on-site private chef will prepare freshly made gourmet organic food, specially suited to you and your group's dietary requirements. The food prepared by our chef has a Costa Rican flair with plenty of fresh fruits and vegetables, healthy beans and rice, and delicious seafood.
Yoga Studio
While you can choose to hold your yoga lessons at the villa or beach, we also have a luxurious yoga studio available for your use at the resort's nearby Beach Club. This air-conditioned and spacious studio has panoramic views of the Pacific Ocean.
Concierge Services
Our concierge can offer many options to your group. Outside of the property, we help our guests choose the best tours and trips, such as sunset catamaran cruises and trips to the hot springs at a nearby volcano. Back at the villa, we can arrange in-house massages or even private yoga classes for that special one-on-one treatment.
Our Costa Rica yoga retreats are catered to your desires. We offer several types of yoga classes and retreat options, various luxurious spa services, and uniquely designed retreat packages and workshops for your body, mind, and spirit.
Our Luxury Villas in Costa Rica
We haven't even talked about where you'll be staying yet! Our luxury villas in Costa Rica are located in the exclusive resort of Hacienda Pinilla. We have a four-bedroom luxury villa rental with the option to also rent the two-bedroom casita located directly across from your very own private pool. Two bedrooms in the villa have a king-sized bed, which can be split into two twins if necessary. The other two bedrooms have two double beds. Each bedroom has its own private bathroom – some of which feature a tropical outdoor shower! In the casita, there are two bedrooms with king-sized beds (or two twins) and private bathrooms. Altogether this luxury Costa Rican rental villa can sleep up to seventeen people if need be.
Pura Vida House also features a fully equipped kitchen, barbecue, terrace with outdoor dining space, private pool, and grand living room with 20-foot ceilings. The villas are well-appointed with all of the cooking and dining essentials, organic toiletries, towels, beach towels, linens, hair dryers, security safe, and delicious Costa Rican coffee for the entirety of your stay. You can even use our two mountain bikes to enjoy the resort's 25-mile trail system or rent our golf carts to get around the resort in style!
Stay at our luxury villas in Costa Rica
Our Resort Amenities
As our guest, you get exclusive access to the Hacienda Pinilla Beach Resort, where a variety of activities can be enjoyed such as golfing, surfing, horseback riding, mountain biking, tennis, and pickleball. You also get exclusive access to the Beach Club included in your stay, which includes a huge infinity pool overlooking the beach, restaurant, tiki bar, gym, and water sports center.
The luxury resort also gives you easy access to three incredible Costa Rican beaches including Playa Avellanas, Playa Langosta, and Playa Mansita, where surfing, snorkeling, sunbathing, and swimming make for an amazing day at the beach.
Hacienda Pinilla isn't the only resort you get access to as guests of Pura Vida House. You can enjoy eight different bars and restaurants and a full-service spa at the nearby JW Marriott Guanacaste Resort & Spa!
We are also situated only 15 minutes away from Guanacaste's most unforgettable spa experiences, where you can soak in a flower-filled Indonesian bath while overlooking the jungle and sea.
With access to two exclusive resorts, two relaxing spas, an ocean-view yoga studio, and our luxury villas, Pura Vida House is the perfect choice for your yoga retreat in Costa Rica. As one of the top all-inclusive villas available in Costa Rica with 24/7 personal concierge services, and an on-site private chef, you will come away feeling renewed after your stay at Pura Vida House!
If you are considering a yoga retreat in Costa Rica and would like to discuss your plans, please contact us with any questions at (614) 600-1904 or info@thepuravidahouse.com. We look forward to hearing from you soon!
Blog by: Jennifer LaCharite – Costa Consultants, International