Soak up the sun while sipping on cocktails with your crew far, far away from it all. There is nothing quite like a girls' trip to recharge your batteries. No men, no kids…just the perfect balance of fun and relaxation. Sound too good to be true? Lay on the beach, party it up in style, and be pampered with a friends' trip in Costa Rica. You can have it all and more at our all-inclusive vacation rental in Costa Rica.
What Makes Costa Rica Ideal for a Girls' trip?
Costa Rica is one of the most popular vacation spots worldwide, and for good reason. They take their natural preservation seriously, devoting nearly 30 percent of their land mass to protected zones. This attention to preservation makes Costa Rica a beautiful and lush vacation destination. You and your friends can feel good about traveling to a tropical country that actually cares for its environment.
If you travel to the northwest coast of Costa Rica, you can be sure of great weather year-round. This area of Costa Rica is the driest part of the country. Even during their rainy season from May to December, you can expect short rainfalls in the evening or morning and dry ground and sunny skies for the rest of the day. The one exception is October when the rains are at their peak.
If you plan to stay at the beach, you can expect highs of 28 to 34 degrees Celsius (82 to 93 F) year-round. Too hot? There are several microclimates throughout the small Central American country. Taking a trip just two hours inland can put you in a different microclimate.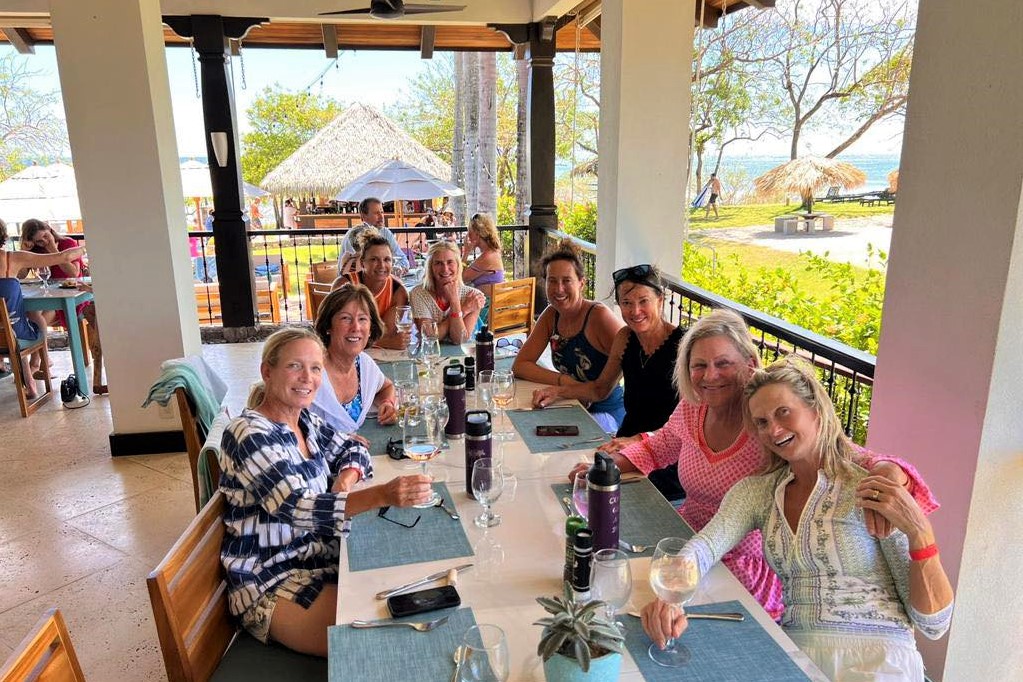 Where to Stay for the Ultimate Girls Trip in Costa Rica?
A girls' trip is all about fun and relaxation, not careful planning or cooking! Pura Vida House is an all-inclusive vacation rental in Costa Rica that offers four or six bedroom luxury villas that can sleep up to 17 people. Forget the crowded resort! Our private outdoor showers, swimming pool, and outdoor living space are the height of luxury and it's all yours.
You have to shop, meal plan, and cook every day back home, but not on your girls' trip in Costa Rica. Our all-inclusive vacation rentals include a private chef! She can prepare a variety of meals one day in advance from traditional Costa Rica food to international cuisine. Fresh fruits, pastries, and Costa Rican coffee await you every morning. All you have to do is sit back and enjoy!
Our all-inclusive vacation rentals in Costa Rica are located in the resort residence of Hacienda Pinilla. This means that you and your friends get all the amenities of a resort with the privacy of a personal residence. This 4,500-acre property attracts wildlife such as howler monkeys and scarlet macaws, so you don't even have to leave to see some of the country's most fascinating creatures.
There are also tennis and pickleball courts, an 18-hole golf course, mountain biking trails, and easy access to three beautiful beaches.
We haven't even mentioned the best part – the Beach Club! You and your crew can ride in style on our two golf carts to the Beach Club to dine at the restaurant, sip cocktails by the massive infinity pool, and watch the sunset over Avellanas Beach.
What to Do on Your Friends' Trip in Costa Rica?
We can help arrange any outing or tour you want with our 24-hour concierge services. From shuttles to nearby shopping to private massages at the villa, we have got you covered!
Party Boat: Nothing says girls' trip like a luxury catamaran cruise on the ocean. We're talking sunbathing, beach hopping, dancing, an attentive crew, and an open bar. Need we say more?
Beach Day: At Pura Vida House, you have access to three pristine beaches – Avellenas, Langosta, and Mansita. You are spoiled for choice! So, pack up the golf carts with our cooler, beach chairs, and towels, and hit the beach!
Nightlife: Our luxury villas in Costa Rica are located only a 25-minute drive from the liveliest beach town on the coast – Tamarindo Beach. You can head to El Vaquero for sunset drinks on the beach while enjoying the beach performers put on their nightly fire show. Afterward, hit up Sharky's for their daily drink specials, karaoke, and beer pong. And if you want to dance the night away, head to Pacifico, where everyone ends up, especially on Ladies' Night (Wednesdays)!
Hiking: Take a hike to the most beautiful waterfall in Costa Rica – Rio Celeste Falls. This unbelievably blue river and falls make the perfect backdrop for all your Insta pix. Smile ladies!
Exploring: Soak in the natural hot springs at the foot of a live volcano, scuba dive the exotic underworld of Los Catalinas Islands, see crocs sunning themselves on the shores of the Tempisque River, or hop on an ATV to explore nearby beaches, mountains, and towns. The possibilities are endless!
Discover all of the tours and activities near Pura Vida House
Tennis Time: There's nothing like a little friendly competition during your girls' trip in Costa Rica. Take out all your frustrations on the tennis and pickleball courts at Pura Vida House and leave them there. Your partner/husband, and kids will be glad you did!
Spa Day: Enough sweating already; it's time to relax! As guests of Pura Vida House, you can enjoy the spa at the nearby JW Marriot or the mountaintop spa of Los Altos de Eros. Don't want to take a short trip to the spa? Don't worry! We can arrange private massages and other spa services at our luxury villas.
Planning the ultimate girls' trip in Costa Rica is a breeze with the help of our all-inclusive vacation rentals and 24/7 personal concierge services. We know staying at Pura Vida House will be the right choice for you and your crew.
Let us help you tailor the friends' trip in Costa Rica of your dreams. Contact us with any questions at (614) 600-1904 or info@thepuravidahouse.com.
Blog by: Jennifer LaCharite – Costa Consultants, International