As pickleball gains popularity, the industry has evolved. No longer seen as just a game to play at the park or club, people are enjoying pickleball so much that they are planning entire all-inclusive pickleball vacations around the sport. Why? It's more like why not?
Pickleball is most popular with the over-50 crowd and for good reason. It is not as physically demanding as tennis and is relatively easy on the joints. It is also a fun and healthy competitive sport that is great for couples with some free time on their hands. And what is one thing that older couples have besides more time than those still raising young children? Disposable income. That's why all-inclusive pickleball vacations have become so popular. They fit the desires of the demographic! They provide a fun and social activity in desirable international locations that help to scratch both the travel bug and help you stay in shape.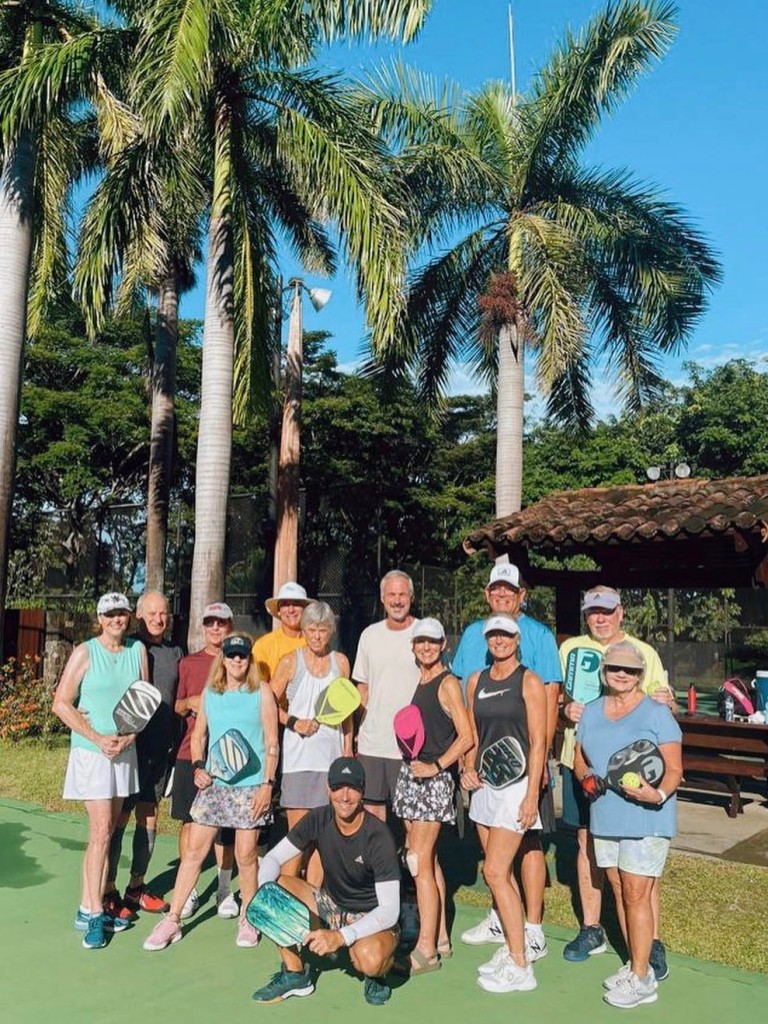 All-inclusive Pickleball Vacations for Adults
All-inclusive pickleball vacations have become all the rage, whether it's a trip with other couples, a family trip with older children, a birthday or anniversary celebration, or just for fun. But we all know that planning a group trip can be difficult enough as it is just trying to plan around everyone's schedules and other requirements. That's why all-inclusive pickleball vacations have become so popular. This way you can relax knowing everything will be taken care of for you and your group. All you have to do is show up!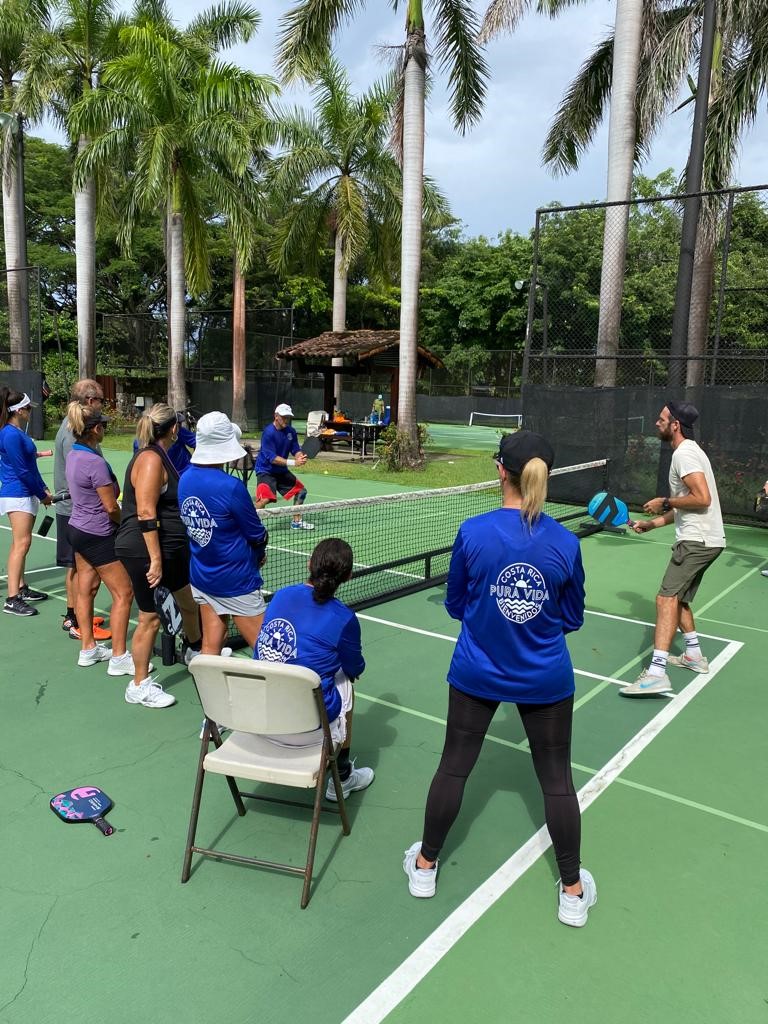 Destination Pickleball Camps in Costa Rica
Why should you choose Costa Rica as your all-inclusive pickleball destination? First and foremost, Costa Rica is beautiful, but so is any tropical location where you can see the beach, the rainforest, and a volcano all in one day. One difference between Costa Rica and other tropical locations is safety. Costa Rica is considered the safest country in Latin America according to the 2022 Global Peace Index, ranking 35th out of 163 countries.
Safety aside, Costa Rica features uncrowded beaches, abundant nature, environmental sustainability (one-quarter of the country is protected land), friendly locals (Ticos), and the Pura Vida attitude that is quintessentially Costa Rican.
Read more about the meaning of Pura Vida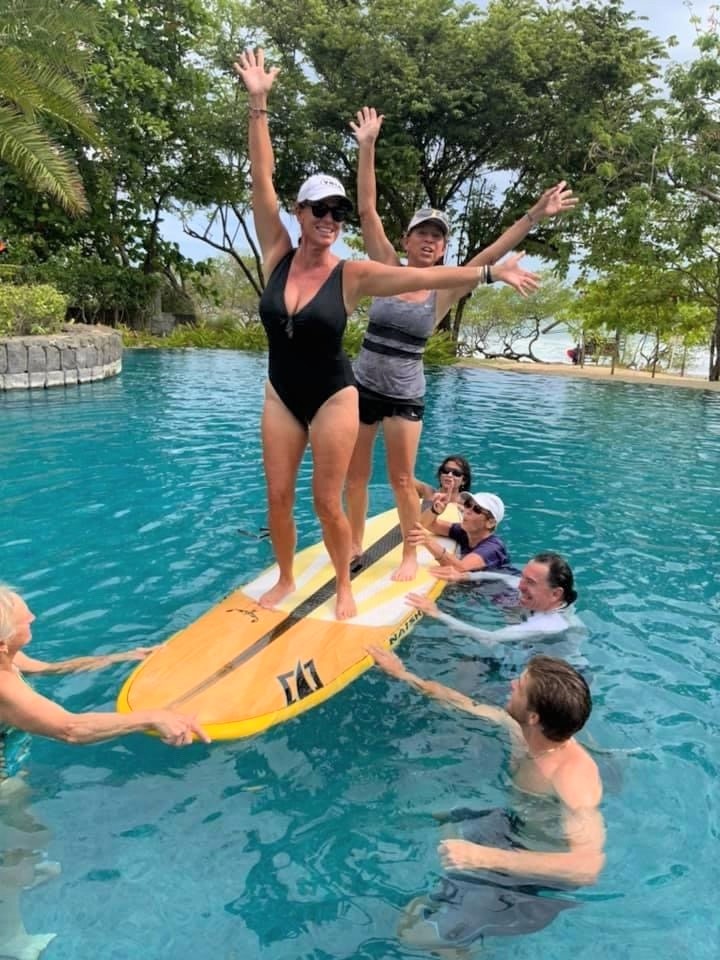 Pura Vida House Pickleball Packages
So, now that you're convinced about Costa Rica, why should you choose Pura Vida House for your all-inclusive pickleball vacation? At Pura Vida House, we offer pickleball vacation packages at our all-inclusive luxury rental villas in Costa Rica. We plan a personalized seven night vacation package exclusively for groups of 8 to 12 that want to play pickleball or tennis. This is the most affordable and personalized all-inclusive pickleball vacation package in the country!
You will stay at our four or six room villas, depending on the size of your group, in the exclusive Hacienda Pinilla Beach Resort. The package includes seven nights of double occupancy in our luxury accommodations, complete with king-size beds and ensuite bathrooms. Your stay includes a free airport shuttle and the use of two mountain bikes to tackle the resort's 45 kilometers of trails, that is if you have the energy after running around the pickleball court! If you are too tired to walk home or cook after a day on the court, you have access to our two golf carts and our private chef prepares your dinners and breakfasts.
At our destination pickleball camp in Costa Rica, you and your guests will get two-hour lessons each day of your trip. There are also drills and socials with our resort pros. Don't need a coach? No problem! You can just relax and have fun with a few hours of open play.
Book your destination pickleball camp in Costa Rica
Our small groups mean we have a low guest-to-pro ratio, so you will get the most out of your lessons when you stay at Pura Vida House. The courts here are lighted at night and shaded by palm trees during the day, so you can get the most out of your time on the courts, too.
As part of your pickleball package, we plan three local cultural experiences for you and your guests. You also receive our 24/7 concierge services to hook you and your group up with whatever other tours and activities you want to do during your stay.
You don't have to just take our word for it when it comes to the benefits of choosing Pura Vida House for your destination pickleball camp in Costa Rica. A recent article featured in InPickleball Magazine called "Pickleball Resorts" shares venues of popular pickleball camps around the world and features the Pura Vida House as the Costa Rican representative for destination pickleball camps in Costa Rica!
Read the full article from InPickleball
Luxury Resort Amenities at Hacienda Pinilla
As a guest of Pura Vida House, you and your guests have full access to the Hacienda Pinilla Golf and Beach Resort. This means easy access to three pristine beaches, surfing rentals and lessons, horseback riding, lighted pickleball and tennis courts, mountain bike trails, and a golf course. Guests at Pura Vida House get a big discount on the regular rate at the resort's 18-hole golf course. We even offer all-inclusive weekly golf packages.
The best part about staying at Pura Vida House in the luxury resort village of Hacienda Pinilla has got to be full access to the Beach Club. This access would normally cost each person in your group up to $280 per person per week, but for you and your guests, it's all included.
The Beach Club features a spa, ocean view fitness center, weekly yoga classes, a restaurant, and a Tiki bar. But the biggest gem on this crown is the 160-foot lagoon-style infinity pool, where guests can come for a swim or sit poolside with a cocktail and watch the sunset over Avellanas Beach.
Read more and book your pickleball camp for adults at Pura Vida House.
Planning a group trip in Costa Rica can be a challenge, but with the help of our all-inclusive vacation rentals and 24/7 personal concierge services, we can ensure your destination pickleball camp in Costa Rica will be a ton of fun on and off the courts! Contact us with any questions at (614) 600-1904 or info@thepuravidahouse.com.
Blog by: Jennifer LaCharite – Costa Consultants, International