Costa Rica has quickly become a popular destination for a couple's getaway and friend's trip. The hot travel destination tends to appeal to both the adventurous nature lover and those who want to relax at the beach. So, whether you are planning a reunion or anniversary, tennis or pickleball vacay, bachelor or bachelorette party group, guy's trip, girlfriend getaway, or simply a group of friends looking for an exotic vacation, a friend's trip in Costa Rica will deliver something for everyone in your group.
It can be difficult to plan a Costa Rica couple's getaway when there are several couples trying to communicate and get everything they want out of their vacation time. No one wants to be the one stuck making all the plans (and getting blamed if something goes wrong), that's why staying at an all-inclusive vacation rental like Pura Vida House makes a friends trip in Costa Rica more enjoyable for everyone. We can do all the planning for you and create an all-inclusive couple/friends package so you all know what to expect up front. For example, we've planned and hosted several tennis and pickleball group vacation packages. Many of our groups choose our all-inclusive option for their stay, which includes gourmet breakfasts and dinners prepared by our international chef at the villa, and complimentary golf carts for use within Hacienda Pinilla Resort – all for a low per person rate. Plus, our 24/7 concierge services ensure your friends trip goes smoothly from start to finish, with a private shuttle to and from the airport.
Read more about our Costa Rica Vacation Packages
Our Luxury Villa in Costa Rica
The Pura Vida House luxury villa is perfect for your friend's trip in Costa Rica, with a fully equipped kitchen, private pool, barbecue, terrace and outdoor dining space, grand living room with 20-foot ceilings, and four to six spacious bedrooms, depending on your needs.
-Bedroom 1: King that can convert to two twins, with full bathroom featuring a tropical outdoor shower
-Bedroom 2: King that can convert to two twins, with full bathroom
-Bedroom 3: Two Doubles, with full bathroom
-Bedroom 4: Two Doubles, with full bathroom
-Bedroom 5: One King (can be split into two twins), with full bathroom
-Bedroom 6: One King (can be split into two twins), with full bathroom featuring a tropical outdoor shower
Take a look at our luxury villas Costa Rica
Guests at Pura Vida House also have unlimited access to The Beach Club at Hacienda Pinilla included in their stay (this would normally cost each person in your group up to $280 per person per week), housekeeping and laundry service once per week, use of our two mountain bikes, and full access to the gated community and Hacienda Pinilla Resort facilities.
Adventure Seekers
For the adventurous ones in your group, you will be spoiled for choice on your friend's trip in Costa Rica, that's because the country caters to adventure seekers. At Pura Vida House, we offer several fun and safe tour options for you and your friends.
Fancy a sunset ride atop a horse along the beach? We can offer that right here within the resort, which boasts easy access to three beautiful Costa Rican beaches – Playa Avellanas, Playa Langosta, and Playa Mansita. For those of you who surf or want to learn, two of the three beaches feature ideal surf breaks, while one of the beaches is perfect for snorkeling.
Not exciting enough? You and your group can dedicate an entire day to adventure at the foot of Rincon de la Vieja Volcano. This tour is a full day of action and activity including zip lines, rappelling and rock climbing, horseback riding, and tubing or white-water rafting. You'll end your busy day relaxing at volcano-fed hot springs and a volcanic mud bath. We know everyone is different, that's why you can pick and choose which activities you do, or do them all!
Nearby Diamante Eco Adventure Park is another ideal day trip for groups. This popular park features an animal sanctuary with everything from crocodiles, to spider monkeys, to jaguars. There's even an enchanting butterfly garden. The adventure lovers will be beyond satisfied with Costa Rica's only Superman zipline that overlooks the mighty Pacific Ocean!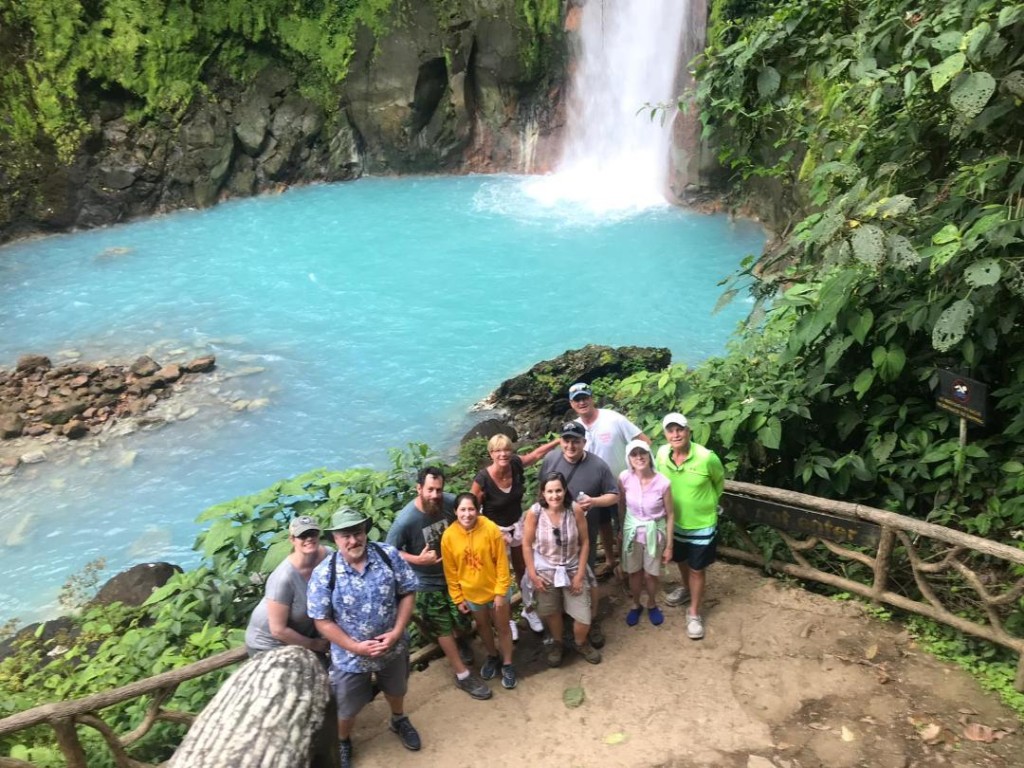 Looking to Relax
All inclusive vacation rentals in Costa Rica like Pura Vida House make it easy to please everyone, with on-site services to appease those in the group who just want to relax. At Pura Vida House, we can arrange an in-house massage, yoga classes, private chef services, and even childcare if you decide to bring the kids!
All of our guests, especially groups, love the sunset cruise aboard a luxury catamaran. With snorkeling, dolphin watching, food, and an open bar, this is the ultimate day of relaxation!
A day of fishing may be just what the doctor ordered to help some in your group relax, or maybe a round of golf at the Hacienda Pinilla Beach and Golf Resort. The on-site 18-hole golf course, which can play up to 7,200 yards, was designed to enhance the natural landscape of its surroundings, giving golfers an immaculately conditioned place to enjoy a round with their friends. You may even catch a glimpse of howler monkeys and other wildlife while you play!
For those who really want to take it easy, hop aboard our golf carts and spend the day poolside at the Beach Club enjoying cocktails, and delicious food from the restaurant. There's even a spa, and an ocean front gym for those who relax by hitting the treadmill. From the Beach Club, there is easy access to the beach, where you can enjoy daily sunsets or just lounge in the sun.
Out on the Town
Whether you prefer excitement or relaxation, everyone in your group will enjoy a day or night out on the town, checking out the nearby beach towns for shopping and dining. The busy surf town of Tamarindo offers lots of shopping so you can bring home the perfect souvenirs from your trip, and several dining options, including beachfront Pangas – our favorite! In nearby Langosta Beach, you'll want to check out the upscale Beach Club, and at Avellanas Beach we recommend Lola's for that authentic Costa Rican beach bar experience, complete with a roaming pet pig!
Planning a friends trip in Costa Rica can be challenging, but with the help of our all-inclusive vacation rentals and 24/7 personal concierge services, we know staying at Pura Vida House will be the right choice for the perfect couples getaway!
Let us help you tailor your Costa Rica couples getaway exactly as you want it. Contact us with any questions at (614) 600-1904 or info@thepuravidahouse.com.
Blog by: Jennifer LaCharite – Costa Consultants, International