Vacations to Tamarindo For Families
Tamarindo for families: Tamarindo Costa Rica is known as a surf and party destination, but it's also great for families traveling with children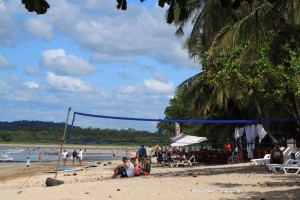 Tamarindo for families: Tamarindo Costa Rica is a travel destination known as a relaxed surf and party town that attracts visitors from all over the world. Revered for it's great beginner surf break, nightlife, variety of restaurants, nearby activities, and of course a great party.
But Tamarindo is also great for families traveling with children of all ages.
During the day, families can walk the strip, shop for souvenirs, and eat in any number of restaurants both on and off the beach. All restaurants welcome children, and none are or feel unsafe or unsavory to bring children to :-)
There are a variety of restaurants, and many that have a large selection on their menu, so while mom and dad can enjoy a fresh red snapper, ceviche or steak, the younger ones will still be able to find chicken fingers, hamburgers or pizzas if that's their food preference.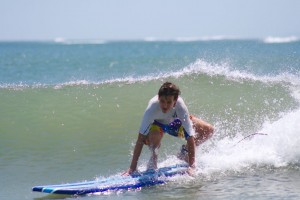 Tamarindo offers everything from fresh seafood, to sushi, to pizza, even a sports bar with all of your American favorites. And of course there are typical Costa Rican offerings for those who want to taste a little more of the local culture.
For activities, most children starting at about age 6 can start to participate in nearly all adventure activities that adults can: surf lessons at Tamarindo's famous beginner breaks, zip lines, horseback riding, ride along on ATVs, and touring a number of nearby places to see all sorts of local wildlife. Most places tailor actives so a younger audience can enjoy them as well!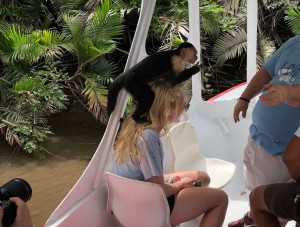 For lodging, there are many types to choose from – from hotels and motels right on the main strip, to villa rentals for more privacy further off the strip, so you can still head into town for the day, but retreat to the peace and quiet for restful evenings with your family, and a great night's sleep.
Our personal favorite is of course our villa Pura Vida House inside of Hacienda Pinilla beach resort. Here, monkeys play in the trees all around, parrots fly overhead, and wildlife like anteaters, jaguarundis, ocelots, armadillos, iguanas, deer, fox, coyotes, and dozens of types of birds thrive due to the vast swaths of tropical dry forest and lack of heavy traffic.
And a short golf cart ride around after sun sets will show you a quantity of stars you've probably never been able to see. This you can't see right in Tamarindo.
And there is plenty to do right inside our resort as well: Beach Club, 12 bars and restaurants, golf, tennis, equestrian center, surfing, snorkeling, 3 private beaches, mountain biking trails, gym, tennis/pickleball courts, and more!
We like to say that we are close enough to town to enjoy the restaurants and nightlife, but far enough away from the party to remember why you chose to vacation in Costa Rica :-)
-Mani & Sindy