If you're looking for a beautiful beach to hit up during your Costa Rica vacation, you'll soon discover you are spoiled for choice. In fact, there are roughly 300 beaches on the Pacific side of the country alone!  This is where you will find some of the best beaches in Guanacaste, which is a northern Pacific province in Costa Rica. From the pink sands of Playa Conchal to the rugged coastline at Playa Prieta, here are some of our favorite beaches within easy reach of Tamarindo, one of Costa Rica's most popular beach destinations.
1. Playa Conchal
Playa Conchal is Costa Rica's only pink sand beach. This is because it is covered in tiny pieces of pink sea shells. The calm waters at Conchal are perfect for swimming and snorkeling, while the palm-lined beach is ideal for pulling up a beach chair and basking in the sun. This beach can be found off the Westin Resort, which has easy access to the beach, although not the only access. Visitors can either make reservations to have lunch at the resort and head on down to the beach afterwards or park their vehicle at the north end of Brasilito Beach and walk to Conchal. Either way, you're sure to have a glorious day if you visit this Costa Rica beach, which is located only 40 minutes drive from Tamarindo.
2. Playa Avellenas
Considered one of the most beautiful white sand beaches in the Tamarindo area, Playa Avellanas is a haven for surfers and beach lovers alike. Swells here come in from the north and south, bringing in waves that reach as tall as 18 feet during peak surfing season. Playa Avellanas can be found right off of Hacienda Pinilla Resort, where Pura Vida House resides. In fact, it can be viewed from the resort's Beach Club, where guests at Pura Vida House have exclusive access. The beach also plays host to the popular Lola's Restaurant and Beach Bar, a great place to hang out enjoy the sun!
3. Playa Langosta
A beautiful and quiet beach, Paya Langosta has a rocky shoreline that offers clean and cool waters, perfect for bathers who love to just lay in the shallow pools. Just down the road from Tamarindo, this long stretch of beach is far less crowded than its neighbor and has plenty of room to relax while you watch the waves roll in. Guests at Hacienda Pinilla and Pura Vida House also have easy access to this Tamarindo Costa Rica beach.
Learn more about the exclusive neighborhood where you will find our luxury Costa Rica vacation rental
4. Playa Tamarindo
Tamarindo Beach stretches for a few miles of blonde sand with surf that swings from mellow to monstrous. Playa Tamarindo may be lined with restaurants and shops, but it still maintains a very picturesque beach town vibe with plenty to see and do. Expect lots of palm trees, live music, souvenir shops, great people watching, beginner to advanced surfing, and plenty of warm sunshine. You simply cannot visit the best beaches in Guanacaste without checking out Tamarindo Beach!
5. Playa Grande
Located on the other side of the estuary from Tamarindo, Playa Grande will feel practically empty compared to its lively neighbor. This beach is part of Marino Las Baulas National Park, named for the leatherback turtles that lay their eggs here year after year. Nighttime tours can be arranged to see these ancient animals at the ranger station located just a few meters from the beach. Grande Beach is also known to have some of the best surfing in the area amongst the more experienced surfers.
6. Playa Negra
If you are a dedicated surfer you will want to check out another great surfing beach in Guanacaste. Playa Negra is located a few miles down the road from Playa Avellanas. Don't be surprised if you are the only visitors to this secluded, black-sand beach. Be sure to pack food and drinks, as the closest thing you'll get to a restaurant at this beach is a local farmer selling coconuts (pipas) out of his pickup truck. Playa Negra is also a great beach for shell hunting along the rocks.
7. Playa Flamingo
With a brand new, luxurious marina, Playa Flamingo features a shady tree-lined coast, lapping waves, and beautiful tan sands. If you're more of a beach adventurer than a beach lounger, you will be pleased to find that Flamingo Beach is the gateway to Las Catalinas Islands, which offers some of the best snorkelling and scuba diving in the country. Flamingo is home to a tasty restaurant called Coco Loco right on the beach as well as the Margaritaville Resort. Flamingo Beach is located about 35 minutes north of Tamarindo.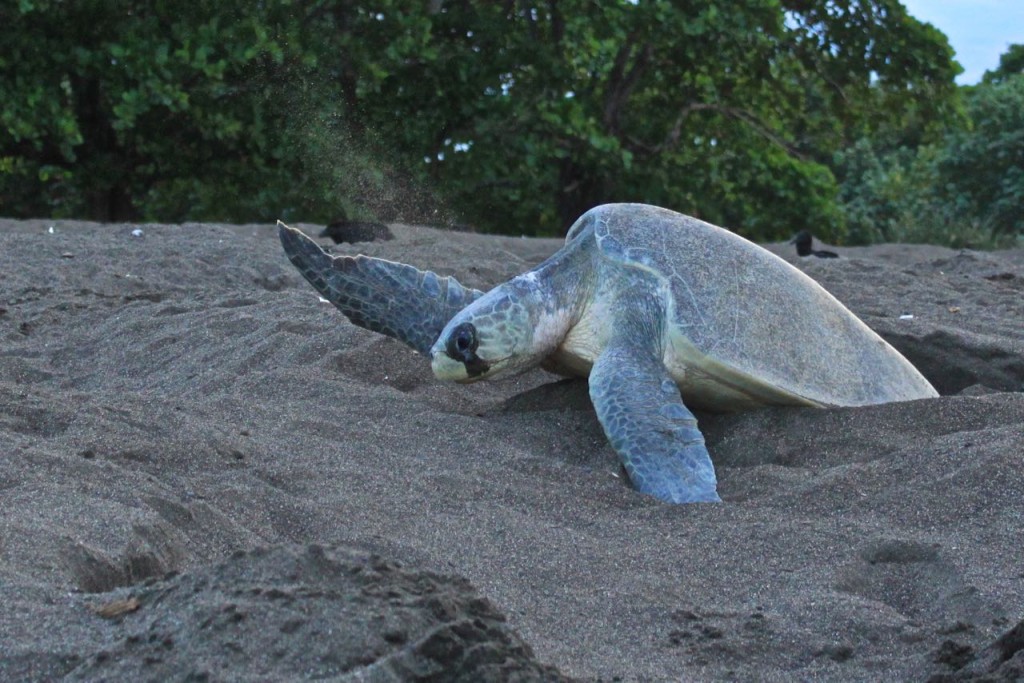 8. Playa Prieta
Situated between Potrero Beach and Las Catalinas, Playa Prieta is a small beach that is popular with the locals. Nestled amongst Playa Penca and Sugar Beach, Prieta is not a popular tourist beach and will give visitors there a true taste of a Costa Rican day at the beach. There are no amenities at the beach so you will have to bring whatever you need to spend the day lounging and swimming. This short beach will take only ten minutes to walk from rocky outcropping to rocky outcropping.
9. Playa Junquillal
If you're looking for long, uninterrupted walks along the beach, Playa Junquillal is almost as good as it gets. Located only a 30-minute drive south of the busy surf town of Tamarindo, Playa Junquillal, is a beautiful beach with long deserted shores and a low-key atmosphere. This beach carries Costa Rica's prestigious Blue Flag status, given to only the cleanest beaches in the country.
10. Playa Mansita
Last but not least is a small beach near and dear to us at Pura Vida House. located within Hacienda Pinilla and in front of the JW Marriott Guanacaste Resort, Playa Mansita exists is relative seclusion. Mansita's pristine sands are often referred to as "semi-private," as they're accessible only by boat or a sun-drenched walk, unless you are a guest of either resort. Meticulously clean and serene, Mansita is a virtual paradise for snorkelling and other quiet activities that allow you to marvel at nature.
There are so many great beaches nearby, you are spoiled for choice when you visit Pura Vida House! Please contact us with any questions you have if you are considering all inclusive vacation rentals in Costa Rica. We are available at (614) 600-1904 or info@thepuravidahouse.com. We look forward to hearing from you soon.
Blog by: Jennifer LaCharite – Costa Consultants, International