Other Fun Activities to Do During Your Pickleball Vacation in Costa Rica
Playing Pickleball in Costa Rica and Pura Vida House involves so much more than just enjoying the sport we all love!
Ok, so you came to Costa Rica to play pickleball and are staying at our beautiful resort – Hacienda Pinilla – and our villa the Pura Vida House. You're playing 2 hours of daily pickleball in the mornings, but then you have the rest of the day to enjoy what Costa Rica is all about. What are you going to do? Well, there's a ton of fun activities around us, trouble is always fitting them all in, in one week, and also having time to playing lots of pickleball!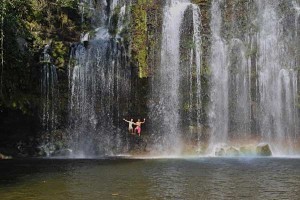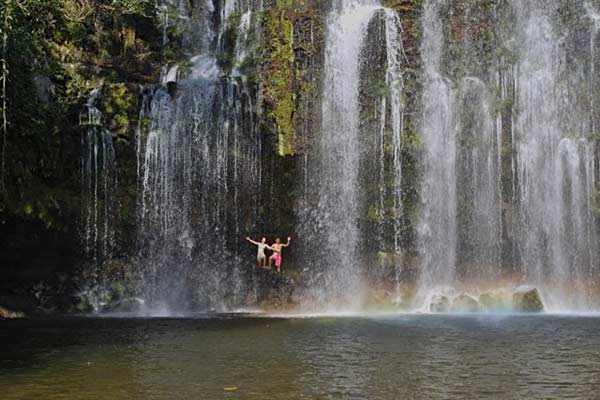 There's endless opportunities to see beautiful landscapes, wildlife and nature, as well as experience many adventure activities in the area and within a short drive of Pura Vida House.
We're happy to help guide you to the best known and secret spots in Guanacaste, and help arrange tours and excursions. Here's a sample of our favorite activities to do with our guides/naturalists that are nearby:
Deep Sea Fishing: World class fishing lies just off the coast of Pura Vida House and Hacienda Pinilla. Take a fishing excursion for sport (marlin, sailfish, rooster) or catch your dinner (red snapper, tuna, mahi mahi).
Rio Celeste: Hike the rainforest at Tenorio Volcano; see the blue waterfall, sloths, toucans and poison dart frogs.
Nature-Filled Boat Ride: Spot some nearby wildlife on a leisurely bird tour by boat of the Baulas Estuary. A can't-miss for wildlife enthusiasts!
Adventure Day: Take a day trip to the Costa Rican adventure of a lifetime – zip lines, rock climbing, rapelling, horseback riding, white-water rafting, and hot springs with mud baths all in one place.
Zip Lines: Fly through the canopy at the best zip lines in Guanacaste.
Giant Turtles Nesting: Witness the wonder of a prehistoric turtle migration, see Pacific Black sea turtles arrive to the beach to nest in the Las Baulas National Park. OR, every 45 days, witness THOUSANDS of turtles nesting during an Arribada at Ostional Beach, just south of Tamarindo.
Surf: Surf the world famous Little Hawaii break or take a surf lesson with our local pro; Costa Rica has waves for every level.
Scuba: Dive to see the enigmatic large sea life of Costa Rica's Pacific Coast. Snuba with no certification, or dive full-scuba to reach even deeper.
Have massages in the comfort of Pura Vida House, poolside!
Miravalles Volcano: Walk over a live crater, hike rainforest with suspended bridges and relax in mud baths and natural spas.
ATVs: Guides will lead you through the lowlands and tropical dry forest of Guanacaste on semi-automatic ATVs.
Palo Verde: Take a casual boat ride up the Rio Tempisque; see wildlife like capuchin monkeys, scarlet macaws, crocodiles, and many water birds.
Costa Rican Rodeo: Experience a truly unique Guanacasteco experience at one of the local fiestas. Most weekends, Thursday through Sunday nights, Dec-April, one town in the county will hold a bull-riding rodeo. Most weekends you will be the only foreigners.
Swimmable Waterfalls: Drive to one of Costa Rica's famous swimmable waterfalls, experience the tranquility and be literally immersed in nature.
Mountain Biking: Bike one of two trails snaking throughout Hacienda Pinilla's 4,500 acre property; one geared towards amateurs, the other for pros.
Yoga: Usually there is free yoga Wednesdays and Sundays at 10:30am at the Beach Club gym. Or you can schedule your own private session anywhere you like – the gym, the villa, the beach!
Snorkeling: Snorkel off the beach at various locations in the area, or at islands off of one of the boat tours.
Horseback Riding: Ride through tropical dry forests, hills and open grasslands, then out onto Playa Langosta. Ideal for beginners or experts!
Eco Adventure Park: See rescued Costa Rican wildlife up close (sloths, ocelots, toucans, butterflies & more!), as well as a great ocean view zip line, ATVs and more.
Barra Honda Park: Venture down and explore through the caves and hike the tropical dry forests of Guanacaste at Barra Honda National Park. Great panoramic views above and adventure-filled caving below!
Conchal Beach: Visit one of our favorite nearby beaches, Playa Conchal, consistently ranked one of the most beautiful beaches in Latin America. Get a massage on the beach in the shade!
These are just some of our favorite activities to do around us, there's lots more to do besides enjoying the 3 private white-sand beaches in the resort, and OF COURSE, playing tons of pickleball!!!
Pura vida pickleball in Costa Rica!!
Mani & Sindy
Costa Rica Rental Property & Retreats
Pura Vida House Luxury Beach Villa, Costa Rica – www.PuraVidaHouse.com