When you think about your family vacation in Costa Rica, what do you see yourself doing? Do you see yourself aboard a luxury catamaran out on the Pacific Ocean while the kids watch dolphins swimming in the wake? Do you see yourself white water rafting through a canyon in the rainforest while the kids spot monkeys in the trees above? Maybe you see yourself at the spa, soaking in a tropical flower bath with your partner as you overlook the jungle while the kids stay at your luxury villa rental with a babysitter. Why choose when you can have it all at Pura Vida House?!
We make your family vacation easy at our luxury villas in Costa Rica. Our 24/7 concierge services can plan and book all of your excursions, massages, shuttles, and even arrange childcare. And with their very own private pool at the villa, they won't even mind being left at home!
Tours for your Family Vacation in Costa Rica
Have an Adventure!
With our tailored adventure day at nearby Rincon de la Vieja Volcano, you and your family can share all the best adventures Costa Rica has to offer!
You will head to Hacienda Guachipelin, a private property situated right next to the Rincon de la Vieja National Park. This beautiful hacienda is right in the heart of the tropical dry forest and only about a two-hour drive from Pura Vida House.
This action-packed day will have you and your family ziplining through the canopy, rappelling down the Rio Blanco canyon, horseback riding, and tubing down the rapids of the Rio Negro River. Children must be eight years or older for the tubing adventure, but there are plenty of other adventures to be had by all.
You will end your adventurous day with a mud bath and soaking in the natural hot springs, fed by the Rincon de la Vieja Volcano. The day also includes a delicious lunch at the hotel restaurant.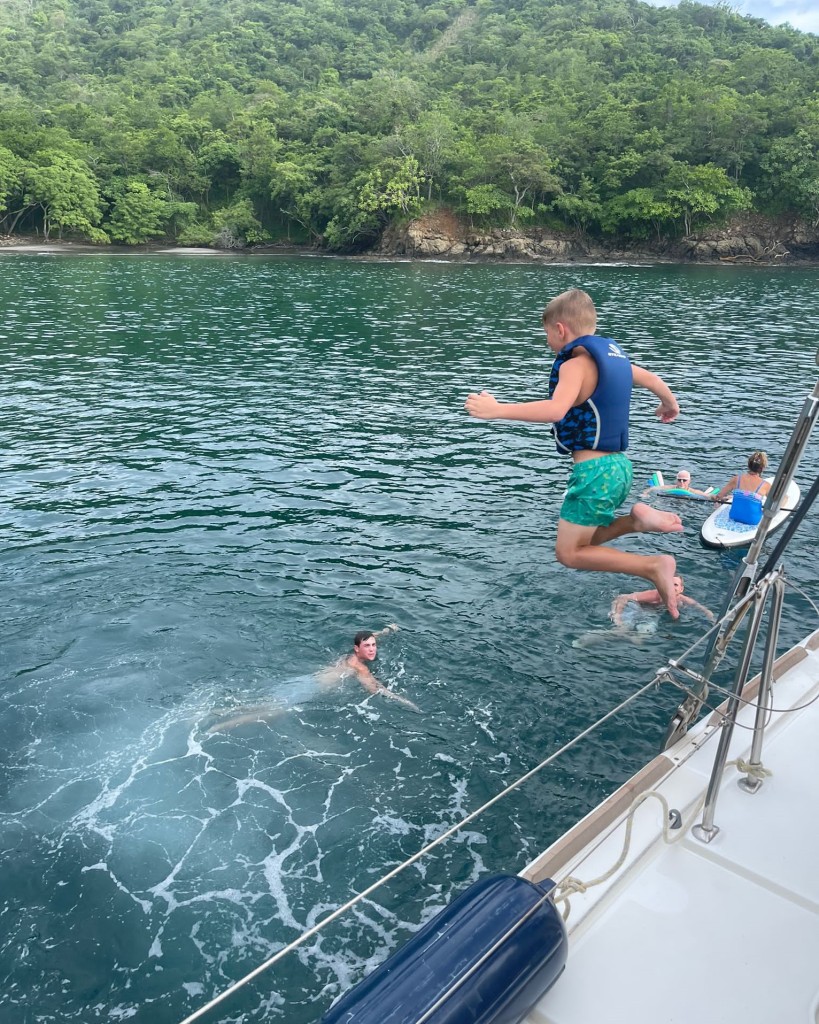 Take a Sunset Sail
A sunset cruise aboard a luxury catamaran will be the highlight of your family vacation in Costa Rica. With snorkel gear and water toys for the kids and an open bar for the parents, there is something for everyone!
You will head out from Flamingo or Tamarindo beach for the afternoon and head to a secluded beach only accessible by boat. Be sure to watch the stern! Dolphins love to swim in the wake of the boat and are a common sight for those on the lookout. You are also likely to see leaping manta rays as you gaze out onto the sea. The stop at the beach will also be an opportunity to see some unique Costa Rican wildlife.
Discover more of the tours we offer
At the beach, you and our family can play in the waves, snorkel, try out a paddle board or kayak, or sit and enjoy cold drinks and lunch. The trip back to shore will reveal what really makes this trip magical – the sunset! It all wraps up by 6 pm for an early bedtime for the played-out kids.
See the Wildlife
Be sure to find time on your family Costa Rica trip to visit a place your kids will never forget. Diamante Eco Adventure Park features a dual mile-long Superman-style zipline facing the ocean, hanging bridges over crocodiles, a butterfly garden, and an animal sanctuary.
The park has the country's largest variety of species in one location at their animal sanctuary, which is closely monitored by biologists and the government agency for animal protection. See your children's faces light up as they see jaguars, pumas, toucans, and sloths for the first time!
There are several packages you can choose from at the park, from a full-day adventure pass to a leisurely stroll to see all of the rescued animals. This is a must-see spot on your family vacation in Costa Rica and is only an hour and a half drive away!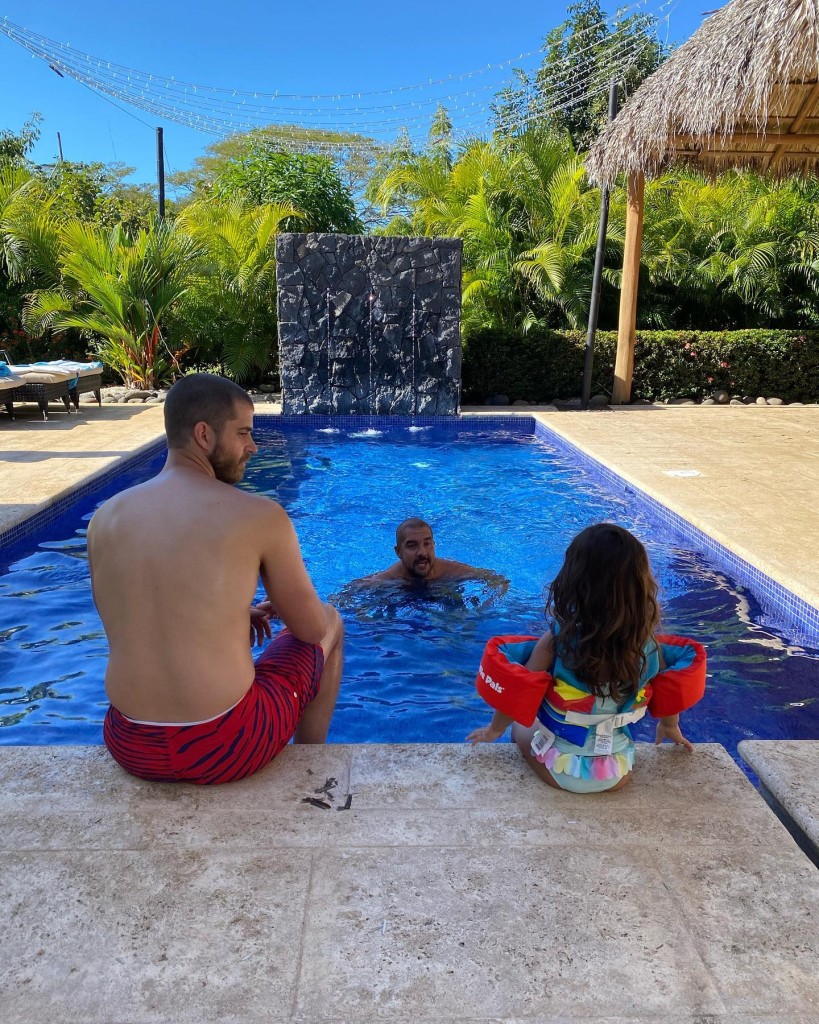 Relaxing on your Family Costa Rica Trip
Visit the Spa
If you want to wind down and relax during your family vacation in Costa Rica our luxury villas are the perfect place to be. Los Altos de Eros is a boutique spa overlooking both the ocean and jungle. This can be a romantic getaway for you and your partner or a relaxing day for one of you.
Eight open-air treatment rooms allow you to feel like you are alone in nature, surrounded by fresh mountain air. While there are regular and customizable treatments available, one of the highlights is the Indonesian soaking tub, filled with tropical fruit or flowers. There is even a double tub for couples.
Pura Vida House can provide childcare at our luxury villas in Costa Rica so you can truly enjoy this unique spa experience.
In-Home Massage
Want a relaxing massage but don't want o leave the comfort of our villas? No problem! We can book a 60 or 90-minute massage for one or more right at Pura Vida House. Whether you want to have your massage in your room or by the private pool is up to you.
At Our Luxury Villas in Costa Rica
Whether you are a family of four or 17 we can accommodate you at our luxury villas in Costa Rica. We have a four-bedroom house available on its own. Add that to the two-bedroom casita located on our property for a 4,500-square-foot, six-bedroom luxury villas rental.
Our large outdoor swimming pool and terrace for dining al fresco is a feature that really adds to the experience of your family vacation in Costa Rica. Don't feel like cooking? Our private chef can be available within a day's notice for Costa Rican and international cuisine. You can also go out for dinner at the Hacienda Pinilla Beach Club, which you have full access to as guests of Pura Vida House. Not to mention the massive infinity pool and easy access to three beautiful beaches.
Please contact us with any questions you have if you are considering a family vacation in Costa Rica. We are available at (614) 600-1904 or info@thepuravidahouse.com. We look forward to hearing from you soon!
Blog by: Jennifer LaCharite – Costa Consultants, International