Golf Courses in Tamarindo, Costa Rica
Find and play some of the best golf near Tamarindo at Haciena Pinilla resort in Costa Rica.
Travelers visiting Tamarindo in Costa Rica can find top-notch golf available just a 30-minute drive towards the South in Hacienda Pinilla. An estate-like, gated community of private homes and villas, Hacienda Pinilla offers its guests access to various amenities including horseback riding, tennis, golf, access to the beach club with restaurant, pool and spa.
Hacienda Pinilla, a luxury resort, was built to preserve the natural 4,500 acre historic land along more than three miles of untouched shoreline and a native tropical forest just adjacent. The Golf Course at Hacienda Pinilla is across the north Pacific coast of Costa Rica and surrounded by the majestic views of the tropics and the breathtaking views of the Pacific Ocean.
https://www.youtube.com/watch?v=s8gd3taQIHo
Guests can start their morning off with a round of golf while bird watching native parrots flying over or local monkeys swinging from tree to tree. Depending on the time of year, there have been sightings of various wildlife like iguanas, hummingbirds, and specifically howler and white-faced capuchin monkeys. Golfers will be able to follow the links surrounded by the natural and genuine habitat where wildlife is still active. Certain holes, like 14 and 15, will provide visitors with amazing views of the Pacific Ocean.
See Wildlife While Golfing at Hacienda Pinilla Golf Course in Tamarindo
Designer of The Hacienda Pinilla Golf Course, Mike Young, had envisioned uniting visitors with the natural landscape and surrounding wildlife. The Hacienda Pinilla Golf Course has received notice and praise ecologically focused design, and also been listed as an Audubon Cooperative Sanctuary, which means the golf course and property reflect the highest standards in working local wildlife and nature. All maintenance practices are focused around environmental preservation.
The professionally maintained golf course allows for quite a variety of experiences as the seasons come and go. During the dry season, the ground become much more firm causing drives to roll further down the fairway. During the rainy season, golfers find the ground to be much softer.
This course was also built to be able to handle extreme rainfall, which can happen during the rainy season. It is not unheard of to see over 25 inches of rainfall, but golfers can be ready to play the next day thanks to the advanced drainage system and design of Hacienda Pinilla.
Local golfing enthusiasts who play on a regular basis explain that they enjoy challenges and changes to the game the seasons bring as they shift through the year. The greens seem to always be in great condition for a round of golf at Haicenda Pinilla!
Activities to do While Golfing in Tamarindo
After a round of morning golf at Hacienda Pinilla, visitors can find lots to do around Tamarindo and the local area. Solo and group activities include:
Paddling and Surfing the Ocean
Beaches
Horseback Riding
Dolphin and Whale-Watching
Nature Trails
Volcanoes
Tamarindo is known for many things, but surely, its surf is probably the top pick of most visitors. Surfers have come to find massive waves and big breaks for the last many decades. Those visitors that may not have surfing experience can always opt to hop on a paddleboard instead.
The beaches in Tamarindo are likely a close second-best to the surf, providing visitors everything they need to enjoy a relaxing day or night. Warm waters and powder-soft sand make a perfect combination for a stress-relieving time. The coastline is vast for viewers interested in long walks on the beach. Pair this with some horseback riding, from Sugar Beach to Playa San Juanillo, travelers can find the most serene and pristine land for their enjoyment and experience.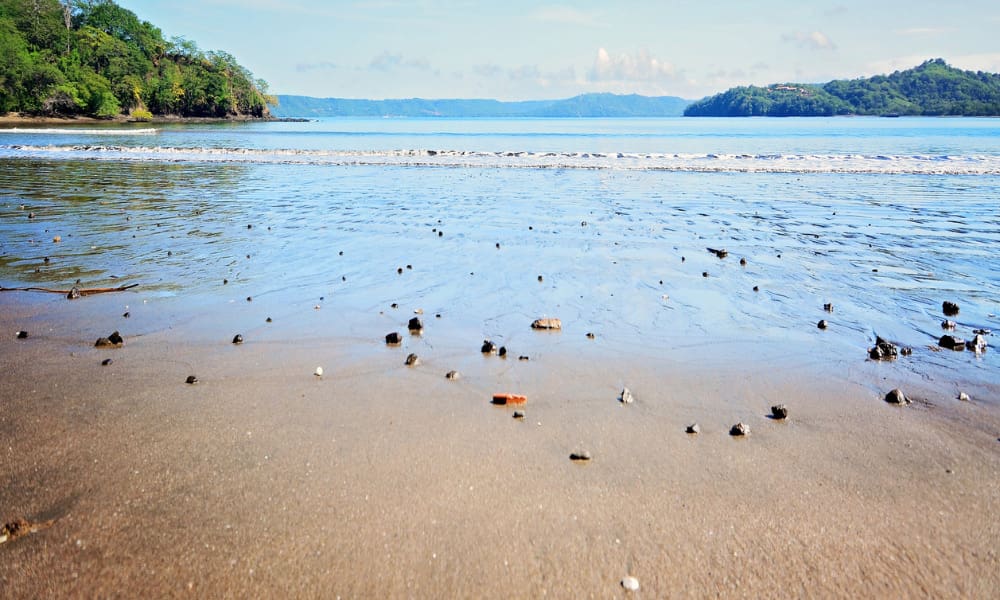 The Pacific Ocean hosts some amazing marine life, but nothing compares to the site of grand whales and friendly dolphins, when they poke their head above water for a breath or to say hi to watchers like you.
For those that prefer to stay dry, take a long early morning hike across miles of walking trails that scatter through the Hacienda Pinilla community. Wake up with Costa Rica's wildlife to memorable sights of the most colorful and active wildlife creatures.
Don't forget about the centuries old Volcanoes close to Tamarindo that are worth a visit. Be sure to check out Rincón de la Vieja Volcano, a 1-million-year-old andesitic volcano that is about a two hours drive away. Specific activities include swimming in cool lagoons and waterfalls, relax in mineral hot springs, peer into the volcano itself, and more. Also two hours from Tamarindo is Miravalles volcano that has five gorgeous waterfalls, craters, volcanic mud and natural pools.
Stay at the Pura Vida House for your Golf Trip in Tamarindo
If you are looking for accommodations near Tamarindo, then check out The Pura Vida House located directly inside The Hacienda Pinilla resort.
The Pura Vida House offers a 4 or 6 bedroom rental, and can sleep up to 17 people. The property features an outdoor entertainment area with a palapa and pool. The living room and kitchen are an open space concept with 20-foot ceilings and exposed beams. All bedrooms are spacious and a Master bedroom on each side features a tropical outdoor shower. Guests have access to pickleball courts, wifi, outdoor terrace, and more.
The Pura Vida House Amenities
4 or 6 Bedroom Rental
Swimming Pool
Extra fully Equipped Kitchen with 6-Bedroom Rental
Living Room Featuring 20-foot Ceilings with Exposed Beams
Outdoor Terrace for Al-Fresco Dining
Unlimited and FREE Access to The Beach Club at Hacienda Pinilla
Cable TV & Wifi
Housekeeping and Laundry Services
All Pura Vida House guests also extended the additional luxuries available throughout the Hacienda Pinilla resort, just outside of Tamarindo, Guanacaste, Costa Rica.
Start planning your dream golf trip and book your stay today!