These Are The Best Adventures in Costa Rica
We are always happy to recommend the best adventures in Costa Rica to people visiting and staying with us at Pura Vida House, or to anyone who is visiting Guanacaste! Here are some of the sights and activities we typically see the majority of people enjoying the most.
The best adventures in Costa Rica are hard to pin down. Depending on where you are and who you are, there are many possibilities depending on your taste. There are natural wonders and parks, wildlife, action sports, great restaurants, local events and more. We are always asked by those staying with us what we recommend. It's hard to recommend only a few since everyone's tastes are different! But here you have the top ten favorite things that it seems our guests enjoy the most while staying with us at Pura Vida House in Hacienda Pinilla near Tamarindo in Guanacaste Costa Rica.
Massages         Blue River Rainforest          Adventure Day         Beach Club         Lola's Surf Bar         Palo Verde National Park        Thousands of Sea Turtles        Sailing            Rodeo          Zip Lines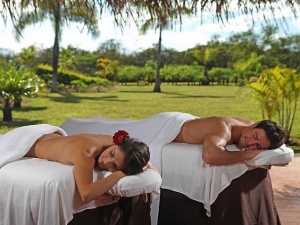 In-Villa Massages at Pura Vida House
Enjoy a great-priced massage and spa services in the comfort and privacy of your own villa. We can arrange for quality massage and spa treatments to come to you, and at a better price than the on-site spas offer. Relax on your schedule, and wash away the stress you've carried down with you to the land of Pura Vida.
Rio Celeste
What can we say about the incredible Rio Celeste (the blue river), this is simply one of the most beautiful and pristine national parks in Costa Rica, and my (Stephanie's) favorite place I've visited in the country. The newest national park, the trails of Rio Celeste are still rugged and natural. Hike 3 miles up and down rain forest-muddied trails, and emerge at the rising waterfall the color of chalky-blue. Continue to the end and see the spot where two clear rivers meet, and the water turns blue the moment they mix. The saying goes that when God painted the sky, he washed his brushes in the Rio Celeste. Come here for a full full day trip from Pura Vida House.
You will most likely also see sloths, poison dart frogs and toucans, as well as many other birds the naturalist can point out for those interested.
This excursion has intense (often muddy) hiking, gorgeous blue waterfall and river, and wildlife like sloths, poison dart frogs, toucans and other birds.  The guests we find enjoy this trip the most are those who are into wildlife, nature and hiking. The full hike is only three miles round trip, but due to muddy trails and hills, it feels like more. The drive is about 2 1/2 hours each way (the last 5 miles down a very bumpy road — this is Costa Rica, and the best adventures in Costa Rica, and natural wonders, always lie down the worst roads (a topic for a future blog post), but if you're coming to Costa Rica just once and are interested in this type of spot, this is a must.
Be sure to bring shoes fit for hiking, often through mud (they will often rent rubber boots, but my personal preference is old shoes or hiking shoes I can wash later), layers of clothes (it is usually cooler here than along the coast), a rain jacket (this is the rain forest, after all), a camera and binoculars (gotta see those sloths!).
Adventure Day
Adventure Day is a full day of action activities in a natural setting along a river and tropical dry forest near Rincon de la Vieja volcano. Usually the younger set enjoys this most, from about ages 9 to 50. There are zip lines, horseback riding, white water rafting or tubing, repelling and rock climbing, then end with a relaxing time in the volcanic mud baths and spas. 
To serious white-water rafters, the rapids might seem small, but to most they are thrilling to say the least. The level also depends on the time of year – during and just after rainy season there is much more water and the rapids are rougher. Then from November to April/May as the rains have stopped, the river level gradually drops. There are guides helping you along the way no matter the time of year though!
You can choose which activities you do, or do them all! This trip takes most of the day, and is just over an hour north of Pura Vida House. The day also includes a typical lunch.
What to bring: Shoes that are both athletic and amphibious are ideal – that both strap on and will be comfortable in water; bathing suit, outfit for dry activities. But we can make it work with what you bring.
Palo Verde
Palo Verde national park is fantastic for those who love nature and wildlife, and has very little physical activity. The park is just over ah hour inland from us at Pura Vida House, and a trip here will take about half the day.
Take a boat ride up the Tempísque River in Palo Verde National Park. Here you will see many varieties of birds — including the possibility of seeing scarlet macaws, and the endangered Jabiru — capuchin monkeys, giant iguanas, crocodiles and more. You will also stop to see an indigenous pottery demonstration. Includes a typical Costa Rican lunch.
For those who enjoy wildlife and taking it easy, this is an amazing way to see a great variety of birds — and white-faced monkeys — and get a taste of the local with an authentic indigenous group' pottery and ceramics.
What to bring: Shoes that may get just a bit wet. Camera, binoculars.
Ostional Giant Turtle Arribada
Most any night during the year, you can go see giant Pacific green turtles nesting on the beaches of Las Baulas National Park just north of Tamarindo. This is great for nature lovers. But we've found it's not for everyone; those a little ambiguous about how much they care to see wildlife often don't enjoy the patience it takes to find the giant turtles coming up out of the ocean to lay eggs.
But we have found no one not in awe of the giant turtle arribada ("big arrival") at Ostional Beach — picture anywhere from hundreds to tens of thousands of giant Olive Ridley turtles on the beach at the same time laying eggs! Literally something that feels primeval and other-worldly.
The one thing that is rough for non-adventurers — the road down is bumpy, an it takes just over an hour to make the 20-mile trip. Again, this is Costa Rica, and the best adventures in Costa Rica always lie down the bumpiest roads, so bare that in mind while traveling here.
Duration half-day. This only occurs once every 45 days, so if you're lucky enough to be with us at Pura Vida House during an arribada, we feel like this is something you can't miss. Witness this prehistoric event for yourself. Walk on the beach with thousands of Olive Ridley sea turtles crawling up onto Ostional Beach to nest.
What to bring: Shoes good for walking on both sand, camera, good attitude about the roads :-)
Gourmet Sunset Sailing
The gourmet sailing trip is a must if you love being out on a sailboat, and enjoy any of the following: acoustic music out on the water, snorkeling and cocktails. This is not a party boat, but good times can and are often had while out enjoying the samples of fresh gourmet food, and cocktail hour(s) out cruising the Pacific coast of Costa Rica. Whales and dolphins can sometimes be spotted too on a lucky day!
You leave just at/after lunch time, and stay out through sunset. Snorkel, swim, or laze around the boat, then Sail into the sunset, usually to the tune of live music. Trip includes a gourmet sampler and open bar. Be ready for a good time!
It is necessary to note that you will get a bit wet getting into the dingy that will take you to and from the sailboat. If you need help, just be ask for it and be patient, someone will help you!
What to bring: Shoes that can get wet, bathing suit, sunscreen and hat/shirt.
Beach Club
The Hacienda Pinilla Beach Club is exclusive to select owners at Hacienda Pinilla, and their guests. We provide a corporate pass so you can go for free, as often as you like while staying with us at Pura Vida House.
Set on the North end of Avellanas Beach, in front of the world class Little Hawaii Surf Break, you can enjoy days on end inside the Hacienda Pinilla private Beach Club. Here there is a restaurant, tiki bar, swimming pool, surfing, boogey boarding and spa. Plus, you can walk south to Lola's famous surf restaurant in the sand with famous Lolita the pig.
Beach Club is closed the Month of October, and Tuesdays (except holiday weeks).
Lola's
Just south of the Pinilla Beach Club lies Lola's world-famous surf bar and restaurant in the sand. The perfect mix of quality food, laid-back beach/surfer atmosphere — truly a top Costa Rican spot to relax.
It can get crowded as it has come to be known as  must-visit spot, but it has lost nothing of its authentic surf bar vibe. Come for lunch, or for cocktails to catch sunset; or spend the day here surfing, bodyboarding, or just watching the locals.
To get here, you can walk about 15-20 minutes south from the Beach Club for those that are in shape, and up for crossing the estuary river at high tide. You can also drive to the south end of Playa Avellanas down a Costa Rican bumpy dirt road
Don't forget to look for the famous Lolita the pig, she's often grazing in a pen out back, and splashing the surf in the mornings with the owners.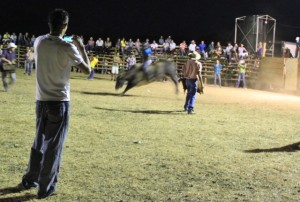 Local Rodeo
Experience a truly unique Guanacasteco experience at one of the local fiestas. Most weekends, Thursday through Sunday nights, one town in the county will hold a bull-riding rodeo. Most weekends you will be the only foreigners. The rodeo in Villarreal near Tamarindo, and Brasilito near Conchal are the most often attended by vacationers; but if you want a truly authentic and memorable experience, we can help you get to one almost any weekend of the dry season, November-April.
The rodeo is very rustic, and consists of bull riders, and "improvisados," or improvisers who act as rodeo clowns when the rider falls off, then see how brave they are by staying in the ring. There is often music, food and festivities.
The rodeo isn't for everyone. No bulls are physically harmed during these rodeos, but they are taunted and teased; there is even a small movement going to end this tradition in Costa Rica. But for now, this is a unique way to see the authentic culture of Guanacaste sabaneros, or cowboys.
Zip lines
Last but not least, zip lines. You can't leave Costa Rica without trying the zip lines at least once, Costa Rica made the famous!
Many of our guests go a few times. We have some of the best zip lines around Pura Vida House, some longer than 1,000 yards! The views are terrific and I promise if you have never done zip lines before, this will be an experience you will not forget. On the first zip line, you will find yourself saying "what the heck am I doing here" and a bit nervous. But after that first line, you will be laughing and screaming and feeling exhilarated.
Duration 2-3 hours. Fly through the forest canopy on the best zip lines in Costa Rica. Fly forward, upside down, superman/superchica, and see great views of the Guanacaste hills and lowlands.
What to bring: shoes that strap-on (no flip-flops).
So there you have it, that's our top ten best adventures in Costa Rica. We think there are things in here that everyone can enjoy! Maybe you're more into wildlife than adventure, or more into a relaxing time getting away from your hectic schedule back home.
Of course, there are always one of the 20+ fabulous beaches within 20 miles of Pura Vida House to enjoy too!
Stay with us at Pura Vida House, and we will ensure your vacation is exactly as you want it, and you have the very best adventures in Costa Rica.