If you're headed to Costa Rica, then make sure you bring your hiking gear as you won't want to miss out on some of the best trails to explore accompanied with beautiful and scenic views along with colorful wildlife that will leave you wanting for more. The Pura Vida House recommends 5 top hiking sites for you to consider along with tips on what gear to bring.
Costa Rica has been one of the most sought after destinations by tourists from all over the globe for its scenic views, blue waters, sandy beaches, and of course and its many unique hiking trails.
What Are The 5 Best Hiking Trails in Costa Rica?
The country neighbors Nicaragua towards the north and Panama to the southeast, with the Caribbean Sea spanning across 185 miles over the northeastern coastline and the Pacific Ocean across 630 miles over the southwestern coastline. This article discusses 5 top hiking trails that should be on your To-Do list when in Costa Rica!
Hiking Trail 1 – Santa Rosa National Park, Guanacaste
If you are looking for a challenge, then the trails of Santa Rosa National Park will give you all that and more. Known for having quite a tough terrain, even experienced hikers may find themselves exhausted after a day's worth of hiking.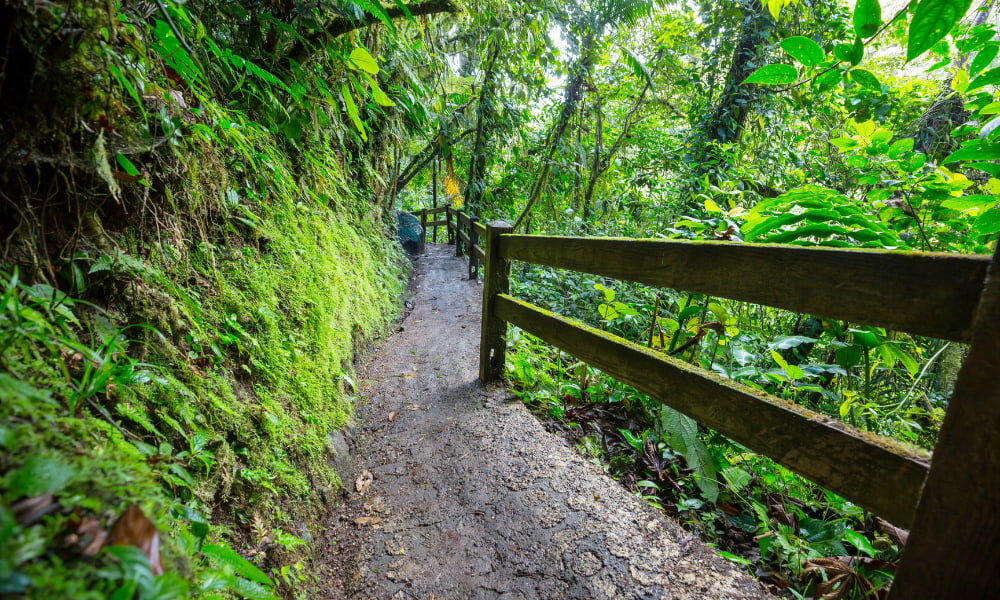 Nevertheless, travelers will experience breathtaking views of the countryside and the ocean waters, especially in Witches Rock and through the primary trails that run from the center of Santa Rosa Park to the beach at Playa Naranjo. Make sure you bring comfortable shoes, sunscreen, sunglasses and plenty of water, as there are more than 7 miles worth of trails to traverse through.
Hiking Trail 2 – Barra Honda National Park
A must-see park for serious hikers vacationing in Guanacaste, Barra Honda National Park and its rather dry tropical forest is certainly one of a kind. Different from other trails, travelers will be mesmerized wandering through a network of underground caves and may run into bats, thousands of which reside within the underground caves.
The views are second-to-none, especially at the highest point of the park, which is around 450 meters above ground. Be sure to check out the Rio Nacaome through one of the park's primary paths, where you can see serene waterfalls and wildlife.
Hiking Trail 3 – Rincon de la Vieja
Also known for its scenic waterfalls is Rincone de la Vieja, this park boasts just under six miles of trails within the province of Guanacaste. At the start of this trail, follow signs posted for Rincon De la Vieja. There will be lots of ups and downs on the trail and hikers will cross a few bridges and streams. After a while the trail splits, and heading to the right will take you up a steep hill to Cataratas Escondito. Towards the left will take you to Catarata La Cangreja. Wildlife is well and alive and there is a likely chance that you will see howler monkeys in this area as well.
Not as challenging as the previous two recommended parks, Rincone de la Vieja is surely easier as the climb is less steep and demanding. The weather varies depending on where in the area you are. The higher you go in altitude, the more windy and rainy it may be, while the hills down below may be warmer and dry. Be sure to wear comfortable shoes and bring a light jacket to stay comfortable. Visitors can reach this destination via buses from Liberia departing daily.
Hiking Trail 4 – Arenal Volcano Park
This list of top hiking trails would surely be incomplete without mention of Arenal Volcano National Park. Open for hikers daily from 8 am to 3 pm local time, visitors will find too much to do here within only one day. Almost 30,000 + acres of land lend to breathtaking views of this famous volcanic site.
Visitors should know that there is a park entrance fee. Once inside it is recommended that visitors stop by the park ranger station to get some basic essentials, like a map and advice on where to head on the trails if you choose not to hire a guide. Otherwise, hiring your personal tour guide is always a recommended option to maximize your experience during your visit.
Many may not know that Arenal Volcano is the most active volcano in Costa Rica. Since the late 1960s, its lava flows have been steady. On July 28, 1968 the volcano erupted along its western side creating three craters. The surrounding towns of Pueblo Nuevo and Tabacón were hit with toxic gases and rocks that spread to nearby areas from the eruption.
You are likely to see all kinds of wildlife during your hike here including howler and white-faced monkeys, colorful birds, deer, snakes as well as wide variety of plant species as well.
Hiking Trail 5 – Rio Celeste Waterfall Hike, Tenorio Volcano National Park
The Rio Celeste Waterfall Hike in the Guanacaste province takes you through the Rio Celeste River. Many have raved of its extremely blue and surreal looking color that can only be appreciated fully by the naked eye and not a camera. The hike is just under 4 miles long, but can be exhausting for visitors, so plan to take the whole day for this visit.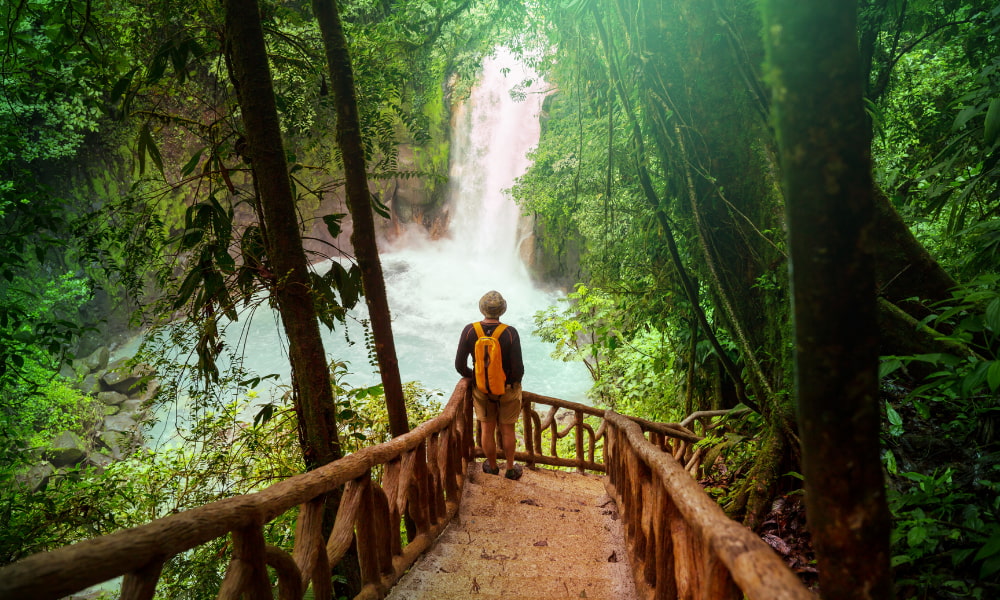 It is recommended that your group take a guide with you to traverse the challenging trail and to also point out the hot spots of Tenorio Volcano National Park to ensure you don't miss the sites. On your way back, be sure to ask your guide to show you The Rio Celeste waterfall, claimed to be quite a unique and site. Keep in mind though that this trail can be difficult for inexperienced hikers.
It rains often here even in the dry season, so waterproof shoes and a jacket are necessary to bring. Also beware, swimming in the Rio Celeste river is strictly against the rules.
What Hiking Gear Should I Bring?
The last thing you want to do is show up to a hike that is miles long only to realize you are under-equipped with what you have brought. Take a look below at some items every hiker should bring to ensure the trip is comfortable and enjoyable without unnecessary hassles.
Facemasks, sanitizer and disinfectant wipes (for Covid-19)
Clothes that dry quickly – leggings and waterproof hiking pants
Waterproof running or hiking shoes
Waterproof backpack
Hat, sunglasses and sunscreen
Mosquito repellent
Rain Jacket and micro-fiber towel
Phone, flashlight and extra battery packs
Camera/video equipment and binoculars
Plenty of water in insulated water bottles
Healthy and light snacks for a boost of energy
Stay at The Pura Vida House During Your Hiking Trip in Costa Rica
If you need accommodations for your group to recover from your hiking adventures, then look no further than The Pura Vida House in Costa Rica. A private luxury villa with views of the Pacific Ocean, this property is located inside the Hacienda Pinilla resort and is available to rent for the perfect vacation.
For guests that would like to avoid individually selecting activities, food selection, tours, etc., one of the all-inclusive vacation packages offered by The Pura Vida House in Costa Rica may be exactly what you need.
This private luxury villa offers everything guests would expect, and more, from the point of arrival in Costa Rica to their final hour watching the sunset on one of the many beautiful beaches. Guests choose a Pura Vida House all-inclusive vacation package because thinking, planning and execution is taken care of by concierge services from the moment they land in Costa Rica!
Please visit The Pura Vida House for more information on Costa Rica and to book your next visit with us.