If you are curious about visiting Costa Rica, then start with this guide by The Pura Vida House about the 7 Provinces of Costa Rica. Find out what you need to know to ensure your visit here is all and more that you expect it to be.
If you have heard about Costa Rica and are considering a visit to the country, then you would not be the only one planning to do so!
Located in Central America, Costa Rica has been one of the most traveled destinations by tourists from many nations across the world. The coastal nation is neighbor to Nicaragua to the north and Panama to the southeast, with the Caribbean Sea spanning across 185 miles over the northeastern coastline and the Pacific Ocean across 630 miles over the southwestern coastline.
This guide is designed to help travelers best assess what to see and where to visit within the 7 provinces of Costa Rica, which are:
Guanacaste
Alajuela
Heredia
San Jose
Cartago
Limon
Puntarenas
Guanacaste
We start with Guanacaste as this province is extremely popular to visit for most international tourists and just a 40-minute drive away from Liberia Guanacaste Airport (LIR). With numerous activities accessible for the outdoors, this province has all the sites, accommodations and amenities one would expect.
Guanacaste is located in the North Western part of the country bordering the Pacific Ocean. It offers miles of shoreline along with amazing mountain views. If you are keen on staying in the water, there are plenty of beaches with swimming, snorkeling, horseback riding and more. For those that prefer to stay dry, hiking throughout the rainforest, climbing volcanoes, or zip lining are popular activities.
Make sure to go through Tamarindo, a popular town in Guanacaste, where you will find some of the best beaches available such as Playa Grande, Playa Samara, Playas del Coco, Playa Tamarindo and Playa Hermosa. Most international travelers usually have visited at least a few of these scenic beaches during their stay. Golf in Tamarindo is also very popular, and great for traveling with friends.
Playa Tamarindo is often commended to be the best beach for surfing in Costa Rica. Many rave of some of the amazing breaks for surfers of all levels.
Other family friendly activities available in this province include zip lining, a catamaran sail during sunset, walk a natural trail to see wildlife like capuchin monkeys and birds, and of course a visit to the Arenal Volcano, one of Costa Rica's most breathtaking sights.
Travelers visiting Guanacaste in Costa Rica can find top class accommodations at Hacienda Pinilla, which is an estate-like, gated community of private homes and villas. Hacienda Pinilla offers its guests access to various amenities including horseback riding, tennis, golf, access to the beach club with restaurant, pool and spa.
Visitors can also experience the growing sport of Pickleball hosted by The Pura Vida House located within the Hacienda Pinilla resort. Learn more about available Villa Rentals and Pickleball Vacation Packages available at The Pura Vida House.
Alajuela
Located in the northern central part of Costa Rica, bordering Nicaragua and just to the east of Guanacaste is the province of Alajuela. Juan Santamaria International Airport offers a number of domestic and international flights in and out offering easy access to travelers from all over.
Being the second largest province, Alajuela has some of the best sights to see. Travelers will find plenty of views between the overwhelming volcanoes and mountain ranges to the gorgeous rainforests and waterfalls. Many enjoy outdoor rock climbing and white-water rafting in this region. The Guanacaste, Cordillera Central and Tilaran mountain ranges all come through this province.
The Arenal Volcano national Park is arguably the most popular attraction with its scenic views along with guided tours available. The Poas Volcano National Park also hosts the biggest volcanic crater recorded in the world.
The city of Alajuela offers dining and lodging options as well as a movie theater, eateries and cafes, and a shopping mall. It is also common to see the locals gather and the farmer's market to purchase fresh food and other items
Heredia
One of the smallest provinces, Heredia borders Nicaragua to the north down to the city of Heredia, which is located right outside of the capital of San Jose. Much of the land is in pristine condition as the area is largely remote and untouched.
A major attraction found in Heredia is Braulio Carillo National Park located within the Central Mountain range. Explorers will love the uninterrupted land with inactive volcanoes, colorful rainforests and even crater lakes found here. The national park hosts quite an active wildlife population as well.
Be sure to also visit one of the many coffee plantations as well that are popular in this province.
San Jose
This province hosts the nation's capital of San Jose and is the central hub of everything in the country from social events to politics to the economy.
Quite different than the other provinces, many visitors will see populated and busy streets and some traffic jams along the way. But, the province has its own charm unique to that of other regions.
Travelers can find sights to see like museums, monuments and historic architecture while experiencing the social culture of this province.  Be sure to visit Teatro National Park or Museo National Park or take a walk through Avenida Central. The Los Quetzales and Chirripo National Parks are also located here and are worth a visit.
Cartago
If you are an avid fan of colonial history, then Cartago is a province you will want to add to your agenda for your trip to Costa Rica. The smallest province in square miles, Cartago was once the capital of the country, however due to its location being very close to the Irazu Volcano, an active site, the capital was changed in 1823 to San Jose.
Still, visitors are quite impressed when visiting Irazu National Park, especially since this volcano is one of the most active in the entire world. Be sure to check out and climb the Deigo de la Haya crater while here as well.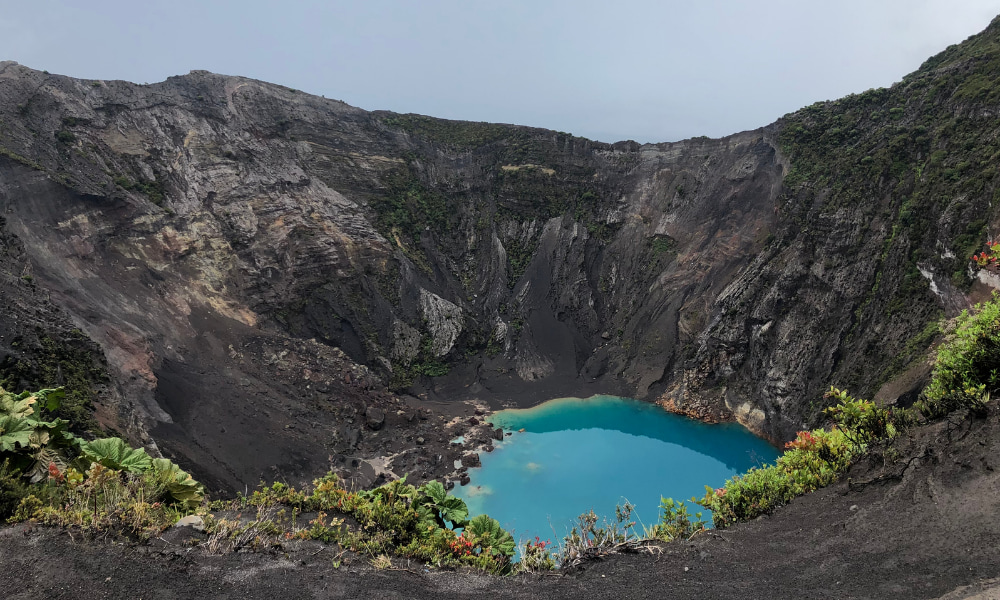 Explorers of this province in central Costa Rica will find Spanish colonial-era buildings like churches and cathedrals that are hundreds of years old, where some of Costa Rica's most revered religious functions still take place today. Orosi Valley is also a common site visited hosting lots of coffee plantations.
Check out the ancient ruins of Cartago, also known as the Basilica de Cartago, where you can see the remains of the catholic cathedral that went unfinished due to an earthquake in 1910.
Limon
Home to Tortuguero National Nark and Cahuita National Park is the province of Limon. A remote area in the Caribbean Loawlands, it is the least traveled and visited destination in Costa Rica by international tourists.
There is plenty of diversity in the local cities and towns of Punta Uva, Cahuita and Puerto Limon where visitors can have a taste of a variety of Costa Rican social culture, such as Afro-Caribbean and Spanish culture.
Find colorful wildlife featuring numerous mammal species, birds and reptiles. If you are a fan of turtles, head to Tortuguero National Park to watch eggs hatching along the beaches.
Puntarenas
Costa Rica's largest province and also nicknamed the 'Pacific Pearl' is Puntarenas. This region runs along the pacific coastline and is home to Corcovado and the Manuel Antonio National Park, located in the south and central pacific part of the province respectively.
Many visitors rave of breathtaking views of Costa Rica's Pacific coastline, natural sights and lively wildlife.
A popular site as well is The Monteverde Cloud Forest Biological Reserve, which is adjacent to the Cocos Island. The South of Puntarenas is also known for its Whale Watching excursions, with many available local business that offer tours daily.
Book Your Stay in Guanacaste with The Pura Vida House and See All Costa Rica Has to Offer
We hope you found this guide helpful in assessing where you will be traveling to throughout Costa Rica. Please give us a call to discuss how we can help customize your trip and travel plans through one of our Villa Rental and Vacation Packages available at Pura Vida House. Our concierge staff is here for you!
Book your trip to Guanacaste today to see all of Costa Rica & it's beauty!
Bon voyage and see you soon!