How to Book a Flight to Costa Rica
The Pura Vida House offers this Booking Guide for tourists planning their next trip to Costa Rica. Find up to date information on how to book flights to Costa Rica during  Covid-19 along with other helpful information to help tourists maximize their travel experience.
As the world progresses through the pandemic and with continued progress in releasing a viable vaccine, many nations are opening up borders to travelers once again. A highly sought after vacation destination, Costa Rica has announced its open borders along with entry requirements for tourists that would like to make a visit for the coming holiday season or into the New Year. This article providers readers and travelers information about Costa Rican entry requirements, flight and airport protocols, what to expect locally when arriving, suggested travel items to bring, and information on The Pura Vida House in Hacienda Pinilla, Costa Rica.
Costa Rican Entry Requirements
Although a requirement before, visitors today no longer need to produce a negative Covid-19 test neither do they need to quarantine upon arrival. Nonetheless, Gustava Segura, who is Costa Rica's tourism minister, continues to strongly urge visitors and travel companies alike to remain on alert and to follow safety and health protocols to help keep transmission of the virus to a minimal level while the nation works to drive tourist traffic back to normal levels.
Tourists arriving from international destinations will need to complete an Online Epidemiological Form (Health Pass) and to show proof of international health insurance coverage provided by local insurance companies in Costa Rica or by an international insurance company. Tourists must verify that their international coverage will be valid in Costa Rica and will cover at least $50,000 in Covid-related medical expenses while visiting Costa Rica, along with also covering a minimum $2,000 in boarding and lodging expenses for any issues related to the pandemic.
Two Steps to Satisfy Entry Requirements
Complete an Online Epidemiological Form (Health Pass)
Must be filled out within 48 hours of the inbound flight to Costa Rica
This form asks for general personal information (name, age, passport number, flight details, hotel accommodations in Costa Rica, etc.)
The conclusion of this form will require declaring that the visitor is symptom free of Covid-19 and that the visitor will quarantine if ordered to on arrival.
A QR code will be generated to show airport officials upon arrival
Please note that the Health Pass defaults to Spanish but can be converted to English.
       2. Get a Travel Insurance Policy
All travelers are required to purchase travel insurance for the length of the stay
Coverage must satisfy any medical and lodging expenses for 14 days of quarantine
Insurance can be purchased from a local provider that is already preapproved by the Costa Rican government to offer Covid-19 insurance. Alternatively, travelers can buy Covid-19 insurance through an international insurance provider as well, which will require an additional verification process.
If using a Costa Rican insurance company, coverage amounts must be $20,000 USD in Covid-19 medical coverage. If using an international insurance company instead, the minimum amount of medical coverage required is $50,000. Lodging coverage is still $2,000 should quarantining be necessary. You can find these requirements on the Tourism Institute (ICT)'s website.
Costa Rica Flight and Airport Protocols
Travelers are advised to book their flights early, sometimes even months in advance, if flying between the months of December through April. Most travelers will find that rates will get more expensive since this time of year is high-traffic for Costa Rica. The best flight bookings can sometimes be found on Tuesday and Wednesday mornings, while weekend online surfing tends to yield more expensive flight costs.
Many US cities have direct and cheap flights to Costa Rica; Dallas, Houston, Miami, New York, Los Angeles, Atlanta, Chicago, Fort Lauderdale, Phoenix, and Baltimore among them. In Canada, visitors can find a direct flight to Costa Rica out of Toronto. If visitors are coming from an alternate city that requires a connecting flight, total flight time expected should be about 6 hours, and even less if coming by a direct flight.
The three international airports in Costa Rica where commercial flights are operating into and out of today are Juan Santamaría International Airport outside of the capital San José, Daniel Oduber Quirós Airport in Liberia, and Tobías Bolaños Airport in San José.
Direct Flights to Costa Rica
United Airlines added daily flights out of Houston, TX to Juan Santamaría International Airport, as well as three flights a week from Houston to Daniel Oduber Quirós Airport.
American Airlines is scheduling flights to Daniel Oduber Quirós Airport from Dallas, TX and from Miami, FL.
Delta Airlines is forecasting to fly to Costa Rica from Atlanta as well.
JetBlue announced that come November 2020 it will resume flights to SJO, from Fort-Lauderdale (FLL), Orlando (MCO), and New York (JFK). Also available will be a weekly flight from Boston (BOS) to Liberia with plans to add a flight between Liberia and JFK.
Spirit Airlines has resumed operations to and from FLL and SJO.
Air Canada has started flying again as of November 1.
For European travelers, Lufthansa, Iberia and Air France have continued flights, with KLM expected to soon offer flights to SJO as well.
Once travelers arrive to their chosen Costa Rican destination airport, they will need to be ready with the right documentation to gain entrance into the country. Travelers must be ready to show their QR code and Documentation to Airport Officials.
Some travelers have recently reported that at the airport during check in, officials are requiring not only the QR code, but also the actual paper documents supporting it. This includes travel insurance documents. It is advisable to have hard copy records on hand just in case this is requested.
Upon arrival, officials will check the QR code received when completing the online Health Pass described above in the article. The hard copy documentation may only need to reviewed if needed based on what was submitted online through the Health Pass. Should a traveler have an international insurance policy, airport officials may request documentation to scrutinize its validity for Covid-19. Reports thus far show that the immigration and customs process is fairly fast today.
What to Expect Upon Arrival to Costa Rica
Upon arrival in Costa Rica, all visitors are required to wear masks at the airport and to comply with local health regulations, which includes maintaining social distancing policies. As of August 31st, hotels in Costa Rica have been permitted to operate at full capacity.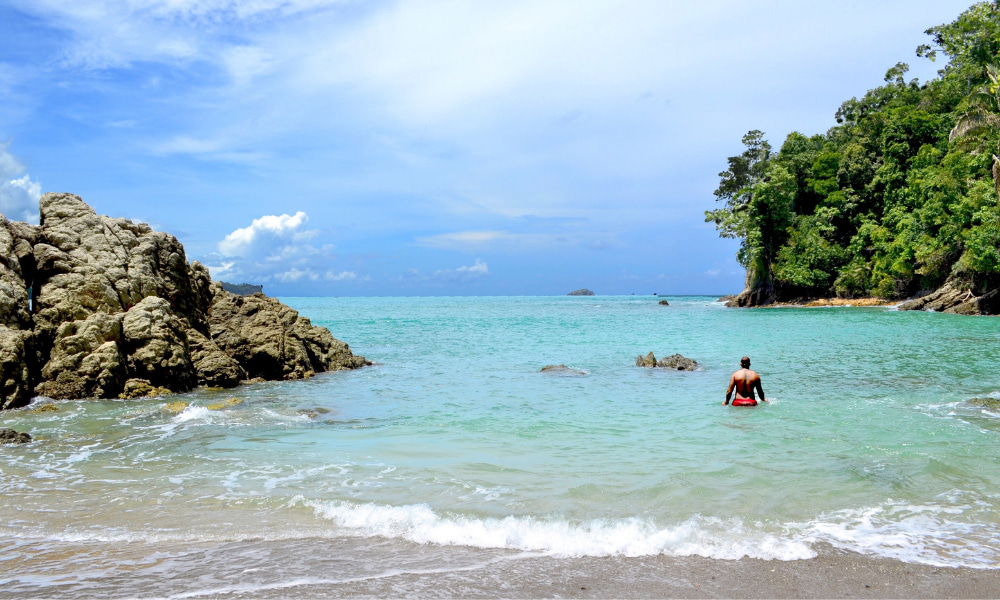 During the Covid-19 travel halt, Costa Rica tourism officials focused on focused training of new coronavirus-friendly health and sanitation guidelines and protocols. Costa Rica was recently recognized by the World Travel & Tourism Council (WTTC) for its commitment to updated health and safety measures.
Suggested Travel Items to Bring with Your Plane Ticket to Costa Rica
Clothing

T-shirt or short-sleeved shirts
1 lightweight long sleeve shirt
Light/rain jacket if planning trips to volcanoes or rainforests
Shorts, underclothes, socks and sleeping attire
Bathing suit
Hiking shoes/waterproof boots/water shoes

Other Items

Sunglasses and sunscreen
Traveler's medicine for common ailments (heartburn, stomach issues, etc.)
Camera and Video equipment
Insect repellent
Eye wear (contacts, glasses, lens solution)
Binoculars
Tennis/Golf/Pickleball gear
Stay at The Pura Vida House During Your Trip to Costa Rica
If you are looking to get away for one more escapade in 2020 or even planning an early start to relaxation in 2021, then look no further than The Pura Vida House in Costa Rica. A private luxury villa with views of the Pacific Ocean, this property is located inside the Hacienda Pinilla resort and is available to rent for the perfect vacation.
For guests that would like to avoid individually selecting activities, food selection, tours, etc., one of the all-inclusive vacation packages offered by The Pura Vida House in Costa Rica may be exactly what is needed. This private luxury villa offers everything guests would expect, and more, from the point of arrival in Costa Rica to their final hour watching the sunset on one of the many beautiful beaches.
Guests choose Pura Vida House all-inclusive vacation package because thinking, planning and execution is already done from the moment the vacation starts!
*NOTE* Certain Requirements for Entry to Costa Rica may have changed since publishing this blog.