If you are looking into planning your family vacation in Costa Rica, then this guide offers you feedback on traveling with kids and how best to organize your trip to ensure your experience goes above and beyond expectations!
It is no doubt that Costa Rica is one of the most sought after destinations in the world to adventure with the family. This country offers activities from kids to grandparents from surfing and horseback riding to golfing and pickleball for seniors. It's exquisite wilderness and wildlife, tropical jungles and many beaches makes this family vacation in Costa Rica one that you will not forget. This guide offers tips for traveling with your family and kids to ensure a smooth and pleasant experience during your visit.
Organizing your Family Vacation to Costa Rica
If you have more than just a couple munchkins in the family, then you know that the key to a successful international trip is planning and organizing. Most families, when planning their trip, are thinking about:
How easy is it to travel with kids to Costa Rica?
When should we plan our travel?
How do we get there?
What should we pack?
How do we get around?
What about the local food?
Not to worry – traveling with kids to Costa Rica is easier than ever before! Costa Rica offers numerous activities for the family, and especially kids. Whether you are taking a hike through the colorful wilderness, or going a sea excursion to go whale watching, the country specializes in tours and travels to keep everyone occupied and entertained, and is a great destination for active families that prefer the outdoors.
The best time for a Costa Rica Family Vacation is between December and April, which is the dry season. Most that have gone at this time report very little rain and most days with clear skies and an abundance of sunshine. If you prefer going in the off-season (and for a more economical cost) then May to November will be ideal to schedule your trip.
Visitors do find more rain during the time, but June and July bring a slight pause to the rainy weather allowing for Costa Rica's forests to flourish with gorgeous greens and other natural colors. Temperatures year-round are between the 70s and high 80s with high humidity.
Getting to Costa Rica is simple for those coming from the United States, Canada or Europe.
Citizens of these nations do not need a visa to gain admission to Costa Rica. Many US cities have direct and cheap flights to Costa Rica: Houston, Miami, New York, Los Angeles, Atlanta, Chicago, Fort Lauderdale, Phoenix, and Baltimore among them. In Canada, visitors can find a direct flight to Costa Rica out of Toronto. If visitors are coming from an alternate city that requires a connecting flight, total flight time expected should be about 6 hours, and even less if coming by a direct flight.
Flight Options to Costa Rica for Your Family Vacation
The three international airports where commercial flights are operating into and out of Costa Rica today:
Juan Santamaría International Airport (SJO) outside of the capital San José
Daniel Oduber Quirós Airport in Liberia (LIR),
Tobías Bolaños Airport in San José.
So now that you have your heart set on booking a trip to Costa Rica for your family vacation, what should you pack for you and your kids? As going anywhere, less is more when it comes to packing. Packing with only essentials and what your kids will need ensures that moving around is not a hassle for your family.
You will most certainly want to bring life-vests, swimsuits, sun block and mosquito repellent for all the beach sand and swimming that your kids will enjoy. For days where you will prefer to stay dry on your hikes through the jungles of Costa Rica, make sure you bring warm socks and waterproof shoes. If you have small toddlers and infants as part of your group, then do not forget yogurt and other food easy on their stomachs. Should you need to restock some baby essentials, then the local supermarkets in Costa Rica will have what you need. Lastly, make sure to bring a light jacket/sweatshirt and some long pants for late night walks along with a good quality flashlight.
In order to get around Costa Rica most efficiently, you will want to plan to rent a car, take the bus or arrange a taxi with your hotel/resort. Renting a car is the most convenient and comfortable way to get around the country with kids. Especially if you want to reach rainforests, remote and rural areas, then a car is a must-have. Beware, however, that roads in Costa Rica can sometimes be unfinished. Make sure you have a working cell phone to make emergency calls should you have any challenges on the road.
Taking the local bus is the most economical way to get around, should you not want to drive. San Jose has numerous bus services and routes. Be sure to check bus schedules and book in advance, as schedules can change frequently.
Interbus is the main operative with key routes across the entire country. Gray Line also has direct services between many tourist locations. Both these operators also provide shared shuttles from San Jose Airport to Tamarindo for quite an affordable rate.
Family-Friendly Food Options in Costa Rica
Most kids are picky eaters, but fortunately, typical Costa Rican food involves common household staples like rice and beans. The national dish of Costa Rica is called Galli Pinto. This is a breakfast item of rice and beans also served alongside eggs or cheese. If your family tends to crave international cuisine, then Costa Rica offers various options from Italian and Asian cuisine to American and Mexican. Check out some of these options when you are in Costa Rica on your family vacation:
Eat at Joe's in Tamarindo
Bamboo Sushi Club in Tamarindo
Shrimp Shack in Puntarenas
Taco Taco in Monteverde
Tiquicia Restaurant in Arenal
Planning your Itinerary – Things to do in Costa Rica for the Kids
With literally dozens of options to choose from, you will want to plan on what activities makes best sense for families with kids. Common activities include:
Beaches – All ages
Hiking – All ages
Surfing – 6 yrs or older
Canoeing & Kayaking – 6 yrs and older
Zip-lining – 8-10 yrs and older
Mountain Biking – Teens or older
Horseback Riding – Teens or older
Snorkeling and Scuba Diving – Older teens
Golf – Older teens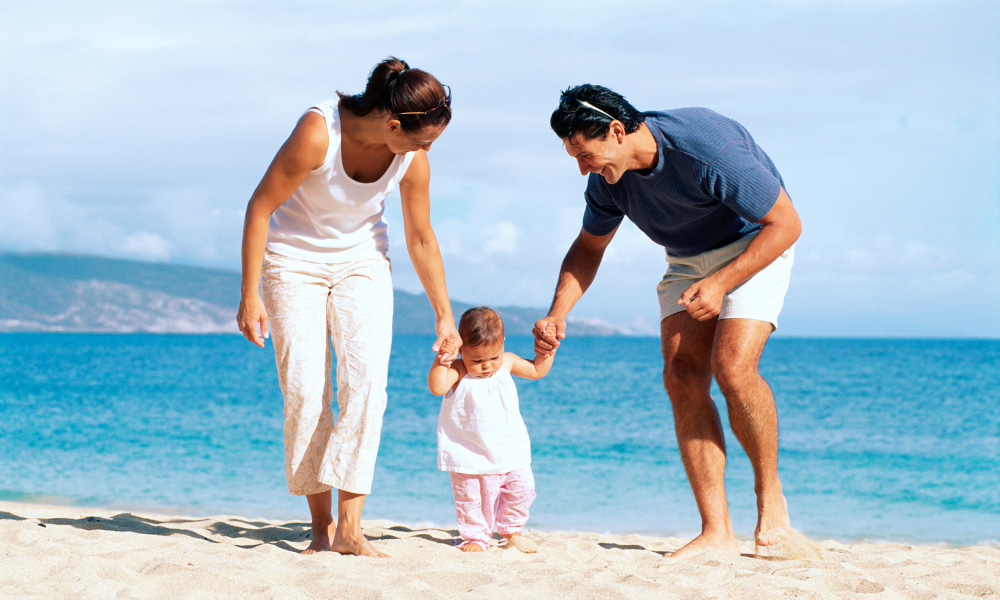 The Arenal Volcano National Park will offer your family many of the above options in one trip. Visitors can hike around the Arenal Volcano, go on a nature walk around the Arenal Hanging Bridges, explore the Vendova Caves, or they can opt for canoeing and kayaking should the want to be in Lake Arenal itself. The local town of La Fortuna close by also offers families more to explore.
Be sure to check out Costa Rica's capital, San Jose. This historic town offers quite a number of attractions and activities to do. Families can enjoy local shopping in Mercado Central, museum tours (like National Children's Museum), or visit Irazu Volcano National Park.
If you would like to do some camping and horseback riding, then Rincon De La Vieja National Park is the place to be. The kids would love exploring through the volcanic land with two volcanoes and numerous craters to see. Take a mud bath with the kids and find some stress relief in the hot springs just close to the volcanoes.
Consider an All-Inclusive Resort in Costa Rica
Many families find it exhausting enough to plan their weeklong trip and choosing a wide variety of activities to satisfy the kids to the adults. The last thing most visitors want to do is to figure out accommodations, how they will travel locally, booking individual activities/tours/excursions, and of course, food for all! For these reasons, many travelers opt for an All-Inclusive Resort experience where everything is available as a service to guests.
The Pura Vida House is among the top of the Costa Rica all-inclusive villas. We offer packages that cover everything from the moment you land in Costa Rica, so you just have to worry about deciding how you want to spend your day – adventure, relaxation, or both!
The Pura Vida House is known for its quality and white-glove service, on-site private chef, and amazing panoramic views. When visitors choose to stay at the The Pura Vida House Villa, anything needed or desired can be arranged based on personal preference. One of the most popular features offered as part of the villa rental rate is free concierge services.
Every guest has an immediate and open line of communication with The Pura Vida House staff before and throughout the rental period via WhatsApp, SMS text, or a phone call 24 hours per day.
Professional staff members are also on-site to organize any excursions or tours, make restaurant suggestions or reservations, schedule airport transfers, villa pick-ups and drop-offs, or anything else needed. On-site staff members can even handle unique situations like lost luggage and can work with the airline to expedite its delivery to the property location.
The Pura Vida House Amenities
4 or 6 Bedroom Rental
Swimming Pool
Fully Equipped Kitchen w/6-Bedroom Rental
Living Room Featuring 20-foot Ceilings with Exposed Beams
Outdoor Terrace for Al-Fresco Dining
Unlimited and FREE Access to The Beach Club at Hacienda Pinilla
Cable TV & Wifi
Housekeeping and Laundry Services
All Pura Vida House guests also extended the additional luxuries available throughout the Hacienda Pinilla resort, just outside of Tamarindo, Guanacaste, Costa Rica.
Book Your Family Vacation to Costa Rica with Pura Vida House Today!