Costa Rica Golf Resorts – Hacienda Pinilla Golf
When planning your Costa Rica golf vacation, your best bet for a great vacation AND a great round is at Pura Vida House at Hacienda Pinilla course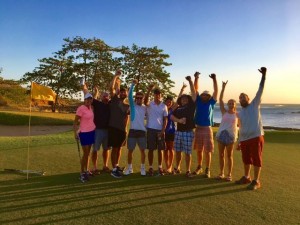 Costa Rica golf resorts a a great way to have your vacation in style, and have the most exotic round of your life. There are several awesome golf resorts around the country, and when you're playing your round, chances are you'll get to see and hear howler monkeys, iguanas, deer, Tamandua anteaters, Taira's, and of course lots of colorful birds such as trogons, scarlet macaws, yellow napped parrots, thousands of green parakeets, laughing falcons, black hawks, and much more!
Check out full details on our Costa Rica golf vacations at the top Costa Rica golf resort: www.thepuravidahouse.com/costa-rica-golf-courses
It's like you're playing in the middle of a lush jungle, a truly unique and special experience!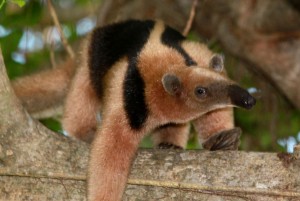 All that biodiversity mentioned above is what you'll see at our home course, Hacienda Pinilla Golf Course. We, and our guests play Hacienda Pinilla golf all the time, and our biodiversity sightings are incredible! Sometimes we'll be on the green with our guests right next to a Tamandua anteater (see one of the photos we've taken of him/her!), and we'll think to ourselves, we must be dreaming!  Playing golf, the sport we love, and seeing these beautiful animals, and hearing them too – a magical sensory experience for sure!
We're very lucky to be able to host wonderful guests for Costa Rica golf vacations many weeks out of the year, and have the opportunity to show them the Hacienda Pinilla golf course, our area of Costa Rica, resort, and local hospitality.
There are several Costa Rica golf villas, but when you stay at our Pura Vida House, you'll be steps away from the Hacienda Pinilla golf course, enjoying a spacious luxury villa with all 5-star amenities, that's ranked as one of the top TripAdvisor luxury villas in the world.
Our Costa Rica all inclusive golf vacations and Costa Rica all inclusive golf packages are affordable and full of benefits: private Liberia International Airport (LIR) transfers (with our driver Adrian, a very fun and entertaining guy!), golf carts for use within the resort 24/7, gourmet breakfasts and dinners prepared by our international chef at the villa, free and unlimited use of the Hacienda Pinilla Beach Club, and full-time concierge services to arrange anything you need before and during your stay.
We sure hope to have the opportunity to host you and your family or friends at our Pura Vida House in Costa Rica.  We'd be honored to make your Costa Rica golf vacation an unforgettable one!!!
Check out full details on our Costa Rica golf vacations at the top Costa Rica golf villa: www.thepuravidahouse.com/costa-rica-golf-courses