Costa Rica Golf Courses – Hacienda Pinilla Golf Courses
For golf lovers, vacations in Costa Rica should always include the Hacienda Pinilla Golf Course. And the most personalized vacation stays at Hacienda Pinilla are at Pura Vida House
The Hacienda Pinilla golf course is a long (up to 7,200 yards!) course that will challenge your distance, short game and discipline. But most of all, this Audubon Society certified course will challenge your busy mind to slow down and take in the tranquility and sounds nature in the peaceful tropical dry forest landscape. But in this peaceful and nature-filled setting, this isn't much of a challenge at all. The Guanacaste landscape will calm you and take you into the moment all on its own.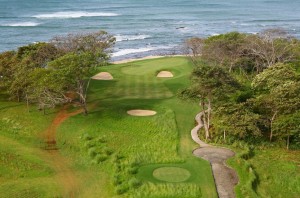 You will hear a multitude of birds chirping nearby on the course as well as echoing across the distance of the lagoon. You will hear the rolling waves of the vast Pacific throughout the course on a day without wind, and play towards the water on holes 14 and 15. The ocean breeze and prevailing winds will help you through the inland-bound holes, and push your patience and challenge you to maintain a steady swing speed hitting towards the water.
Armadillos, tayras, jaguarundis, deer, ocelots, tamandua anteaters, iguanas and much more may scurry across your path as you make your way around the Hacienda Pinilla golf course. Cheering you on at times, and potentially jeering you if you overplay a shot into the wind. But everything comes together to make this nature-filled course a true Costa Rican experience.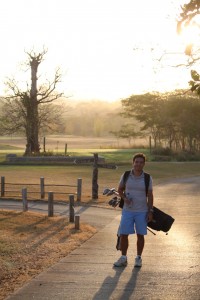 And when you're done on the Hacienda Pinilla golf course? There is plenty more to see and do within the resort, and we are happy to arrange for you as much action and adventure OR relaxation as you wish.
There are two spas in the resort, and we can arrange in-villa services as well. From massages on the beach, to zip lines, surfing and trips to national parks and back to your luxury accommodations and meals prepared at the villa or dinner reservations at nearby restaurants, we at Pura Vida House will take care of everything for you so your only job is to relax and soak in the experience of Costa Rica.
Contact us today at Pura Vida House to learn more about how we can make your Hacienda Pinilla golf vacation simple, affordable and most of all, an amazing experience for you! info@thepuravidahouse.com