Private House Rentals in Guanacaste, Costa Rica
Pura Vida House is among the top of the Costa Rica house rentals. We are known for our quality villa, amazing resort, and service before and during your vacation
When searching for Costa Rica house rentals, Pura Vida House is a true service-oriented gem!  When you stay with us, anything you need or want is covered. One of the best features we offer as part of our villa rental rate is free concierge services.
Guests love the high-end villa with private pool, shaded palapa with hammocks, quality bedding and linens, tropical outdoor shower, organic soaps and shampoos, and of course the amazing resort and its amenities.
All on-site in the lush 4,600-acre nature filled Hacienda Pinilla, you'll find everything you want out of your Costa Rica vacations: luxury and amenities like the private Beach Club, golf, tennis, pickleball, mountain bike trails, 2 spas, gym, equestrian center and 12 bars and restaurants all on site — as well as the rugged and beautiful nature and beaches Costa Rica is known for, 3 white-sand beaches, tropical dry forest trails and wildlife like howler monkeys, anteaters, armadillos, jaguarundis, ocelots, parrots and more!
We are also the only of the Costa Rica house rentals who offer private 24/7 concierge service. That means that you'll have access to us before and during your stay via WhatsApp, text, or a phone call 24/7.  We are there to organize any excursions or tours for you, make restaurant suggestions or reservations, schedule airport transfers, villa pick-ups and drop-offs, or anything else you need.  If your luggage gets lost, we'll even work with the airline for you to get it to our villa as soon as possible.
For the past 7 years we've been working with the same team of drivers, guides, naturalists and birding experts (if you want to see a great variety of Costa Rica birds!), so we know our team will take very good care of our guests for any tour and excursion they wish to do while in Costa Rica.  They will treat our you like family!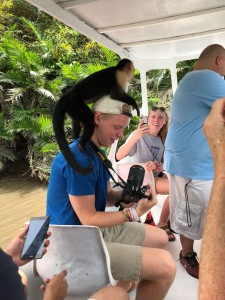 Or chef is excellent, making a variety of healthy and tasty meals for our guests to enjoy whenever they want.  Our meals are very flexible, guests can get a full meal package for their stay, or simply ask us for the chef to come in and make them any single meal, any day.  With a 1-day advance notice, we're able to arrange this for you.
We also offer the flexibility of guests coming with a pre-set all inclusive package, or just ordering things like chef meals, tours, excursions, golf cart rentals, with an "a-la-carte style" menu.
Two complimentary mountain bikes are offered at our Pura Vida House for guests to enjoy.  And in case more bikes are needed, it's easy to rent more at the JW Marriott Guanacaste, just down the road from our villa, and inside our resort, Hacienda Pinilla.
We sure hope we can have the opportunity to host you and your family or friends at Pura Vida House, we'd be honored to, at the best of Costa Rica house rentals!