Costa Rica Luxury Resort | The Pura Vida House
There are many Costa Rica luxury resorts – but none are like Hacienda Pinilla, with it's rugged natural coastline and and beaches, wildlife and luxurious accommodations and amenities within.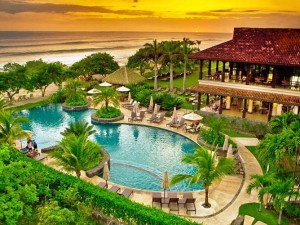 There are many Costa Rica luxury resorts, and even a few all inclusive Costa Rica luxury resorts exist – but none are like Hacienda Pinilla, and at no other luxury resort in Costa Rica you'll find a villa like Pura Vida House.
Pura Vida House is a full service luxury villa that offers 24/7 concierge services, an international chef making delicious and healthy meals, all luxury amenities at the villa, several golf carts available in-house, 2 complimentary mountain bikes, free and unlimited access to the exclusive Hacienda Pinilla Beach Club (we're the only villa in the resort to offer this to guests), a trusted team of bilingual drivers, vans, guides and naturalists at your disposal for any tours and excursions you may want to try out (there's lots to do and see inside the resort and around us, trouble is always fitting it all in!), a private pool with mini waterfalls, and steps away from everything that Hacienda Pinilla has to offer.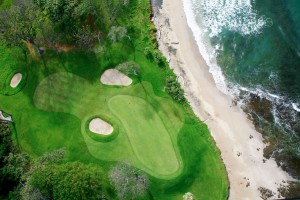 Hacienda Pinilla Beach Resort where we're located has an exclusive Beach Club, 18-hole championship golf course (the Hacienda Pinilla Golf Course), lighted tennis and pickleball courts, Hacienda Pinilla equestrian center, 30 miles of mountain biking and hiking trails, 3 private white sand beaches, JW Marriott Costa Rica, snorkeling pools, and 12 restaurants and bars … a paradise that truly has it all!
And to top it all off, Hacienda Pinilla does not feel like the typical resorts that can sometimes feel crowded and loud.  It is very private and exclusive, offering 4,600 acres of natural beauty, boasting lots of animal and plant biodiversity.  It's common to be riding your golf cart to the Beach Club and seeing and hearing packs of howler monkeys in the trees, iguanas on the ground, and colorful birds such as the yellow napped parrots and thousands of parakeets flying around you, especially early in the mornings and for sunset time, a magical place.
There are many Costa Rica luxury hotels and Costa Rica luxury retreats to choose from, but when you stay at Pura Vida House, you'll be staying at the TripAdvisor #1 ranked luxury villa in the world.  We would be very honored to host you at our beach villa, and will do everything we can to make sure this is the best vacation of your life :-)
Warmest regards from the Golden Coast,
Mani & Sindy
Costa Rica Rental Property & Retreats
Pura Vida House Luxury Beach Villa, Costa Rica – www.PuraVidaHouse.com