Hacienda Pinilla Golf Courses
There are several choices to play golf in Costa Rica and each course has something special. There's the Cariari Golf Course, Valle Del Sol, Reserva Conchal, Four Seasons, and Los Reyes (9 holes), those are the main ones. But we prefer to golf at Hacienda Pinilla, our home course!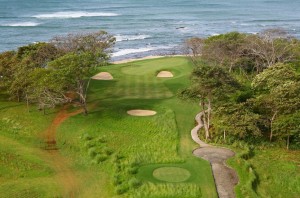 I love to play golf at Hacienda Pinilla, I play the course 3-4 times per week and never get tired of it. It's a links-style course that's long, can play up to 7,200 yards, but there are tees for every player and length, so it can always be fun. You tee off on most holes into wide open fairways, and second and third shots into greens are usually tough, with well guarded greens.
Another difficult thing we notice, especially when playing with our guests, is that the sand in the bunkers is different from the sand in the US courses. Our sand is heavier due to the ocean winds, so that it does not fly away. It takes a few times in the bunker to get used to how to hit it out of it. Good idea to take some practice shots in the practice are before you tee off!
Holes 14 and 15 are majestic ocean holes, 15 being our signature hole, the "Shark Hole", as a 12-foot shark washed up on the green a few years ago (and is said to be buried off to the side)!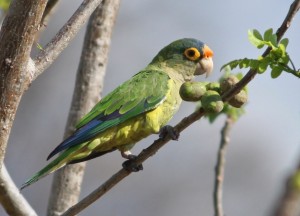 The most special element of Hacienda Pinilla though, is the plant and animal biodiversity around you as you play. You'll se numerous types of colorful birds like parrots, parakeets, roseate spoonbills, storks, and also Tamandua anteaters, deer, and coyotes. It's magical!
We love hosting golfers for golf vacations in Costa Rica at our Pura Vida House in Guanacaste, as we're steps away from the first tee, we know the Hacienda Pinilla golf staff very well so our guests are treated like family when they play there. And of course I'm always willing to play golf with our guests and organize fun games, it's a sacrifice someone has to make, he he!
When coming to Costa Rica to play golf, please consider staying at our Pura Vida House in Hacienda Pinilla, we'd be honored to host you here, and do everything we can to make your vacation a special one! Please check out our golf page HERE
Pura vida from sunny Guanacaste, Costa Rica!
Mani & Sindy
Book your dream golf vacation in Costa Rica today!