Golf in Hacienda Pinilla, Costa Rica
Golf Hacienda Pinilla on your vacation; it's one of the best courses in Costa Rica! Stay with us at Pura Vida House for the vacation of a lifetime, we're in the resort with this top course and will help you arrange everything you need for your luxury Costa Rica vacation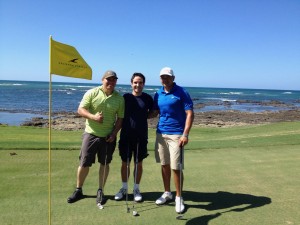 If you're looking for a golf vacation in Costa Rica, golf Hacienda Pinilla, our course is exactly where you want to play, and Pura Vida House offers exactly what you want for your vacation accommodations. You'll get more out of your trip than you even think!
Put together a group of friends, golf league buddies or family and let us plan your trip today. Or just show up with your family and play a few rounds. We'll make your vacation exactly what you want.
Golf Hacienda Pinilla 's course, it's a long (up to 7,200 yards!) course that will challenge your distance, short game and discipline. But most of all, this Audubon Society certified course will challenge your busy mind to slow down and take in the tranquility and sounds nature in the peaceful tropical dry forest landscape. But in this peaceful and nature-filled setting, this isn't much of a challenge at all. The Guanacaste landscape will calm you and take you into the moment all on its own.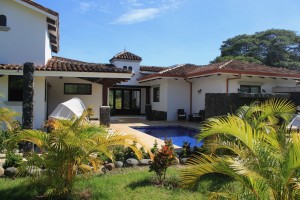 Pura Vida House is a luxury 5-star beach resort villa located inside Hacienda Pinilla Resort (one of Costa Rica's most exclusive resorts!), with all the amenities included, such as spacious rooms, private pool, fully equipped kitchen, and access to all the resort's amenities (golf, tennis, pickleball, equestrian center, 30 miles of mountain biking and hiking trails, mini market, 12 restaurants and bars, 2 spas, etc.).
And the most important benefit of all, guests of our Pura Vida House have free and unlimited access to the Hacienda Pinilla Beach Club! We're the only villa in the resort to offer this benefit!
Imagine your day starting with a delicious typical Costa Rican breakfast prepared for you at the villa, followed by a round of world class golf at the Pinilla 18-hole course. Or start your day with a lesson from the local pro to get your round started off right.
Or, go on a tour or excursion guided by our bilingual guides and naturalists. Some of the activities around us include visiting the rainforest, biodiversity boat rides, visiting waterfalls (some of them are swimmable!), snorkeling, scuba diving, night giant turtle excursion, hiking, yoga, hot springs, zip lines, eco adventure parks that have sloths, sailing, snuba, horseback riding, and much more! Here's a link on our page where you can see a brief description of everything there is to do: https://www.thepuravidahouse.com/things-to-do-in-costa-rica/
Or … simply sleep in, lounge by the pool, at one of three white-sand beaches, or by the tiki pool bar. Your trip can be as relaxing or adventurous as you wish!
A benefit of golf Hacienda Pinilla vacations at Pura Vida House, is that you'll have 2 full-time concierges/hosts at your disposal, who will suggest fun activities to do (besides pickleball of course!), and take care of every need you have while in Costa Rica.Our goal is to offer the best golf camp vacation in the world, with awesome vacation packages at an affordable rate. No other villa can offer you this much personalization and level of service.
And why not make your golf Hacienda Pinilla vacation a package, to include luxury accomodations, daily play, meals prepared by a local chef at the villa, airport transfers, golf carts for use within the resort, free access to the Beach Club and 24-hour concierge services.
Please call us with any questions – 614-600-1904 – we're here to help, and hopefully host you very soon in Costa Rica and Hacienda Pinilla at our Pura Vida House Villa!