JW Marriott Golf Course at Hacienda Pinilla
Why do we love the Hacienda Pinilla Golf Course at JW Marriott so much? First of all because it's steps away from our Pura Vida House villa, so very convenient for us and all our guests to play it often!
The Hacienda Pinilla golf course at JW Marriott is one of the top courses in Costa Rica! Check out our Golf Page for more specific information on the course: www.thepuravidahouse.com/costa-rica-golf-courses
The staff is wonderful … Jason, Roberto, Arleth, Jasmin, Junior and Edwin are all great people, always greet you with a big smile and are eager to do anything they can to make your round fun.  We are very grateful to all of them as they take such good care of our golf guests every week!
The Hacienda Pinilla Golf Course has many magical aspects to it, and the more we play it, the most we realize what a special course it is!
It's set in the middle of a 4,600 acre resort and nature preserve, so wildlife sightings are plentiful – Tamadua anteaters, parrots, parakeets, taira's, roseate spoonbills, a variety of eagles and hawks, deer, and 50-60 other types of birds, are just some of the wildlife you'll see often while playing your round of golf!  Our advice though, is to try to play golf at Hacienda Pinilla early in the morning (6am to 8am), or late in the afternoon (4:30pm to 6pm), as those are the times where you'll see the most amount of wildlife. In between those times every day, much of the wildlife is hiding from the sun, in the shade, so tougher to view. Another tip, if you go to Costa Rica and play golf at the Hacienda Pinilla Golf Course from May to October, to see lots of wildlife play early morning, since this time of year it's Green Season, so common to have showers late afternoon.  So to guarantee you enjoy your round and see some nice animals and birds, best to set an alarm and get out there as early as you can!  From November to April it's dry season, so late afternoon is also great to see all the wildlife as there will be no rain at all.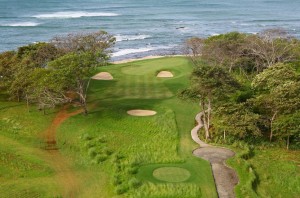 Another great reason why golfing at the Hacienda Pinilla at JW Marriott resort is so fun is there's no starter, haha!  When you play here, you'll feel like you're family, and once you go through a very quick check-in, they send you off right to the first tee to go have fun!
And lastly, a HUGE reason to come and play golf at Pinilla, is that it's never crowded!  You really get spoiled when you play golf here, as it's extremely rare when you have to wait on someone in front of you to play.  We've played here hundreds of rounds and only once twice we had to wait on the group in front of us to hit, and it was only for a few minutes.  The rest of the time, we can finish 9 holes in about 90 minutes and 18 holes in about 3 hours, not rushing at all.
We sure hope you can come stay with us at Pura Vida House to enjoy a fun Costa Rica golf vacation and at the Hacienda Pinilla Golf Course at JW Marriott.  Remember, all Pura Vida House guests enjoy 50% off greens fees at Hacienda Pinilla!
If you want to see the Hacienda Pinilla Golf Course scorecard or need Hacienda Pinilla Golf Course reviews, please call/text us anytime (614-600-1904) and we'll send to you all the information right away, or also e-mail us anytime – info@thepuravidahouse.com.
Warm regards from the Golden Coast,
Mani & Sindy